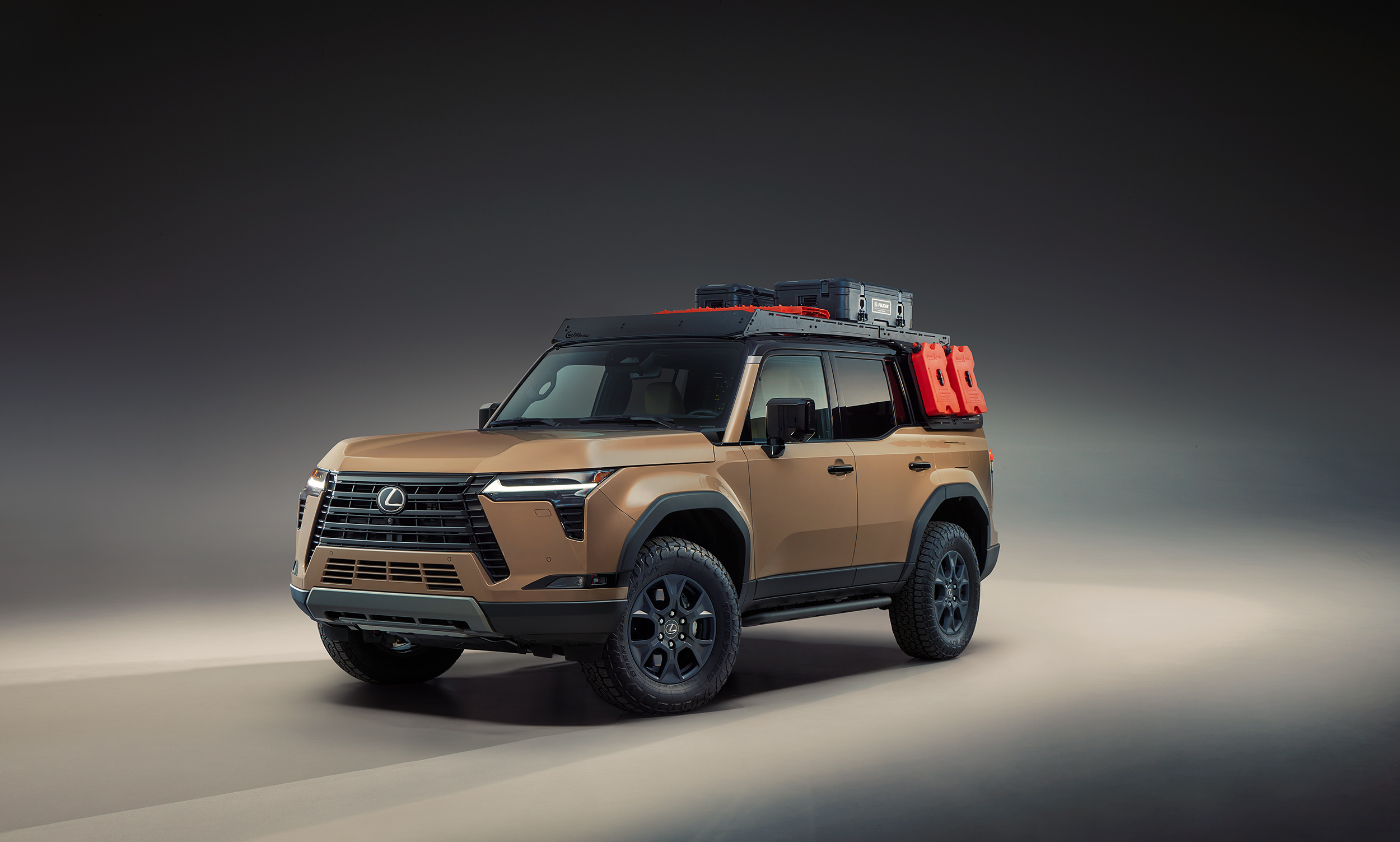 Lexus is paying tribute to its offroading community with six new GX builds. The modified SUVs include a version for each generation of GX so far, with a new 2024 GX 550 Overtrail+ AAP Build leading the way.
What's new with the 2024 GX 550
Lexus' third-gen GX packs a 3.4L V6 engine capable of cranking out 349 horsepower and an impressive 479 lb.-ft of torque. Those buying the new GX 550 will get a number of features as standard, including a tough aluminum skid plate, 10-inch rims, 33-inch all-terrain tires, and black accents on the overdefenders.
When it comes to upgrades, storage space seems to lead the way. Customers can add A Prinsu Roof Rack, Pelican, BX90R Cargo Case, BX55S Cargo Case, and Prinsu Rear Window Accessory Panels to really max out the vehicle's carrying capacity. You also get the equipment you'll need to save yourself when your vehicle gets stuck — like a pair of rotoPax two-gallon containers, a DMOS Delta Shovel, and ARB TRED Pro recovery boards. All in all, Lexus is putting together an expedition-worthy Gen 3 GX.
The GX 460 is also getting an update
The new GX 550 isn't the only option Lexus is presenting. The GX 460, its older sibling, has also had a bit of a makeover. The treatment is similar to that other all-terrain Lexus vehicles have received but with a distinctive and eye-catching saffron yellow body wrap. The accessories do differ slightly, and a hammock stand comes attached to the GX 460. It's also packing a 63-quart fridge in the back, which should keep your snacks nice and cool. Underneath it all, a 301-horsepower 4.6-liter V8 engine brings a respectable 329 lb.-ft. of torque to the table. A full skid plate is also fitted, so that the engine should be protected from even the harshest terrain.
Older models are getting some love, too
The 2022 LX 600 has had a bit of a shakeup, making it both more practical and pleasing to the eye. The LX 600 in question has received a complete makeover — with its aquamarine wrap standing out immediately. You'll also spot 18-inch matte gray alloys, which match the grille, window trim, outside mirrors, and door handles.
On the technical side, the LX 600 is kitted out with a 6.5 liter V6 gas engine, 33-inch all-terrain tires, and a whole host of tech to help you power through almost anything you'll encounter when going off-road. This includes e-Multi-Terrain Select, Multi-Terrain Monitor, Crawl Control, and Downhill Assist Control.
On top, a Prinsu Roof Rack paired with a Yakima SupDawg paddle and surfboard rack adds to the vehicle's practicality. A Kammok Crosswing Car Awning can be deployed quickly for additional sun and rain protection, and you can even have a kitchen package installed if you want the ability to grill in a remote location. In addition to the three builds we highlighted, Lexus will be showcasing three classic GX owner builds. These are variants of the 2008 and 2009 Lexus GX 470 and a 2010 Lexus GX 460. Lexus says these vehicles are the foundation the 2024 GX was built on.
Editors' Recommendations