If you happen to be in New York City this Columbus Day weekend — that's October 7-8, 2017, for the record — and you happen to like classic sports cars with a combined value approximating the GDP of a handful of the world's smaller nations, then you're in luck. (Sorry to those of you reading this in the future. What's it like? Teleporting a thing yet?)
This year marks the 70th anniversary of the birth of Ferrari. Founder Enzo Ferrari had established himself as a designer and builder of vehicles a few years earlier, but '47 was the first time the iconic black-horse-on-yellow-background badge and Ferrari name graced a car; before that, he worked with a division of Alfa Romeo.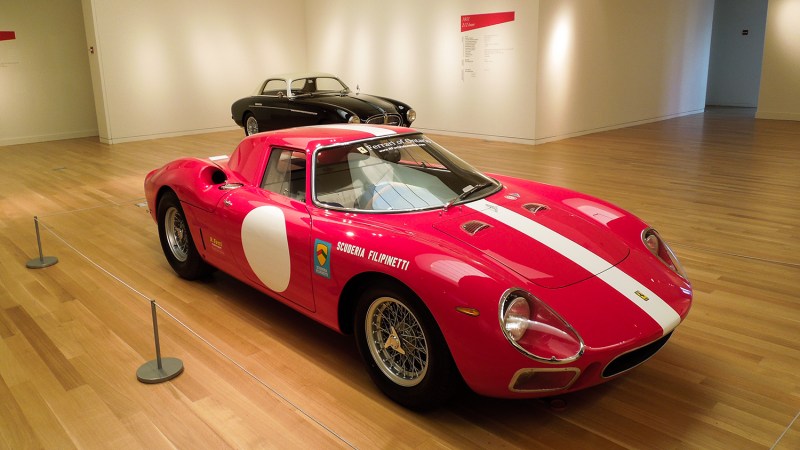 Throughout the course of 2017, the brand has installed jaw-dropping displays of some of their finest cars all around the world. In fact, the grand tour saw Ferrari history exhibits in now fewer than 60 countries — but now it's our turn, America. The New York City part of America, to be specific.
In the coming days, you (yes, you!) can get up close (but don't touch!) and personal with a plethora of stunning sports cars. I had the opportunity to take a look at a few of the vehicles during a preview showing the morning of Thursday, October 5, and let me tell you, I can't afford any of them. That little red number holding court in the center of the room? That will probably fetch around $18 million at auction.
This event, titled Driven by Emotion: Ferrari Through the Decades, is not really about buying cars, though — it's more about appreciating art. The people who buy these classic cars go to private events and sip fine wines out of crystal hubcaps, or so I'm told. (Or so I assume, at least.) The people who simply want to appreciate immaculate craftsmanship in the form of clean lines, shimmering paint jobs, elegantly simple interiors, and thinly-veiled aggression lurking in the engine should head to one of the four New York locations to which Ferrari is inviting the public this weekend.
The events in New York City on October 7-8 are as follows. You can register here for information and updates.
Through the Decades at Rockefeller Plaza
Through the Decades will be an open-air exhibition featuring one car from each of the seven decades of Ferrari's history. If the weather forecast holds, this is one not to miss.
Motorsport and Performance at Hublot Flagship Store
This is a storefront display of a handful of classic racing cars and some modern Ferrari racers as well. If you like motorsports, do stroll by.
Ferrari Today at the Ferrari New York Showroom
Stop in to see a selection of modern, front-engine, V12 sports cars and ,while you're there, go ahead and buy one yourself; you'll be in the right place for it!
Iconic Ferrari at RM Sotheby's 10th Floor
Iconic Ferrari is a small, carefully curated collection of priceless classics from decades gone by. This is the location I got to visit for the preview, and goodness, these lovely cars. Also there's a coffee and sandwich shop.