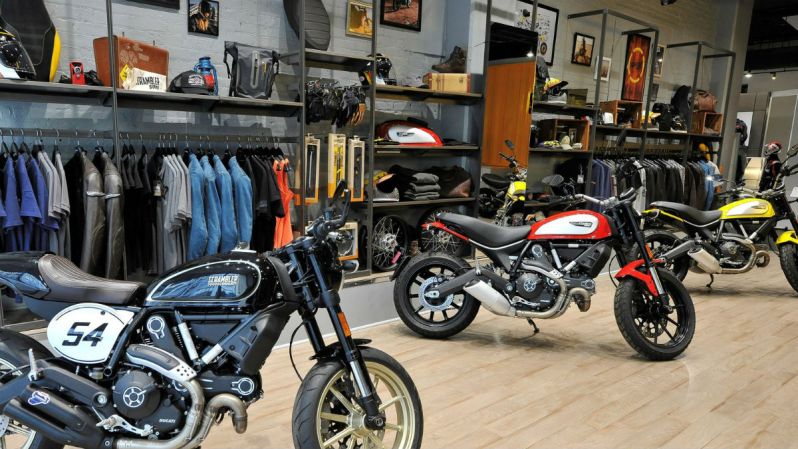 It's fitting that Italian motorsports brand Ducati would open its newest showroom in SoHo, New York City, seeing as everything they do (including the newest 2018 bike models) is drenched in luxury and exclusivity.
Global Ducati CEO Claudio Domenicali was in attendance alongside Ducati MotoGP "team flag-bearer" Jorge Lorenzo for the grand opening opening of the 7,500-square-foot space dedicated solely to Ducati motorcycles, accessories, and apparel in April 2018. As the store sees traffic, don't be surprised if you find celebrity Ducati riders like Ryan Reynolds and Chris Pine browsing the racks.
"The opening of this new Monobrand Ducati Store represents a further step forward in the process of continuous improvement of the quality of our network internationally," said Domenicali in a press release. "Riders here are enthusiastic and passionate about their bikes, and the riding terrain is very diverse, from the urban landscape here in the city to the rural roads a few hours away. We feel this new showroom will be a location where motorcyclists of all skills can gather as a community, experience our new models in a fresh space, and head out to their favorite riding roads."
It's true — the outpost at 155 6th Ave. is perfect, projecting the brand's heritage vibe infused with a modern, metropolitan style; a swanky customer lounge; and experts that live and breathe Ducati. Previously, the space catered to a medley of luxury labels, but now the location one-woman man.
Stepping inside the renovated space, the 2018 Ducati lineup meets you with breathtaking design. The dealership acts as the grounds for displaying the brand's variety, which totals 37 different models in everything from Adventure, Touring, Sport & Fun, Lifestyle, and Racetrack styles.
In recent years, Ducati's expansion into new motorcycle categories like cruisers has been a straight flush, with the 2018 Ducati Multistrada 1260 S leading the way. Agile yet comfortable, the dudes at Cycle World called this new touring bike their pick "if you were going to rob a bank on a motorcycle."
Ducati just spawned a new Monster model, the 2018 Monster 821, which has all the ingenuity of its older brother but with a newly designed tank, tail section, headlight, and muffler — great timing, since Monster marks its 25th birthday in 2018. For those who know Ducati, they know Monster is synonymous with the name, speed, and reputation of the brand. In fact, in 2005, more than half of Ducati's worldwide sales were from this bike.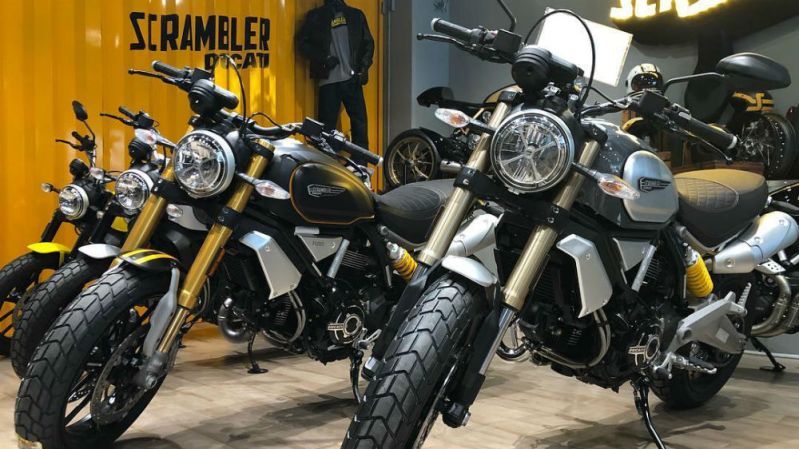 Ducati is also showcasing the new 2018 Panigale V4, the next evolution of Ducati's heritage that's bring racing technology to the streets, and the new Scrambler 1100 (here is literally all the exciting shit you need to know about the new Scrambler … ugh, it's so good.)
Wait, Scrambler? That's right, the store will also have models from Scrambler Ducati, with a dedicated "Scrambler Camp" featuring motorcycles, apparel, and accessories. More free-spirited, Scrambler off-shoot is inspired by Ducati's past classicism but with more modern tech and detailing.
Yes, the bikes are the most exciting part of the store … but you'd be surprised how jiggy Ducati's apparel is. So if you come for a bike and leave with a shirt, that's a win.
Editors' Recommendations