For most people, car maintenance often goes overlooked. If the check engine light isn't on, everything's fine. While that philosophy can work for some time, there will come a point when you find a strange puddle or discolored wet spot under your car. When that happens, it can be difficult to figure out where the leak is coming from and, just as important, what the fluid is.
There are roughly eight major fluids in your vehicle that you should be checking regularly. If you're not the kind of person that enjoys car maintenance, you should still have a rough idea of what the fluids are, what color they are, how they fell, and what they smell like in case you have to diagnose a leak. Luckily 1A Auto is here to help you out with a nifty chart that can save you a lot of time. And headache.
1A Auto's graphic breaks down seven fluids that everyone should know how to identify for possible leaks:
Fuel
Brake Fluid
Coolant
Transmission Fluid
Engine Oil
Power Steering Fluid
Windshield Washer Fluid
For the most part, we agree with 1A Auto's list, but think that differential fluid is something worth keeping an eye on as it's prone to leaking on some vehicles and follows a similar interval as some transmissions. Having changed the original differential fluid on an '02 Toyota 4Runner at 150,000 miles, I would definitely add differential fluid to the list.
Beyond that, 1A Auto's cheat sheet has a lot of good information on it for car owners. Not only does it provide you with information on where you can find the leak, but it also tells you what color the fluid is and what it smells like.
Some fluids, like fuel, windshield washer fluid, and engine oil, are obvious. If your car has a fuel leak, you'll probably find it underneath the fuel tank, which is usually located near the back of the vehicle. Fuel feels thin and watery, and has its distinct smell. Windshield washer fluid smells like glass cleaner, is blue or green in color, and feels like water. You'll find a leak toward the front of the vehicle. Engine oil has to be the most obvious leak of them all. Depending on how old your oil is, it could be similar in color to maple syrup or dark black and be right underneath the engine.
Other leaks that can be easy to spot include coolant, brake fluid, and power steering fluid. Coolant is what helps keep your engine cool, and it's located in a radiator, which sits in front of the engine. Depending on the make of your car, coolant can be green, yellow, red, or blue. Beyond its strange color, coolant is easy to identify because it smells sweet.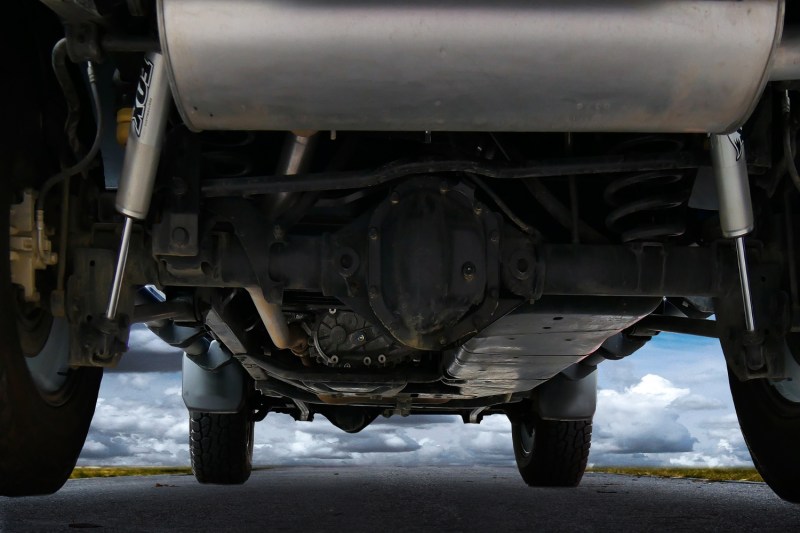 A brake fluid leak can occur at the master cylinder under the hood or at one of the wheels. It usually has a yellow tint or is brown if it's old and smells fishy. When new, power steering fluid is a reddish pink, but turns brown when it's old. Power steering pumps are usually found in front of the engine, which means a leak would be right below the engine. Power steering fluid has a unique smell to it, as it can make you think of a campfire with a burnt marshmallow scent.
Transmission fluid leaks can be misdiagnosed as engine oil leaks, but you'll find fluid toward the middle of the car and not at the front. Transmission fluid starts off red, but can get brown or even black with age. It smells like something your science teacher told you to stay away from in elementary school with an industrial scent.
Seeing any type of fluid underneath your car can be alarming. Even if you're used to working on your car, it can be disheartening to see a stain underneath your car and go on a journey to find what kind of fluid it is and where it's coming from. Keep in mind that it's perfectly normal to find water underneath your car upon startup and when using air conditioning.
Editors' Recommendations