It's easy to dismiss someone else's seemingly crazy hobby: "Wow, you must have a lot of time on your hands!" However, in the hands of a capable, mildly obsessed engineer, that time can bear something seriously awesome. Case in point: One Doc Brown-inspired mad scientist has built a "working," full-scale replica of the DeLorean from Back to the Future. The best part is that you can have it delivered to you by Christmas.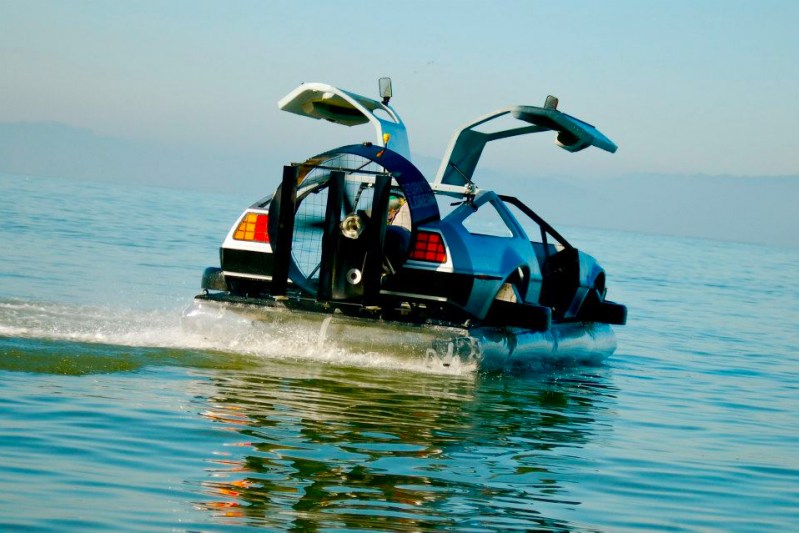 Unless you're Elon Musk, this DeLorean Hovercraft is the closest you'll likely ever get to owning a time machine. The custom craft features two Briggs & Stratton engines: one 23-horsepower riding mower-style provides maneuvering thrust via a 36-inch fan, and a second lawnmower engine powers a 24-inch fan for lift. Between the two, it's capable of hovering up to eight inches above almost any flat surface including water, and it tops out at more than 30 miles per hour.
Buyers should know that the hovercraft is heavy, insanely loud, and every passenger is guaranteed to get wet while driving it. It's capable of traversing land, but the builder advises against it. Plus since it technically needs to be registered by the DMV as a boat, it also requires a proper anchor and all the typical safety gear the Coast Guard mandates in a watercraft. It's hard to care about any of this though, especially after seeing the smiles plastered on the faces of these passengers:
According to the official eBay listing, builder Matt Riese developed the faux DeLorean over the course of five years. Between 2008-2012, the hovercraft was continuously remodeled and upgraded. The thrust and lift engines have only been used for 40 hours and 10 hours respectively. It also boasts an all-new paint job, plus new wiring, rudders, switches, LED lights, and more.
The DeLorean Hovercraft replica is being offered on eBay for the low, low Buy It Now price of just USD $45,000 (or best offer). That includes a custom tilting flatbed trailer, a few boxes of miscellaneous spare parts (because AAA still can't replace Flux Capacitors), driving lessons, and free phone consultations with Mr. Riese in case you get stuck in the 1950s. Sure, it can't technically take you back in time, but can you imagine the bragging rights from owning this thing?
If you think that's crazy, check out this Back to the Future-themed Volkswagen bus.
Editors' Recommendations