If you're an avid hiker or cyclist, Italy's Dolomites are surely on your list of must-see places (we've previously recommended it as a top destination for cycling). South Tyrol is a hot spot for adventure-seekers and, as such, the area is teeming with high-end hotels. But most of those luxuries are lost on hikers who value simplicity and a connection with nature. At the other end of the accommodations spectrum are hostels, which don't quite appeal to those of us beyond college age. Enter Hotel Bühelwirt, a wonderfully minimalist hiker's lodge centrally located and with stunning mountain views from every room.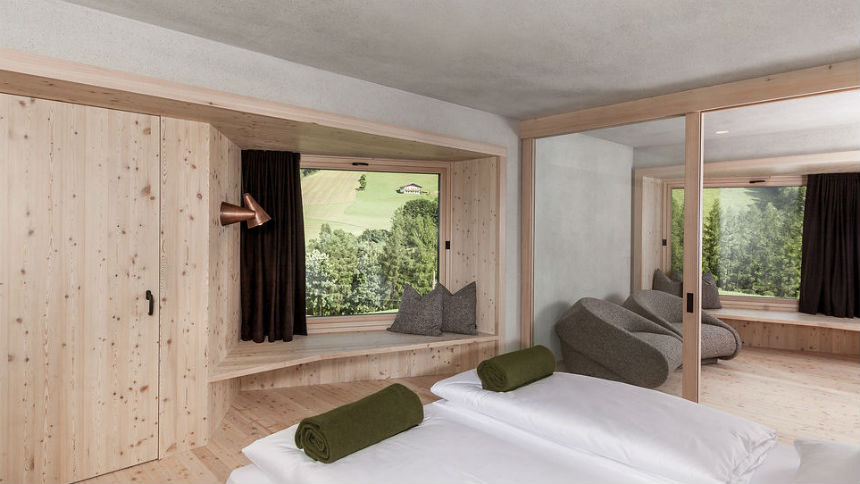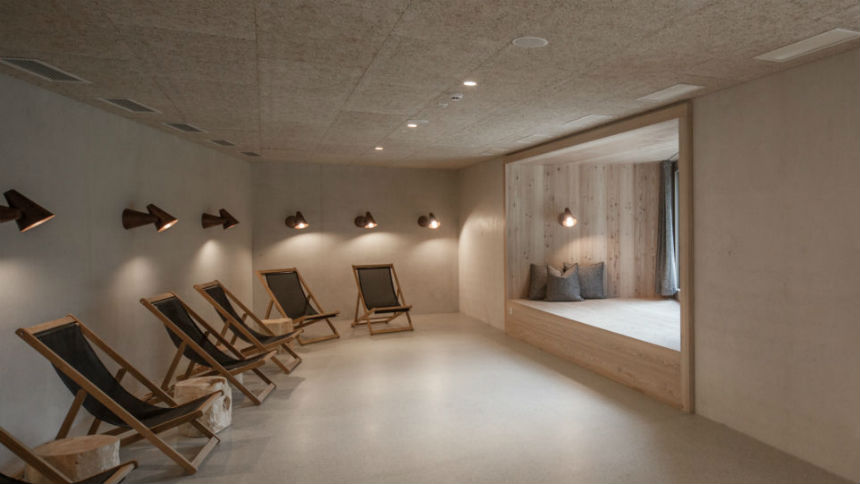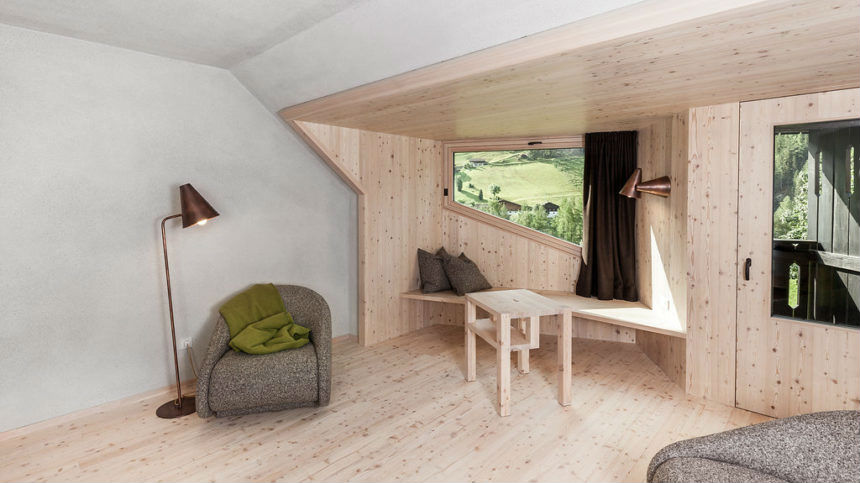 Completed just last year, Hotel Bühelwirt is a new take on the traditional hiker lodges of the area and it was built with the adventurer in mind. The owners focused on creating a place that was one with its surroundings. The dark wood facade, which looks like something straight out of a fairy tale (the Grimms' version, not Disney), was specially designed to blend in with the dark green forest. The unique shape — rooms jutting out at angles — is a reflection of the surrounding mountains. It's a perfect blend of contemporary design and traditional accommodations that allows guests to unwind after long days exploring the Dolomites.
Inside, the minimalist philosophy continues. Rooms are sparsely furnished with just the necessities. But don't confuse simplicity for basic. The furniture, lighting, and fabrics are all locally sourced and expertly assembled creating a high-end yet serene space that allows the spectacular panoramic mountain views to be the star. The gray and white color palette combined with natural wood finishes creates the perfect setting to unwind and meditate on the beauty of the place while contemplating the next day's adventures.
Only 20 rooms fill the lodge, allowing the owners to cater to guests' specific needs such as customized hikes, guided hikes six days a week, and a spa offering a variety of massages. Not just a hiking hot spot, South Tyrol also offers world class skiing, snowshoeing, tobogganing, and other sports in the winter; the summer months offer horseback riding, mountain biking, and rafting.
Now booking, rates start at $74 a night for a standard room. The upgraded Panorama Suite goes for $100 per night.
Editors' Recommendations