Sometime between the debut of 1988's Big (in which Tom Hanks' boy-turned-adult character lives out his fantasy life in a too-cool Manhattan loft) and the rise of electronica-fueled raves in the 1990s (which all seemed to kick off in "a warehouse down by the docks"), children of the '80s became enamored with abandoned industrial spaces. That fascination has somehow endured over the last few decades, lending an immediate "cool" aspect to today's loft apartments, collaborative workspaces repurposed from old factories, and, most recently, boutique hotels.
So, it was only a matter of time before high-brow designers began seeing the potential in turning abandoned gentleman's clubs into luxury accommodations. Here are four swanky new hotels that proudly pay homage to their seedy strip club roots.
Broadview Hotel
Toronto, Canada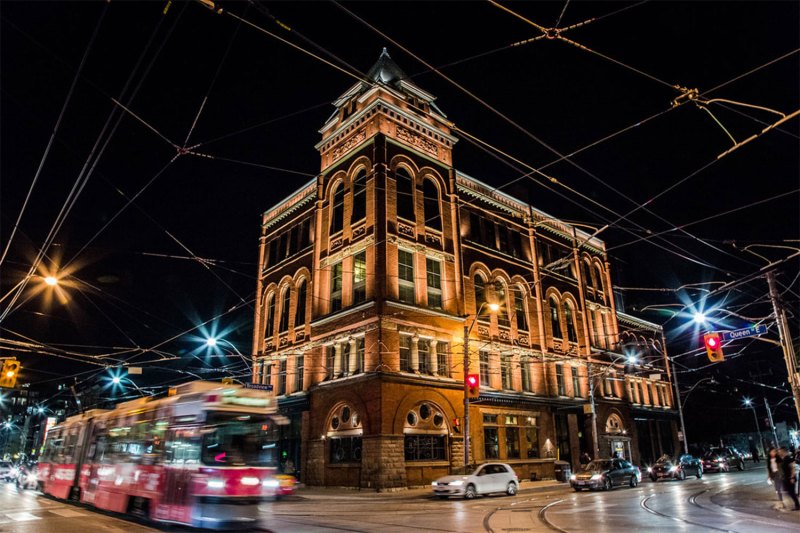 To be fair, the former home of Jilly's Strip Club wasn't just a strip club. In its 128-year tenure in downtown Toronto, the beautiful 19th-century Romanesque Revival-style landmark building was also a soap factory, a commercial center, the original Broadview Hotel and, well, another strip club. So it's seen more than its fair share of history, much of which inspired its rebirth as the swank, new, 58-room Broadview Hotel. The top-down redesign blends upscale vintage elements like industrial pendant lamps and marble cafe tables with subtle nods to its strip club past including dark velvet curtains, neon bar lighting, and bold, brass accents throughout. The guest rooms and lobby feel like the luxurious smoking lounges of the 1970s, while The Rooftop Bar, the hotel's aptly named rooftop bar, affords guests panoramic views of Ontario's capital city.
The Dean Hotel
Providence, Rhode Island
For as long as anyone could remember, the building that housed the defunct Sportsman's Inn was a blight on Providence's otherwise stellar Renaissance. But in 2014, the one-time "gentleman's club" (we're using that term liberally here) was reborn as the boutique hotel known locally as The Dean. It's a place that blends the sophistication of a GQ photo shoot with the swagger of a legit, upscale gentleman's establishment. The 52-room property is not just a space for in-the-know travelers to crash, but a social hub for in-the-know locals to mingle as well. In addition to the swank modern guestrooms, there's a karaoke bar, a gourmet coffee shop, and a restaurant. That it's located in the heart of the capital city, a short walk from just about everything worth visiting, makes it all the better.
Hotel Clermont
Atlanta, Georgia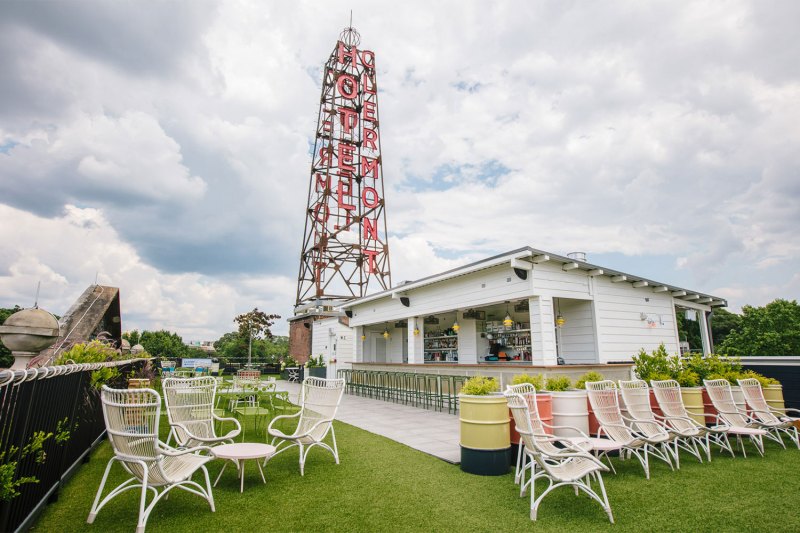 An upscale hotel sharing space with a strip joint might seem strange. However, the Clermont Lounge is no ordinary strip joint. The downtown Atlanta dive bar has been something of a landmark since 1965. Its cast of curious characters — a 60-something dancer who notoriously crushes PBR cans with her breasts and another whose trademark move involved lighting her assets on fire — are well known and oddly appreciated in the Georgia capital. Its appeal has attracted a long list of celebrities including Robert De Niro, Anthony Bourdain, John Hamm, and even Jennifer Lawrence. So it's not much of a surprise that a clever hotelier opted to cash in on that notoriety. In 2018, Hotel Clermont opened (technically it's a reopening of a former hotel of the same name) just upstairs with all the trappings of a modern boutique hotel. Guestrooms feature crisp, neat-as-a-pin retro designs plus upscale amenities like high-speed Wi-Fi, Bluetooth speakers, and La Bottega toiletries.
Gold-Diggers
Hollywood, California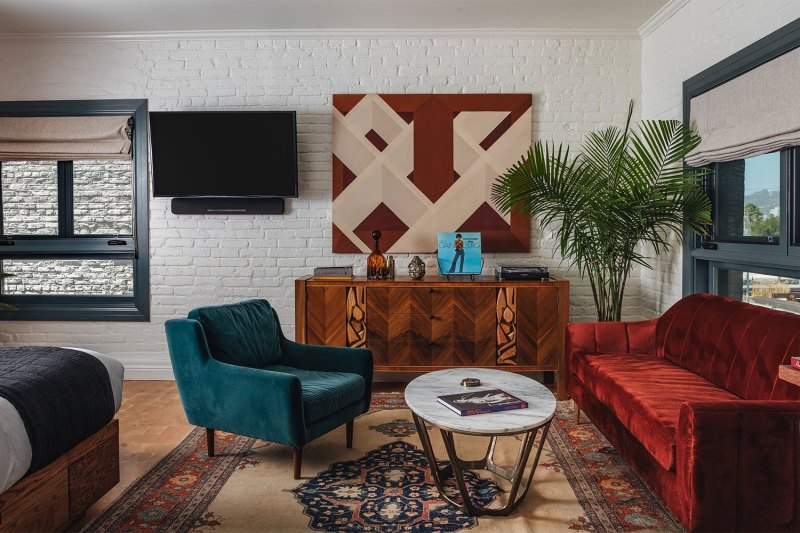 On paper, Gold-Diggers bar (and its attached but unoccupied hotel) underwent a subtle transformation in 2018. In fact, the one-time bikini dive bar looks nothing like its former self. With help from a high-end architecture firm and a proper interior designer, the building was beautifully reborn with appropriate nods to its seedy historical reputation. In the owner's words, the "hotel, bar, and music campus" now offers "just the right amount of sleaze." The 11 hotel rooms received a thorough restoration that includes original artwork, vintage brass fixtures, and jewel-toned velvet accents. An attached studio and rehearsal space, formerly the sound studio for infamously awful director Ed Wood, has been given new life as a modern space for live performances and screenings.
Editors' Recommendations