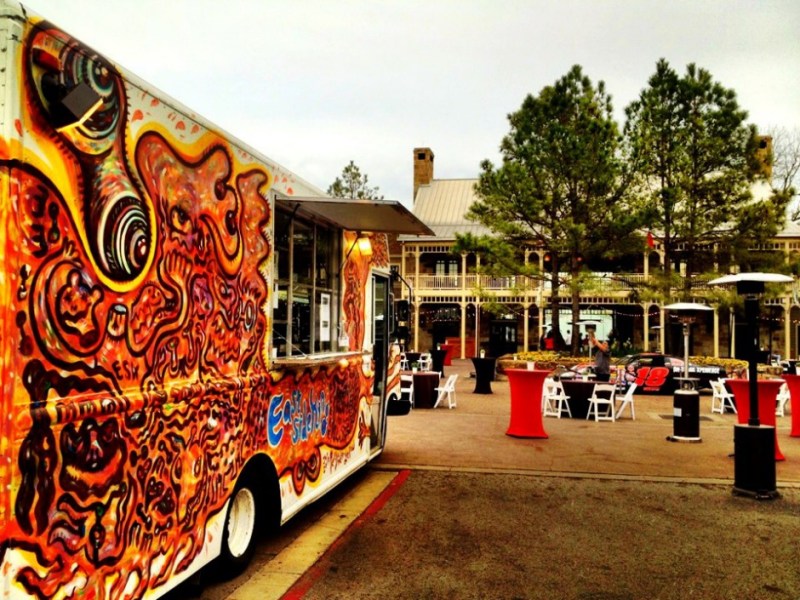 During SXSW – and the rest of the year, really – Austin is home to one of the country's best local music scenes. No street corner, restaurant, coffee shop, or dive bar goes without it, and during our SXSW stay we had a chance to sample some of the best haunts for live music, and discovered a few we needed to share and revisit.
The Drinkin' Spots:
6th Street
This entire stretch will satisfy your local music craving, and then some. There are bars for as far as the eye can see (well… more like between Guadalupe and the I-35 on ramp), and all of them feature great acts throughout the day. As thrilling as 6th Street can be, it's also overwhelming – if you don't narrow it down, you're going to feel like an alcoholic, audiophile Goldilocks trying to find which bar and band fits you best. Allow us to help: Definitely check out The Speakeasy, Bourbon Girl, The Parish, and The Bling Pig.
If the downtown scene is just too much for you (no shame – seriously, it can be a madhouse), 6th Street tends to mellow as you head further east. That's where you'll find this home that's been renovated into a quaint Mexican restaurant, where the music is live and enjoyable without giving you a panic attack. Between the expansive back porch and house cocktails, there's plenty to cheer about – the cheering is just a little more quiet.
SXSW dominates 6th Street, but just across Cesar Chavez Street lies a great row of bars that includes this deceptively large joint, which boasts a country-meets-camping vibe. A large back patio area features an on-level stage, so whoever is playing, you're sure to get a great seat.
This bar is near Black heart and, warning, it's not much to look at from the front (giving off a bit of a disco-meets-college-frat-party vibe) but inside there's a great setup for watching the game as well as a great outdoor area with fire pits. And we're not going to lie: their ginger beer whiskey cocktail is a lethal, delicious concoction.
Best SXSW Food Trucks:
You'd have to try pretty hard to find bad Tex-Mex or barbecue in Austin, but there's plenty of other great food to be found in Austin's many gourmet food trucks.
Most notably, Top Chef season 9 (and prestigious James Bear award winner) Paul Qui's truck is an absolute must-try if you want to experience culinary genius on a festival-goer budget. The $7 pork belly katsu sandwich is sure to satisfy any hunger or hangover from the wild night before.
Jeni's Splendid Ice Cream truck at SouthBites
For desserts, stop by this Ohio-based truck that made a pitstop at SXSW to offer the most satisfying, cooling quench on a hot Texan day. We recommend salted caramel for those who enjoy the idea of savory and sweet, or a lemon yogurt scoop if you dig classic, tart flavors.
If you can't leave Texas without sampling some tacos, check out the duck tacos at Duk Truck. Hailing from the neighboring city of San Antonio, the $7 tacos feature smokey strips of tender duck meat with a refreshing mango salsa topped with cilantro.
Best Vintage Store:
While you have several vintage shop options in Austin, this pop-up that roamed about SXSW was our favorite spot. The one-of-a-kind pieces range from affordable $10 shirts to $50 leather vests – a price we defy your local thrift shop to beat. The organizers also collaborated with local artists to bring live music and drinks, keeping shoppers pumped up and out of the blistering sun.