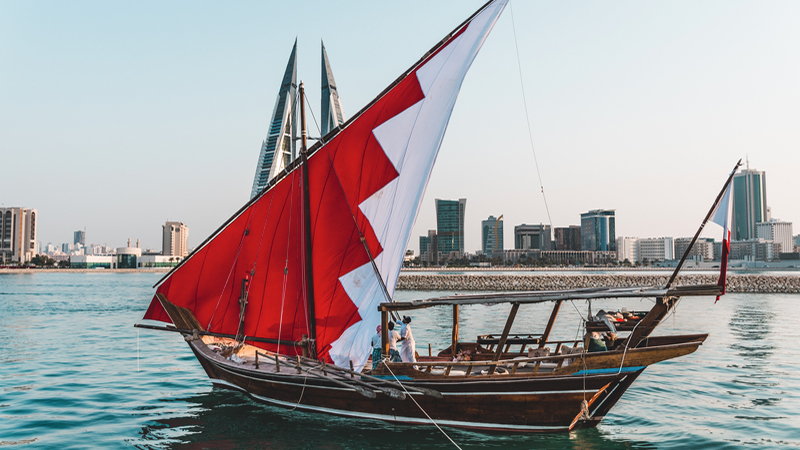 Like every intrepid traveler, scuba divers are always in search of the next great bucket-list-worthy adventure. Whether swimming with apex predators, diving the deepest wrecks, or exploring underwater caves, there's no shortage of niche marine-based adventures around the world. Now, the tiny island nation of Bahrain is opening up its waters to one more: pearl diving.
The waters off the coast of Bahrain are among the most stunning in the Arabian Gulf. Unknown to many, this is the best place to find the world's purest, natural pearls. Among those in the know, it's been the undisputed pearl capital of the world for more than two millennia. For the first time in 80 years, the country will join a handful of destinations around the globe by inviting tourists to dive its waters in search of pearls.
Traditional pearl diving is an arduous, dirty, and dangerous job. Professional, commercial divers typically spent weeks or months at sea. The task required divers to be lowered on weighted ropes with only a nose clip for safety. They would remain underwater for more than a minute at a time, essentially freediving while desperately scouring the ocean floor. Modern pearl diving is, thankfully, much safer and easier. Tourists need only know a handful of basic steps to start diving for their own pearls, and even non-SCUBA certified snorkelers can take part as well.
The move is part of an overall initiative to boost tourism to the Arabian Gulf. It will also be a way to raise money to protect the Gulf waters and bolster a more sustainable pearl diving industry. Consequently, the tours will be strictly regulated and are only available from operators at specific ports.
Licensed tickets must be purchased in advance from Bahrain's official government website. Travelers then complete a workshop on what to expect and how to properly — and safely — dive for pearls. Divers must work with one of the few licensed tour operators and depart from the port of Ras Rayyah. Visitors are allowed to collect up to 60 oysters, which are professionally appraised before being packaged for their return home.