Chances are you know someone who has been to Costa Rica, and they can't stop telling you how amazing it is. And for good reason because it truly is one of the most beautiful countries in the world. It's a big place with a lot to see, so you can choose your own adventure and plan whatever type of vacation you desire. If you're looking for a relaxing beach vacation very far removed from the hustle of everyday life, this guide is for you. Playa Negra is, in our minds, a magical place. A surfer's paradise, this dark sand beach is famous for its right-hand barrel waves and was the setting for Bruce Brown's 1994 film The Endless Summer II. Surrounded by jungle with a good mix of locals and visitors, you'll leave Playa Negra feeling like you actually took a vacation, relaxed and rejuvenated. A few things to note before you arrive:
– Rent a car: The drive from Liberia airport to Playa Negra is about an hour and a half. The main roads are paved, but back roads and those surrounding Playa Negra are not, so you will need a big vehicle to navigate bumps, large puddles and steep hills. Whatever you do, don't rent a car from Avis, as they have a ton of hidden charges and will rip you off (we made this mistake so you don't have to).
– Exchange money at the airport: Once you get to Playa Negra, you'll be hard pressed to find a bank or even ATM closer than a 30 minute drive. We suggest bringing enough cash to last you a few days and exchanging it right when you arrive. Nearby Tamarindo has plenty of ATMs and a couple banks, so you can always re-up if you visit later in your stay.
– Watch the sun: The locals will tell you (and they practice what they preach) to stay out of the sun from about noon to 3pm when it's the strongest during dry season. If you're looking for optimal beach time, we suggest heading down for a few hours in the morning, retreating inside during this afternoon stretch for lunch, errands or a siesta, then going back out to enjoy the rest of the afternoon and sunset. Don't forget to wear sunscreen!
Stay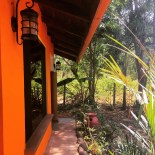 Airbnb
If you're looking for a true Costa Rican experience, Airbnb is the way to stay. You could rent a condo, but we really suggest a house for the best adventure. If you have the chance, stay at Casa Kalana, a beautiful home in a remote location surrounded by jungle life and only a five minute walk to the beach. The two-bedroom space features an open-air atrium, sundeck and large porch with a hammock where you'll spend most of your time. The huge kitchen is perfect for cooking up some of your meals, especially on Fridays when the fish truck comes by delivering the ocean's freshest catch. Our host Frank had a pizza waiting for us when we arrived and made us feel instantly at home with his suggestions on where to go and what to see. We felt like a part of the Playa Negra community by the end of the week, and Casa Kalana was an vital part of what made it such a magical experience.
Andaz Peninsula Papagayo Resort
This stunning resort is located where the Gulf of Papagayo meets the crystal blue waters of Culebra bay, a mere 20 minute drive from the Liberia airport and about an hour from Playa Negra. "At Andaz Peninsula Papagayo, we live an authentic sense of hospitality," Mariella Cabezas, Marketing & Communications Manager and our wonderful host, said. "From the Andaz brand itself, this is a pursuit to make guests feel as welcome as a friend would receive them at home." And this philosophy is apparent during every interaction with the resort staff. The rooms are designed to truly make you feel at home away from home with locally-inspired wood and textiles and amenities like complimentary sun hats hanging on hooks by the door. Each room has luxurious touches like a balcony and walk-in rain showers, and a few suites even feature private plunge pools. There are three beautiful open-air restaurants overlooking the bay: Rio Bhongo serves breakfast, lunch and dinner with a menu focused on the flavors and food of Costa Rica; seafood restaurant Ostra serves up the freshest fish in town with a Peruvian chef who specializes in ceviche; and Chao Pescao features small plates and delicious cocktails to the beat of a live Latin band. A visit to the resort's Onda Spa is an absolute must for one of the most luxurious treatments you'll ever receive. Relax into a massage or body wrap in your own private suite overlooking the bay. Afterwards, take your tea on the balcony following a refreshing outdoor shower hoisted high among the trees.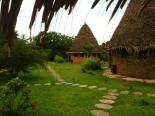 Hotel Playa Negra
As Playa Negra's only beachfront hotel, this beautiful property makes for a serene stay. Hotel Playa Negra offers unique accommodations with two types of rooms: bungalows with one queen and two twin beds and the more secluded suite bungalows with one king and two twin beds. Designed with high, palm leaf ceilings and numerous windows, the round bungalows have a charming look and breezy feel. Their restaurant serves meals from 7am – 9pm with a weekly Argentinian BBQ and bar that stays open after the sun goes down. Take a beachfront yoga class or rent a surfboard and test your skills.
Kon Tiki
Staying in this hostel is like posting up in a colorful treehouse, filled with surfers from all over the world. Built by hand by the owners Martin and Giovanna, Kon Tiki has hosted thousands of travelers for 21 years. You can choose between a rustic cabin for the true hostel experience or rent the three-bedroom villa with private bathrooms, a jacuzzi and ocean view terrace. Even if you don't stay here, make sure you come by one night to eat delicious homemade food like wood-fired pizzas, traditional Peruvian ceviche or even steak and bratwurst on BBQ night.
Eat & Drink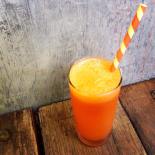 Cafe La Ventana
Opened in 2007 by New York-native Jen Petrizzi, this darling cafe serves up some of the freshest meals you'll eat during your stay. All bread is baked in-house and fresh veggies are sourced directly from her back garden. Start your day with a bagel, homemade granola or delicious breakfast burrito then stop in for lunch where you should try the vibrant Rainbow Salad or Tuna Teriyaki Bowl. Try not to get overwhelmed by the extensive list of fresh juices – grab one to go before hitting the beach or road.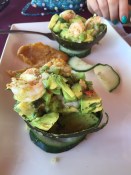 La Buena Vida del Sur
This lovely open air restaurant serves up everything from seafood to pizza and a damn good piña colada. Make sure to try the shrimp and avocado salad, one of the most delicious things we ate during our stay. If you sit there long enough, you might even see a chicken cross the road (yes, we really did).
Cafe Playa Negra
This restaurant, bar and hotel is located right on the "main drag" of Playa Negra and has a large menu that serves up fresh, local fish and Peruvian specialties. The huge open room is part restaurant, part hangout with a lounge area in front of a big projector screen playing surf videos. If you're lucky enough to eat there on sushi night, make sure to try whatever special rolls they're serving.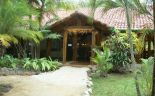 Gina's Sports Bar & Lounge
If you're looking for drinks and a good time, Gina's is the place to be. Serving up food with nightly specials and a full bar of beer and cocktails, you'll feel right at home in this open-air space, surrounded by the beautiful jungle outside. Some nights are quiet, others are boisterous, like their Negra Nectar party, with a DJ spinning fun dance music and a few tourists filing in to hang with locals. We were there late night, and even though the kitchen was closed, Gina managed to make us some waffle fries, followed by a shot. She's the best!
Related: The Manual's Austin City Guide to SXSW 2015
Neighboring Beaches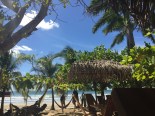 Playa Avellanas
Situated a few feet from the shore on Playa Avellanas, make sure you visit the beautiful restaurant Lola's, a popular spot for guests of the nearby Marriot resort. Settle into one of their tables right on the sand for tropical cocktails and a well-rounded menu with something for everyone. When you're done with your meal, simply stroll down to the beach, grab a fresh coconut and lounge the afternoon away.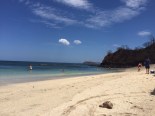 Playa Conchal and Brasilito
If you're looking to swim, Playa Conchal is a welcome departure from the rocky ocean floor and choppy waves of Playa Negra. And as one of the only Pacific Coast beaches with crystal clear water, it's an absolutely stunning place to spend the day. Lie on the beach and get a massage or rent a jet ski if you're looking for a little adventure. There are vendors selling fresh fish, coconuts and even chicharron if you need a snack. But save room for La Casita del Pescado, a seaside restaurant in the neighboring town Brasilito that serves some of the freshest, most delicious ceviche you'll ever have.
Tamarindo
Located about a 30 minute drive north of Playa Negra, this touristy beach town is a fun place to visit for the day. It's small, so you can park your car and walk up and down the main drag, filled with shops and restaurants, before hitting the beach.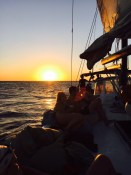 Antares Sailing Tours
You must get out on a boat during your stay, and Antares Sailing is the best way to spend a day on deck. Daily tours meet at El Pescador restaurant (see below) at 12:45pm when you'll depart on Antares' schooner sailing ship for a five hour tour. On board, you can enjoy an open bar and delicious six course meal including dishes like a tofu salad, veggie ceviche, smoked salmon and a spicy sweet veggie curry soup with coconut milk. The boat anchors briefly so you can jump off and snorkel if you please. Get very excited for the sunset, which is always a stunner.
Wild Panda
If you're craving ceviche in Tamarindo, this little restaurant makes it fresh right in front of you. The wraparound bar lets you see everything being deliciously prepared in the kitchen while still giving you a view of the bustling street outside.
Latitude Blue
Previously known at Nibbana, this beachfront restaurant and sports bar serves up fresh fish, pizzas, salads and sandwiches that are good anytime of day. Don't miss the all-day 2-for-1 happy hour if you feel like getting a little tipsy before popping into the shops along Tamarindo's main drag. Come back at night to watch the amazing fire dancers perform.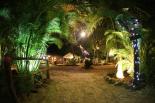 El Pescador
After a long day of sun and surf in Tamarindo, walk up to this beautiful restaurant, situated right on the sand just feet from the water. Their rice and seafood dishes are the move, served on huge chopping blocks with fried plantains. Try the octopus and shrimp, you won't be disappointed. Be aware this place is slightly hidden – once you hit the end of Tamarindo's main drag that opens into a cul-de-sac of restaurants and shops, walk onto the sand and keep going. It's just another minute or two down the beach.
Activities
Pura Aventura
Located on a 150-year-old horse and cattle ranch, Pura Aventura has more than 1400 acres for your adventuring pleasure. The canopy tour is a blast and includes 11 cables that send you flying high and fast through the forest. The instructors are great fun and will expertly and safely take you through the course. For those who want to stay closer to the ground, horseback riding and mountain biking tours are also available. Stop back inside the open air cafe after your tour for a plate of fresh fruit on the house.
Costa Rica Equestrian Vacation
If you want to get some horseback riding in during your stay, this equestrian center offers lessons, trail rides and beach tours. It's a great way to check out the tropical plant life and animals in the area, not to mention those stunning Playa Negra sunsets.
Thank you to my travel partner Georgiana for lending some of her photos for this piece.
Editors' Recommendations