The modest, rural house sits on the edge of the rainforest high in the mountains in the Térraba region of Costa Rica. The afternoon shower has passed and in the distance, above the hum and buzz and the dripping of rainwater onto thick leaves, I can hear the roosters and Brahman cattle of a neighboring farm. The sound is electrifying. Alive.
Over an open fire in the kitchen adjacent to the porch where I sit, cacao boils slowly, turning into what will soon be a chocolate-y beverage. Earlier in the day, as part of my visit to the area, I'd had a hand in harvesting and roasting the beans used to make the drink.
Daunting masks of powerful animals are spread out on a table alongside well-worn carving tools. The masks are part an annual ceremony performed by the Broran, an indigenous community that has lived in this region of Costa Rica for centuries. I've come to visit the Broran and experience the rainforest through the eyes of those whose lives are intertwined with it. It is something I've looked forward to for months but, unfortunately, I also have a terrible cough …
"Tos?" asks Bolmar, a powerful man and the artist of the ceremonial masks. He pantomimes a cough to clarify. Bolmar and his brother, Yuba, have begun hosting tourists to share their people's traditions. They've been showing me around all afternoon.
"Sí," I say.
"I will make better," he says. "Come with me."
With that, we set off into the rainforest. Bolmar moves through the dense foliage as though he is a part of it, with me clunking and coughing behind. He stops at a plant, plucks a leaf, takes in its scent, then tosses it on the ground and pulls another. He smells the little stem again, only it is not just a little sniff. It is as if he is breathing in its essence — the lineage of the plant from the beginning of time. Then he smiles.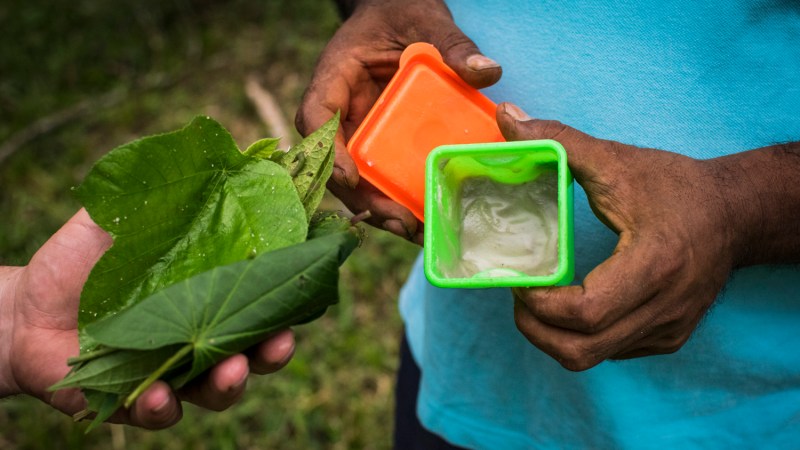 "Very good." He cuts two more leaves and puts them in a satchel.
"Come," he says with another smile. "There is more …"
He stops again, plucking another leaf, this one more frazzled looking and closer to the ground. Most of the Broran converted to Catholicism after the Spanish occupation of Costa Rica, but they largely consider themselves deeply spiritual people, their lives divinely woven with Mother Earth. This ethereal connection is apparent as he contemplates yet another plant. "This is good," he says again with more gust — and once again, we are off.
The Térraba River is Costa Rica's second longest waterway, emptying into the Pacific Ocean north of the Osa Peninsula. The Térraba (Teribe) region , located in the southeastern part of the country, is occupied by six indigenous communities, including the Broran. There are roughly 1,000 Broran living in the area and, despite having lived the river valley for many centuries, their language and traditions are getting lost in an ever-evolving global culture of technology and urbanization.
More threatening to the community than the loss of language, however, is the fact that the Costa Rican government hopes to place a dam on the Térraba River. While great for many coastal and mountain communities in terms of energy, it will be the end of the Broran's centuries old residency in the magical rainforest.
Due to the varying forms of encroachment and exodus, Bolmar and Asdrubal, along with many other Broran, are turning to tourism to share the Broran culture with people from around the world — and to bring their youth back to their native community. Greenspot Travel is just one of several travel companies that the Broran are working with to raise awareness of the Costa Rican indigenous experience.
Greenspot Travel prides itself on creating experiences with a purpose. Eco-minded, high-end vacations in Central America have long been this company's heart and soul, but more recently they have begun to incorporate indigenous visits into what are already world-class destinations in order to highlight a more meaningful understanding of nature. Most trips feature lodging in eco-lodges owned and operated by the representative indigenous community. Meals are locally sourced and often prepared and eaten in the homes of those native to the area. Among these exerperiences, which extend into Panama's San Blas Islands and throughout Central America, is a sojourn to the Térraba and the Broran.
It is one thing to visit a rainforest, but it is another thing entirely to venture into a rainforest with an individual whose life and the rainforest are linked. Experiencing such a place with those indigenous to the terrain allows adventure seekers to engage with the rainforest in a more intense and intimate matter. The experience goes from being one of observation to one of participation, and in this participation, one leaves with a sense of connectivity that can be acquired no other way than with those who call it home.
Upon our return, Asdrubal hands me a cup of cacao that has been boiling since we set off on our pharmaceutical adventure. Bolmar had picked leaves from nine different plants in our 20-minute walk. We'd seen fiery-billed aracari (think Toucan Sam), blue-crested motmots, and Cherrie's tanagers. Bolmar gives the leaves to his mother, who takes them into the open-air kitchen. She will turn them into a paste and then cook them in pig fat until it turns into a salve that they assure me will cure my ailments.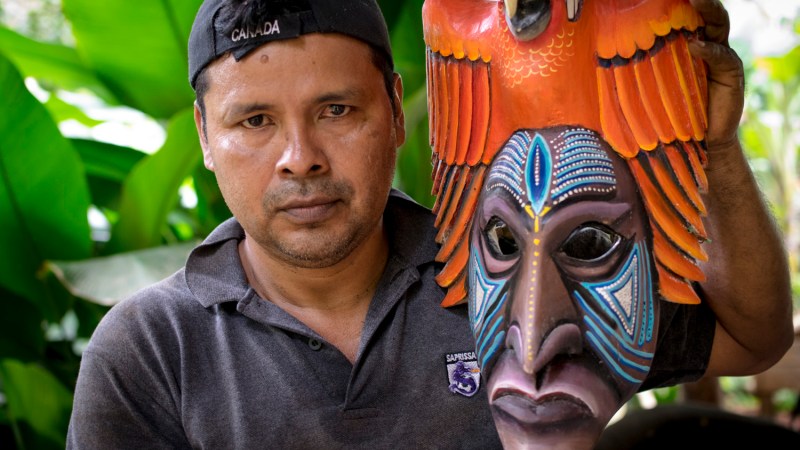 We sip our cacao and Bolmar tells me about the masks he carves. The animalistic renderings were originally designed to scare the Spanish out during their occupation a half-millennia ago.
Once again, the land is threatened. Where medicine can be made in moments might soon be a lake. Where now is tradition and reverence, one day might just be another guy with a cell phone wondering what's wrong with the world. As my lungs open from the medicine I've rubbed on my chest, I listen again to the music of the rainforest. It sounds not just beautiful, but important.