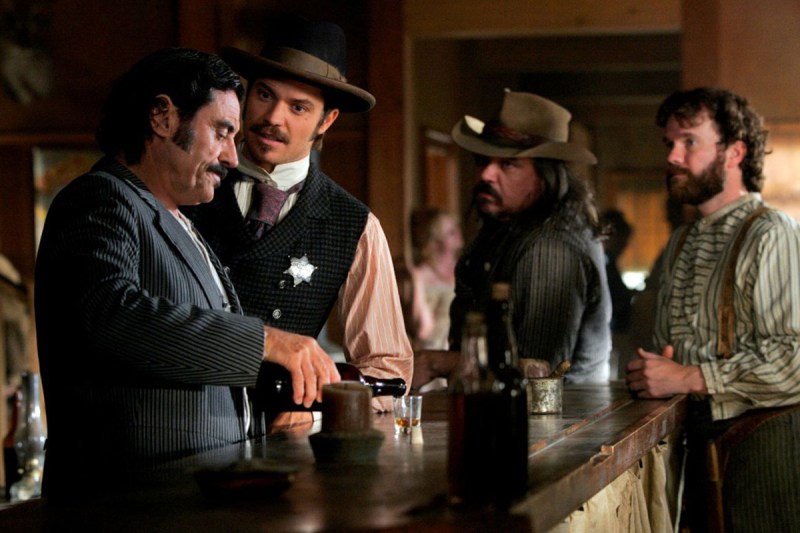 A good Western is hard to find these days. I'm not talking about the futuristic takes on the genre like Westworld or graphic novel-style spinoffs such as The Preacher. I'm talking about an honest-to-God cowboy flick, where lone lawmen hold off an angry mob to ensure that the prisoner lives until his hanging at dawn. Where mustachioed men engage in fisticuffs accompanied by tinkly saloon pianos. Where life is a race against time before it's swept away by greed, rotgut whiskey, or scarlet fever.
Back in 2004, HBO premiered the beautifully written but regrettably short-lived series Deadwood, a gritty epic set in the Black Hills of South Dakota. The show was immediately greeted with critical and popular acclaim, but only the nerdiest fans knew that the series was based on the history of an actual place. The real-life gold rush camp of Deadwood, South Dakota, was even populated by legends of the American West such as Wild Bill Hickok and Calamity Jane, as well as foul-mouthed saloonkeeper Al Swearengen and reluctant sheriff Seth Bullock.
The Emmy-nominated show's untimely demise was a shock to viewers. Despite having ratings on a par with The Sopranos and Six Feet Under, Deadwood drowned under the weight of its extravagant budget and unpredictable producer David Milch. The final episode was clunky and confusing, to say the least; HBO, more than likely aware of this, offered a vague promise to make a 2-hour feature film that would provide closure in the form of a searing (and historically accurate) showdown between two of the main characters. Alas, the film never materialized.
Until now, that is. Thanks to the persuasive magic of television's new golden age, HBO has finally made good on its long overdue promise. Deadwood: The Movie will premiere May 31 on HBO. If you're among the series devotees who have been awaiting this moment for more than a decade, you should definitely head to South Dakota for the best viewing party in the country.
Hosted in the real historic town of Deadwood, the party centers around a screening of the film at the Deadwood Mountain Grand resort. Sip on cocktails inspired by Deadwood's glory days, don a wide-brimmed hat and fake mustache in the old-time photo booth, and geek out at re-enactments of historically based show scenes. Spend the hours before the screening at nearby iconic destinations such as Mount Rushmore, Badlands National Park, and Custer State Park. Afterward, hang around for a performance from Sacred Cowboys, a country-rock band led by actor W. Earl Brown who played Swearengen's scruffy sidekick Dan Dority.
If you want to really take it to the next level, you can opt for the Deadwood: Heroes & Villains customizable travel package. This three-night package includes perks such as:
Accommodations at select properties like the Historic Bullock Hotel, where you'll share space with the ghost of Seth Bullock, who built the hotel and is said to haunt its halls.
Visit to Mount Moriah Cemetery where Seth Bullock, Calamity Jane, and Wild Bill Hickock are buried.
Viewing of a re-enactment of the trial of Jack McCall. This event was an important hinge of Deadwood's first season, showing how the town dealt with the murder of the venerated Wild Bill Hickok by the cowardly, crooked-nosed McCall.
The Lawman's Patrol Walking Tour. Led by an actor playing the historically accurate version of Con Stapleton (a dim-witted card dealer in the show, but actually the town's first marshal), this tour will give you the historical lowdown on Deadwood's brothels and bars.
A ride on the Deadwood Stagecoach, the iconic conveyance that carried mail, gold, and ambitious adventurers all over the Old West. (We recommend bringing along an orthopedic cushion. Maybe also a neck brace.)
Tour of the authentic 1876 Broken Boot Gold Mine, where you can pan for real gold (without worrying about a Brom Garrett type of situation).
Tour of local history museums such as The Days of 76 Museum (honoring Deadwood's pioneers) and The Adams Museum and House where the town's influential business leaders used to gather.
Rejoice, long-suffering Western fans. As Al Swearengen would put it (in one of his less profane moments), your prospects have just improved.
The Deadwood: Heroes and Villains travel package is available starting May 25 and runs through September 2, 2019. Prices start at $303 and vary depending on lodging and activity preferences.
Editors' Recommendations