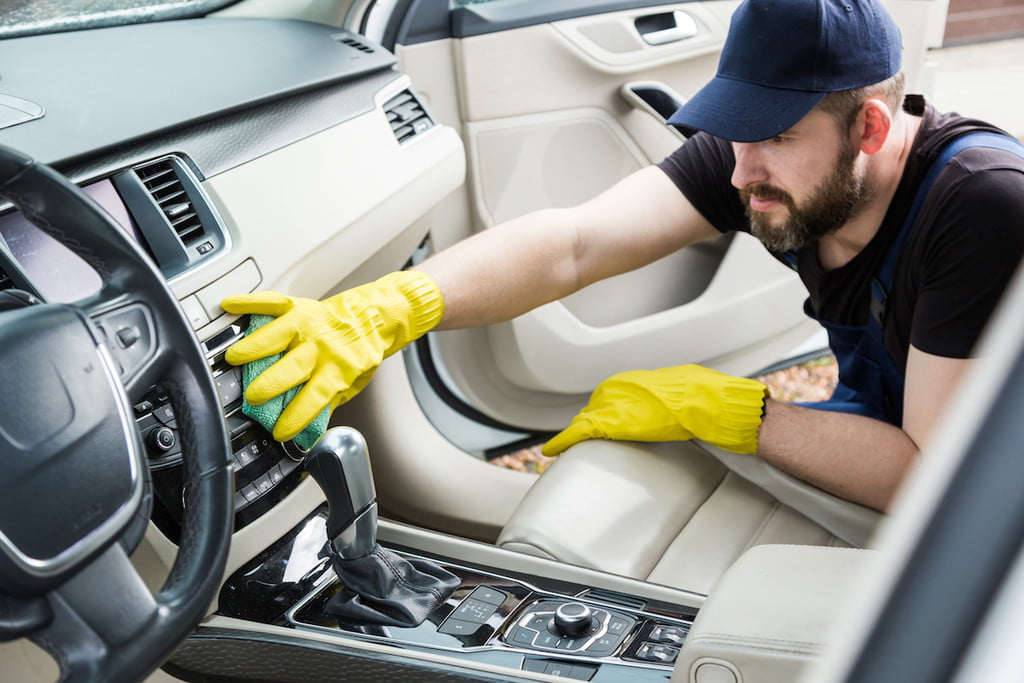 Floor mats are there to protect the car carpet and make it easier to keep the interior clean. They collect dirt and mud from your shoes along with food crumbs, drink spills, and more. In areas that get lots of precipitation, they collect the water that could cause harmful and smelly microbes to grow in the carpeting. You can simply remove the car mats and give them a good shake whenever they need it to eliminate loose dirt. But sometimes they need more.
No matter how picky you are about your ride, spills happen, and dirt collects on the car mats. Regular vacuuming helps tremendously in keeping the interior looking good, but over time, stains and residue begin to build up. When it's time to reinvigorate the interior, spruce up the mats by giving them a deep cleaning. How you do it depends on the type of mat: Rubber or carpet.
Gather your gear
When it comes to keeping your car mats clean, along with dozens of other messy jobs around the house, one of the best investments is a compact, powerful wet-dry vacuum, like this one. Use it to pre-vacuum to pick up the loose stuff and to pull out some of the excess moisture after washing the mats. You'll also need a good garden hose with a multi-spray nozzle.
Cleaning rubber car mats
Got your gear together? Let's get cleaning!
Remove the mats from the car: This job is wet and kind of messy. The driveway is a perfect place to do it.
Knock off loose debris: Shake and knock off any loose dirt before wetting the surface.
Dislodge sticky dirt and crumbs with clear water: Give them a quick rinse with a jet of plain water from the hose.
Scrub with warm soapy water: For best results, use a product like Meguiar's

Mirror Glaze Vinyl & Rubber Cleaner/Conditioner

that is specially designed for cleaning and conditioning rubber.
Rinse with clear water: Thoroughly rinse to remove all soap residue for a clear finish.
Air dry: Lay or hang flat in the shade.
Cleaning carpet car mats
Remove them from the car: You probably need to vacuum beneath them anyway.
Vacuum top and bottom sides: Remove any dry, loose material before wetting.
Remove odors with baking soda: Dust liberally with plain baking soda and massage into the fibers with a soft brush. Let it stand for at least 30 minutes before proceeding to the next step.
Wash option 1: Hand-wash. Apply automotive carpet cleaner like

Armor All Carpet & Upholstery Cleaner

to thoroughly wet the fiber, then scrub stains vigorously with a soft bristle brush.
Wash option 2: Most carpet car mats can be run through household washing machines. Use your regular detergent and normal cycle. Check the manufacturer's cleaning instructions before proceeding.
Vacuum to remove excess moisture: This is not absolutely necessary but will help move things along more quickly.
Air dry: Lay or hang flat in the shade.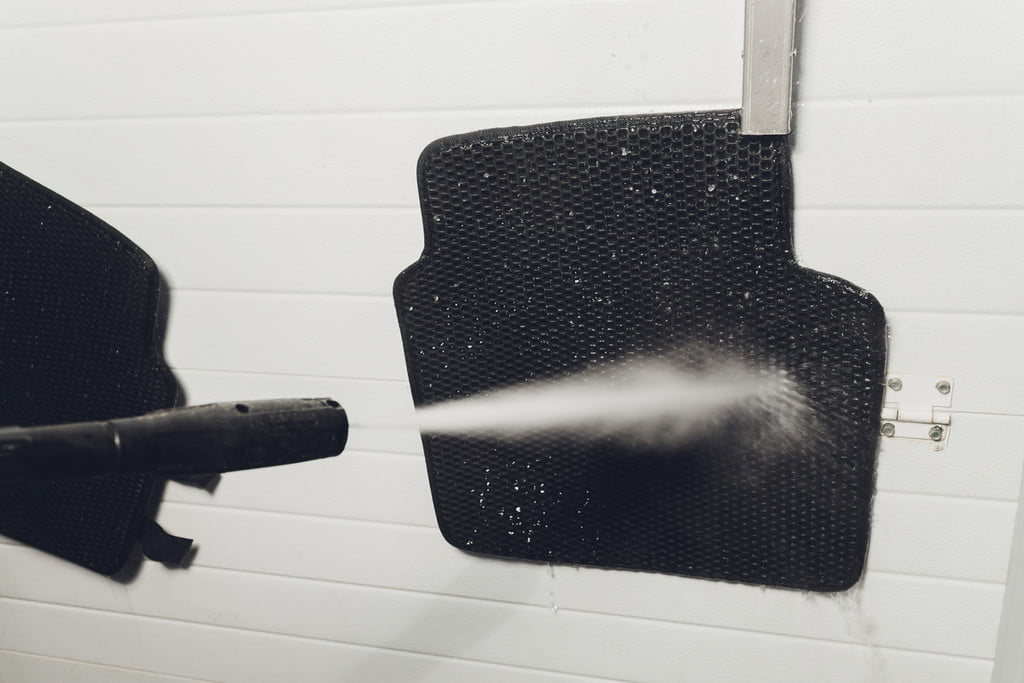 A note on air drying
For the best results, dry them in a flat position in the shade. Sun exposure leads to fabric color fading and cracks in the rubber. Laying the mats over a fence may cause them to take on a bent shape, causing a mat bubble on the floor of the car. Instead, lay them out in the driveway, use a clothesline with pins, or mount spring clamps to a wall or fence to hang them.
When to purchase new floor mats for your car
Many automobiles do not come from the factory with floor mats. Some new car buyers opt not to add the expense, especially for fleet vehicles. Over time, mats wear out, especially in the driver's heel area. If you purchase a car without mats, or if the ones in your car become worn out, it's a good idea to purchase a new set to protect your interior.
Dealerships offer both original equipment and upgraded mats, but there are many other options to choose from. Amazon offers a wide assortment of mats that fit a wide range of vehicles. WeatherTech offers custom mats to fit your car make and model. You may also find what you need at auto parts stores or general retailers.
It feels good to drive around in a car that looks good. Keeping your floor mats clean and in good condition makes the car look, feel, and smell its best.
Editors' Recommendations