Travel can be super-stressful. Between packing, getting the tickets, making sure you're checking in on time, going to the right gate, and also hopefully taking off when you're supposed to, it's a hassle. One of the biggest things we tend to worry about is our luggage, and how it's going to fare with the rough travel and handling of airport personnel, and while we have a list of some of the best carry-on luggage, they can be expensive. To that end, we've collected some of the best cheap suitcase deals out on the market, ones that still offer a ton of protection and peace of mind, but that don't necessarily break the bank.
Best Cheap Suitcase Deals
American Tourister Zoom Turbo 20-inch expandable spinner suitcase –

<strong>$119, was $120</strong>

LOAOL 3-piece lightweight travel suitcase set –

<strong>$166, was $331</strong>

Samsonite Centric 2 29-inch spinner suitcase –

<strong>$216, was $270</strong>
American Tourister Zoom Turbo 20-inch expandable spinner suitcase – $119, was $120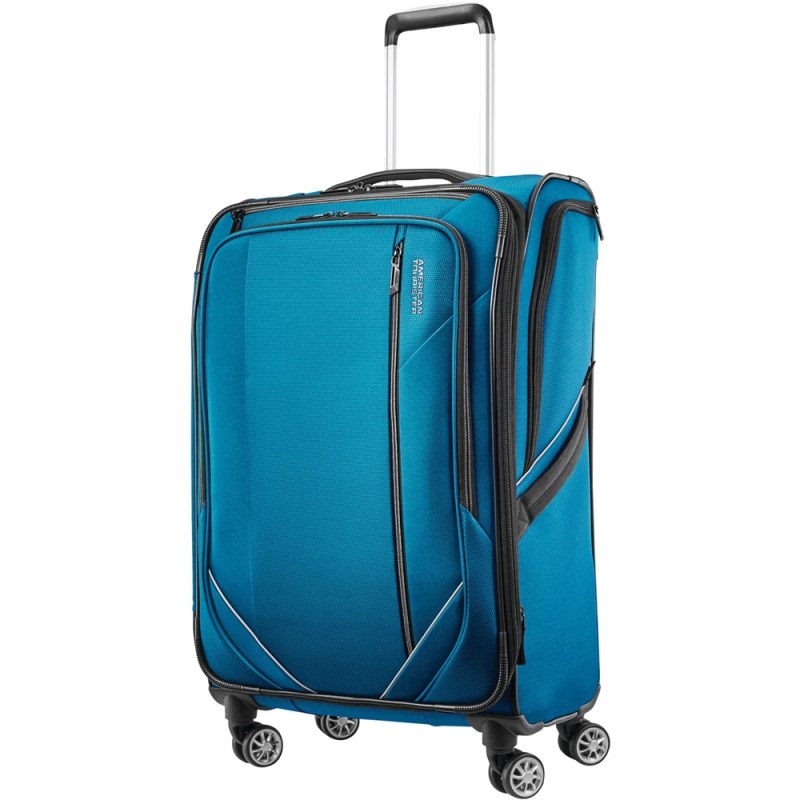 Why Buy
Meet the majority of carry-on requirements
Great expandability
10-year warranty
Great value
While soft-luggage cases may put some people off, especially given how rough some luggage handlers can be, this suitcase from American Tourister is pretty hardy, and it has a ton of space for you to work with. In fact, it expands all around, so you can fit even more stuff than you usually would unexpanded, and it doesn't even take that much space when all is said and done. The Turbo Zoom also stands at 22 inches with the wheels on, so keep that in mind if you're making any mental calculations for the size limits of your suitcase.
As for the internals, besides the ample open space and belt loop to secure your clothes, you also get three pouches to work with, two made of mesh and one made of soft plastic, mostly intended for things that might potentially spill or cause a mess. It's not airtight, though, so keep that in mind, and it's relatively small, unlike the pouch that sits on the lid of the suitcase, which runs along its length and can store quite a lot of things. You'll also find several pouches on the outside, with two in the front and a really handy one on the side, which is great for putting in a passport, ticket, or any other important documents you're likely to handle regularly.
As for overall construction, we're happy to say that the zippers are heavy-duty, so you're not likely to break or cause them any kinks easily, which shouldn't be an issue anyway since they're smooth to use and don't often catch on anything. The rollers are also pretty well made and spin freely and smoothly, so pulling it along is a joy, although there is a handle on the side if you would prefer to carry it or when you're getting it from the baggage carousel. Finally, and one significant upside of this bag is that it comes with a 10-year warranty, so even if there is some issue within the first few years of ownership, it's relatively easy to get it fixed, meaning you don't have to be worrying about it constantly.
LOAOL 3-piece lightweight travel suitcase set – $166, was $331
Why Buy
Great value for a 3-piece set
High-quality hard case
Design for most international carriers
Coded, TSA-compatible safety lock
Hard suitcases are excellent if you travel a lot, especially with long distances or international travel, since they can protect your stuff more than a soft suitcase can. They do tend to be expensive, though, with some single hard suitcases costing around $200 and up, so getting three of them for just that price is excellent. Of course, you aren't getting something made of metal, but rather a high-quality ABS plastic, which is still plenty of protection beyond some extreme handling, which you shouldn't really be worried about.
As for storage space, there's plenty of it. The smallest suitcase is 20 inches with a 38L capacity, the medium-sized one is 24 inches with 60L of capacity, and the largest one is 28 inches with a 93L capacity. That means if you take all three bags, you're looking at a total of 191L capacity, which should be more than enough for two people, and maybe even three, although if you prefer to go with one bag, getting this three-piece set gives you the flexibility to pick the best size for your needs. Also, keep in mind that these sizes are the suitcase only, without the wheels, which can add between 2-3 inches depending on the suitcase, and while they vary in size slightly, they're 360-degree spinners and are very smooth.
The main storage area is very spacious, as you can imagine, but unfortunately, there's only one mesh pocket to work with, although it does span the whole of the lid, so it has a lot of room; you need to put anything that might leak in bags. As for the outside, there isn't any storage space, as you might expect for a budget hard suitcase, but it does have a TSA-approved zipper lock, which is handy if you don't want to be lugging keys around. It also has a handle on the side for carrying, although you'll likely use the roughly 17-inch long handle most of the time.
Samsonite Centric 2 29-inch spinner suitcase – $216, was $270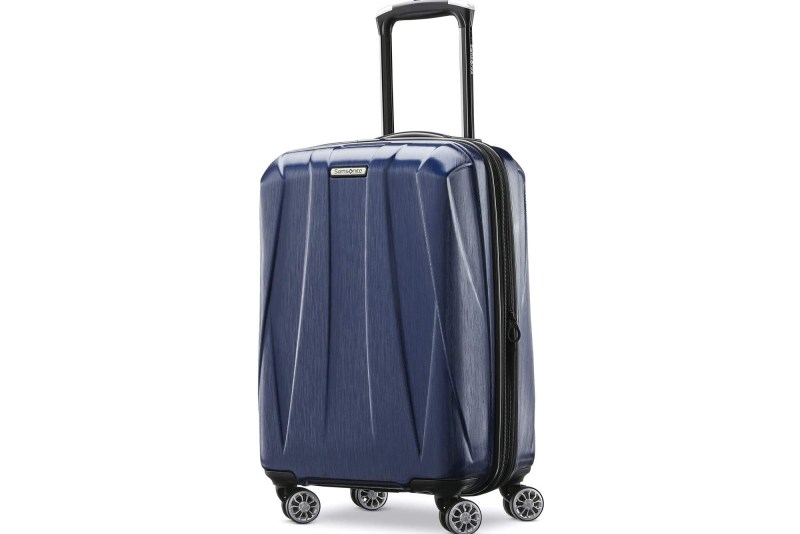 Why Buy
Well know brand name
Strong polycarbonate shell
USB-port fort hassle-free charing
10-year limited warranty
While this Samsonite is slightly more expensive, you are paying for both quality and a brand name, as Samsonite is a very well-known suitcase company, and the casing is made of a hard polycarbonate shell which is harder than ABS plastic. Put both together, and you get more peace of mind than you would with other suitcases, making it well worth the extra cost, especially given the smart features it has, such as the external USB port that you can use to charge your stuff without having to carry your battery bank everywhere. It's also designed for most carriers out there, although we'd suggest you double-check before putting good money into grabbing this suitcase.
As for the interior, while it doesn't have any pockets as you would expect with other suitcases, it has a divider mesh on one side, which can help organize things much more easily. On the other side, there are elastic tie-down strips, a spine zipper, and a padded battery pocket for the external USB port, all of which make getting at your clothes faster and with less hassle, although the lack of a plastic pouch means you need to put any liquids or creams in a plastic bag beforehand. As for the outside, there's no pocket to speak of, although you will find a TSA-approved zipper lock, along with the USB as mentioned earlier port.
Of course, if you like the Samsonite but would like something smaller, or just more of it, there's also a 3-piece samsonite spinner set that you can get which is essentially different-sized versions of the Centric 2. The sizes are 18.9 inches for the small case, 25 inches for the medium case, and 29 inches for the larger case, so you have several sizes to pick from, or you can grab all of them and have tons of safe, secure storage. Either way, you still get the same excellent Samsonite suitcase!
How to Choose a Suitcase
Deals are great; we love 'em, but the price isn't the only consideration when looking for a suitcase to last for years, if not decades. We've summarized the major factors for choosing the right suitcase below. When you pin down these factors, you'll have a much better chance of finding the best cheap suitcase deals that meet your needs.
Travel Type – Do you usually travel by plane, car, train, or bus? Is your primary need a small under-seat personal-items bag, an airlines-compliant carry-on, or a sturdy and spacious suitcase for checked baggage? Durability to withstand travel rigors, including rough handling by baggage personnel, is super-important. If you're going to travel by plane, your suitcase's dimensions and packed weight must meet strictly enforced airline restrictions. Your great suitcase deal can cost a lot more after purchase if it exceeds carry-on size requirements by an inch or two. Most domestic flights limit carry-ons to 22 inches high x 14 inches wide x 9 inches deep, so the best plan for a carry-on is to stay at or under those dimensions. Checked bags have a weight limit, often but not always 45 pounds per bag. Bus or train trips aren't usually as tough on your suitcase as airline travel, but you still want a suitcase that can take a lot of pushing, shoving, squeezing, and dropping. If you travel by car, the only major considerations are if the suitcase will fit and if you can lift it.
Style – Suitcase style includes but isn't restricted to color, material, and design. If you'll be wheeling your suitcase in airport terminals, city streets, and hotels, wheelability makes a big difference. How easy is it to push or pull the suitcase and change direction? Also, how long will the wheels hold up to continuous use, banging against street curbs and potentially moving through water, snow, sand, and mud? Style matters inside your suitcase as well. Do you want multiple compartments to separate and protect different articles of clothing and personal products, or do you prefer a huge open space?
Size – It's just as possible to buy a suitcase that is too big as one that is too small. Many of the best cheap suitcase deals have similar prices for all suitcase sizes. If you choose the largest size to get the most for your dollar, you could lose money when your bag is too large to be a carry-on. If you travel frequently and approximately half of your trips are for just a day or two and the other half are multiweek tours, your best bet would be to buy two suitcases, one small and one large. Otherwise, half the time, you'd have the wrong size.
Price – As we searched for cheap suitcases, we found excellent suitcase deals priced from $30 to more than $500. Your budget has to be your first consideration, but also, don't assume that the higher-priced suitcases are more durable or better constructed than midrange or even low-cost suitcases. Suitcase prices certainly can reflect quality, but some may be priced higher because of style, fashion, or brand name.
Editors' Recommendations