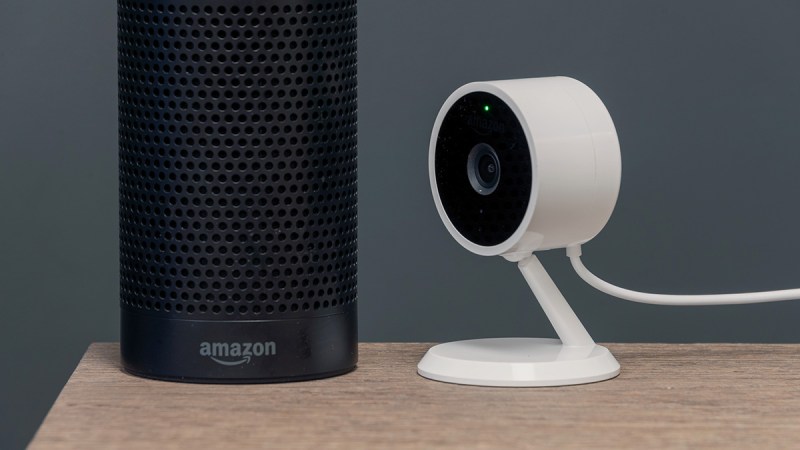 Not long ago, legit, full-featured home security systems were for the rich. They were complicated, costly to install and subscribe to, and only worth it for someone with an art collection or basement full of gold bullion to protect. However, the game has changed in the last three years alone. Now, anyone with a decent Wi-Fi connection and a healthy fear of strangers can set one up. For anyone who travels, it's easier than ever to keep an eye on your home from anywhere in the world. Here are three of the best DIY home security systems.
Amazon Cloud Cam –
See It
Amazon's foray into the security camera game is a solid one. The Amazon Cloud Cam is utilitarian, easy to setup, and provides some of the same features of its competition at half the price. The indoor camera offers a 120-degree field of view. The most basic setup — monitoring a front and a back door — should only require two cameras. With sufficient light, the camera operates in color; in dimmer situations, it switches to black-and-white using eight infrared LED lights. If you're keen on the most basic setup without a subscription plan, the Cloud Cam streams 24 hours a day with the live feed available to view online. When motion is detected, it will automatically store the relevant video clips for up to 24 hours. However, paid subscribers (plans range from $7-20) get access to the best features, including being able to store clips for up 30 days and setting zones where the camera will ignore motion and not trigger an alert.
See It
Google Nest Cam – $199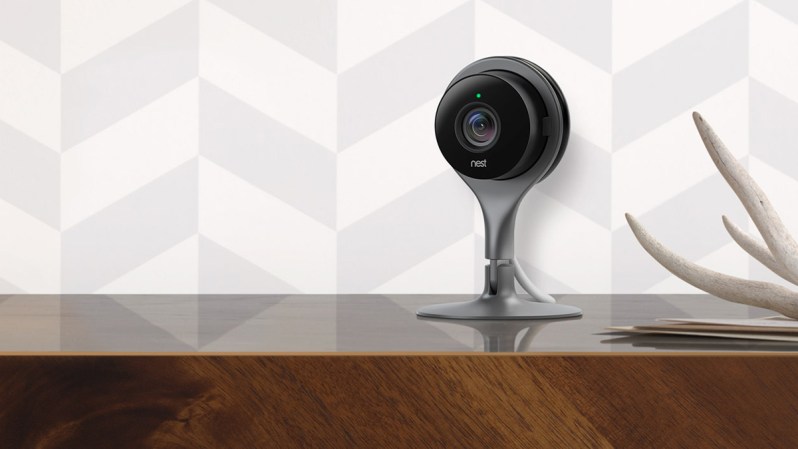 Nest Cam has long set the bar for indoor home security cameras. The features, functionality, and pricing are similar to the Amazon Cloud Cam. It offers a 130-degree field of vision; high-resolution, 1080p video; 8x zoom; and impressive night vision. The setup is dead simple, and the included bracket can be mounted to just about anything. It plugs into any outlet or standard USB port, so you needn't ever worry about a dead battery. The Google device works great on its own without a subscription. However, paid subscribers to the Nest Aware plan get access to a host of great features including the ability to save up to 30 days of footage storage in the cloud and enhanced detection to trigger less false alarms (like passing cars or your dog going nuts in the living room). The two-way speaker is another nice touch as it allows you to baby-talk to your pets or shout at unwanted intruders to get out of your house. The connected smartphone app is free and available for iOS and Android.
Point Smart Home Alarm System – $79
If the idea of an internet-connected camera filming the inside of your house 24/7 makes you nervous, you're not alone. Thankfully, the Point Smart Home Alarm system is a different sort of home security device altogether. The camera-less design is more like a smoke alarm on steroids. In addition to detecting smoke, a slew of additional sensors detects everything from intrusions to mold to drastic changes in temperature. If the device senses something out of the ordinary, it alerts you via a smartphone app. It can also be programmed to warn family or friends if something's amiss. Depending on the size of your house, you will need to invest in multiple "Points" to cover the square footage. Plus, unlike a typical Wi-Fi camera, it runs for a full year on a single charge. It's currently available for pre-order; units are slated to delivery in May 2018. It's already handsomely surpassed its funding goal on Kickstarter, so it's likely the Point will go into production on schedule.
Editors' Recommendations