Travel is all about perspective.
Sometimes, seeing a place in a new way is like seeing it for the first time. These three U.S. destinations are no "hidden gems," but seeing them differently — perhaps by a new mode of transport — can make them even more bucket-list-worthy.
Rafting the Grand Canyon
The vast majority of visitors to the Grand Canyon are happy to pull to the side of the road, snap a handful of almost Instagram-worthy pics, and move along. But, the most fascinating way to experience this geological wonder is from the canyon floor. Companies like Arizona Raft Adventures offer guided tours of the entire 226-mile stretch of the Canyon from Lee's Ferry to Diamond Creek. Hardcore adventurers will appreciate their 14-day, all-paddle tours which require travelers to work their way down the river entirely under their own power. For the slightly less adventurous, their Classic Adventure tour offers a mix of paddle and motorized rafts.
Related: The 3 Really, Really Cold Places You Need to Travel
Cruise Alaska's Southwest Passage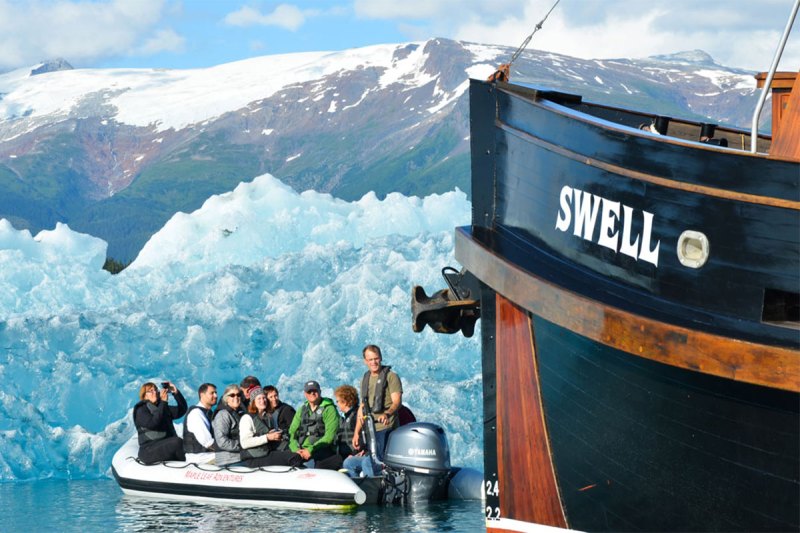 Large cruise ships can take passengers almost anywhere these days. Almost. But to truly explore Alaska's southwest passage requires a proper, small-ship cruise in a vessel narrow and nimble enough to navigate the region's tricky marine geography. The fleet at Maple Leaf Adventures is designed to do just that. While the company's itineraries are centered around British Columbia, its two Alaska-based offerings are worth a look.
The Alaska Supervoyage takes visitors aboard a classic, 88-foot tugboat purposefully outfitted to explore the state's coastal waters. The vessel can take passengers up close with tidal glaciers to watch massive blocks of ice fall into the ocean below. Its small size also allows for navigating to remote, protected creeks where grizzlies often feed. Beyond the onboard hot tub, there are few "traditional" luxury amenities, as most guests take advantage of the daily hiking, kayaking, fishing, and hot-springs opportunities.
Track Wolves in Yellowstone National Park
The easy accessibility of Yellowstone National Park has made it a de facto stop for families embarking on their own Great American Road Trip. But, well beyond Old Faithful and the parking lots full of apartment-sized RVs, there are "hidden" sides to the park that few visitors ever see. Natural Habitat Adventures' Ultimate Wolf & Wildlife Safari is designed to take small groups of nature-loving travelers to the park's most off-the-beaten-path spots. Highlights of the 7-day journey include: joining research scientists to track wolves in the Lamar Valley — a remote area that's the best in the world for spotting the elusive creatures — and trekking the National Elk Refuge by sleigh to search for elk and bison against a backdrop of the Grand Tetons.
Editors' Recommendations