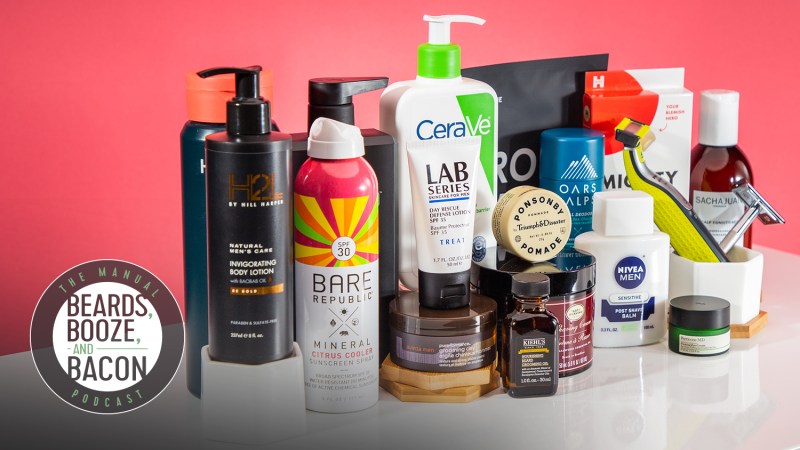 What new bourbon are we pumped about? Which hiking trail are we exploring? Why is the next supercar so cool? The Manual is dedicated to helping men live a more engaged life. Each week, our editors and guests get together for a round-table discussion about what's new, exciting, and unique in the men's lifestyle world. So pop open your favorite brew, step into your man cave, and start streaming.
For this week's episode of Beards, Booze, and Bacon: The Manual Podcast, the round-table — managing editor Nicole Raney and hos, Greg Nibler — welcome associate editor of lifestyle, Chase McPeak, to speak about The Manual Grooming Awards 2019.
First, Chase explains the purpose of the Grooming Awards, which is to help the everyday man save both time and money when searching for a great grooming product. By offering our top picks for best grooming gear of the year, readers of The Manual will be able to make conscious decisions regarding what grooming products they choose to buy.
Chase then goes on to explain how he tested all the products — at times, he needed to use both his legs to test shaving creams and razors since he had run out of facial hair. Using a five-point scoring system with categories for effectiveness, ease of use, ingredients, fragrance, and price, Chase and the team tallied up each product's scores and sent the highest scoring items into a final battle royale where price and effectiveness were paramount. The result was 18 great grooming products in a variety of categories, such as best razor, body lotion, face wash, and more.
By this point, we're all impressed by the work that has gone into picking these winners and begin peppering Chase with questions about certain products. Chase talks everything from eye creams (how to apply, what to look for, and what's a good price) to conditioners for men with dandruff or psoriasis to the importance of using a mineral-based sunscreen when swimming around tropical reefs.
The round-table closes out the show with a call to enter to win each of the 18 winning products all in one box — a $500 value.
Further Reading
Editors' Recommendations