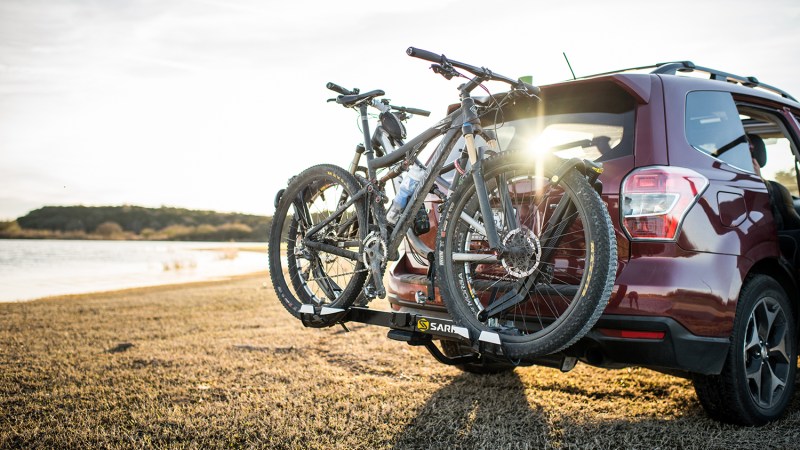 Bike racks have continued to evolve as the bikes they are designed to transport perpetually change. The array of racks is as varied as the cars they are designed to fit. The list includes roof, trunk and hitch-mounted racks.
Many vehicles come equipped with hitch receivers, and it not, after market models can be installed on even the smallest of vehicles. Hitch receivers are available in one of two sizes: 2" and 1.25".
For this particular roundup, we focused solely on the hitch-mounted tray racks. These racks are designed utilizing a clamping arm to hold the front tire to the tray while a small strap secures the rear tire.
Advantages of this style rack include: Being easy to load as they are closer to the ground, they are able to hold almost any style and size bike, and hitch-mounted bike racks potentially decrease wind resistant since the bikes are in the rear of the vehicle. On the other hand, these racks can be more expensive, are heavier, and some can limit access to the rear cargo area when loaded.
Here is our list of 5 bike racks (in no particular order) to get you to the trailhead this season and beyond.
Yakima Dr. Tray – $579
Features:
Securely carries 26" to 29" wheels and tires up to 5" wide
Up to 18" space between each bike
QuickChange lever provides tool-free adjustment while bikes are loaded, minimizing the potential for bike-to-bike interference.
Easy-to-use RemoteControl tilt lever and lightweight, aluminum design makes raising and lowering the rack a breeze
Tool-free locking SpeedKnob™ for a secure and easy install to your vehicle
SKS cable lock system for each bike secures both wheels and frame
40 lbs weight maximum per bike (80lbs total)
Carry a third bike with the EZ+1 (sold separately – $229). Weighs 9 pounds.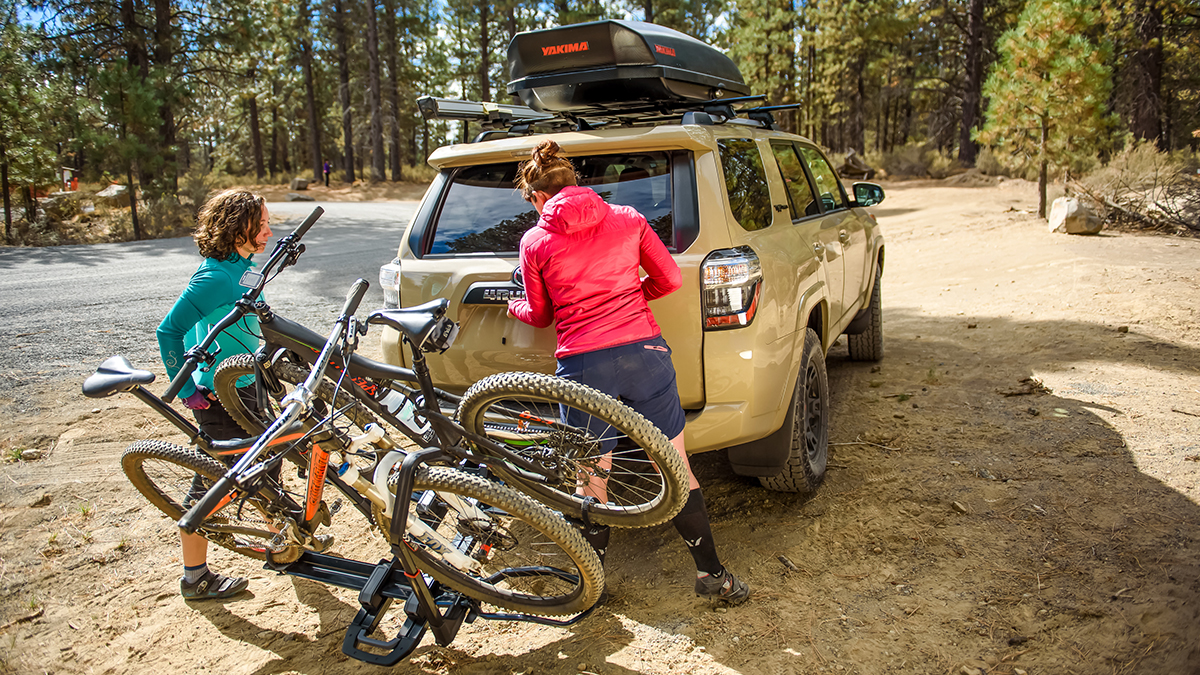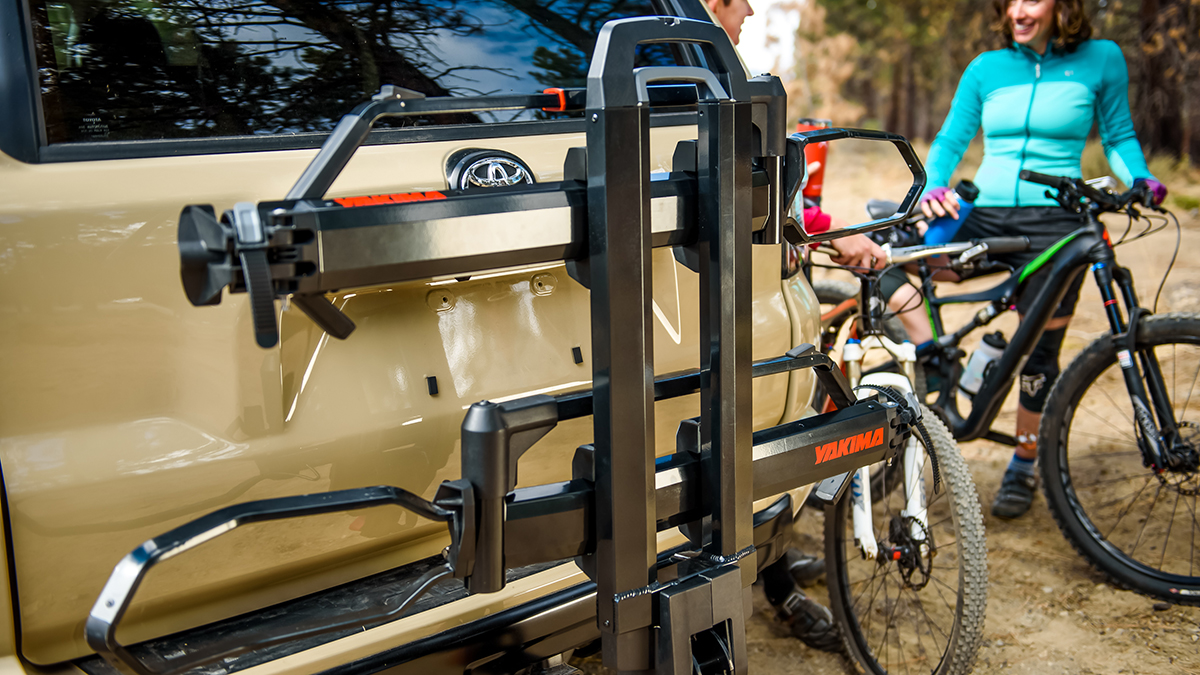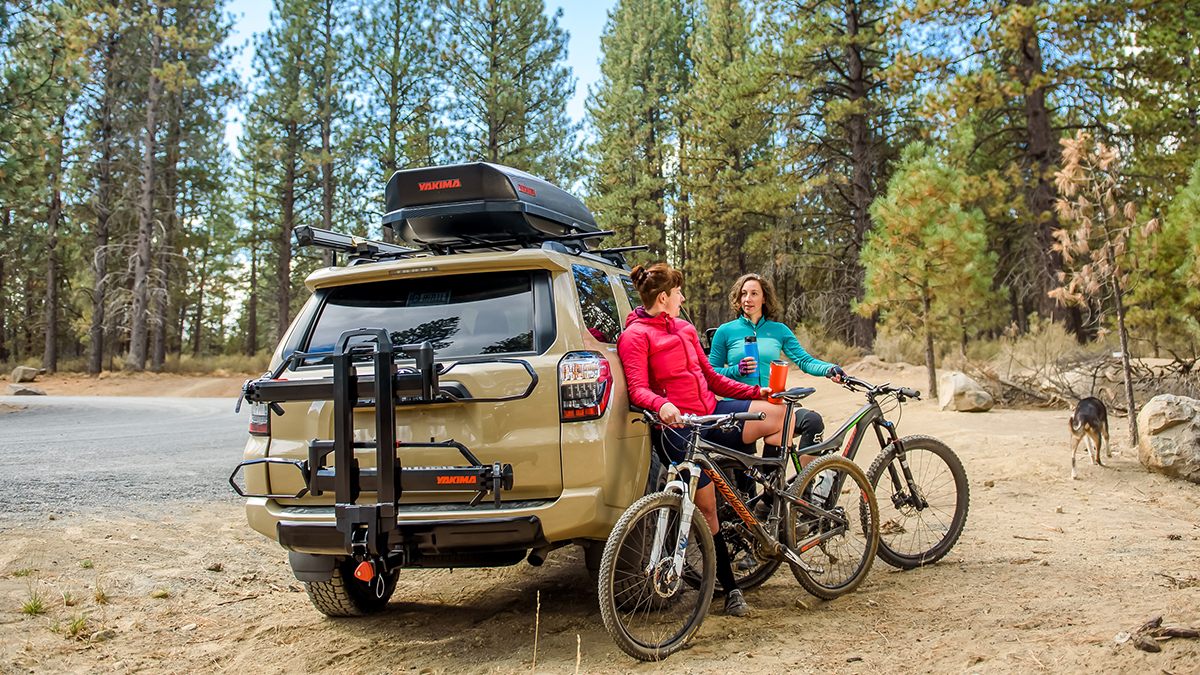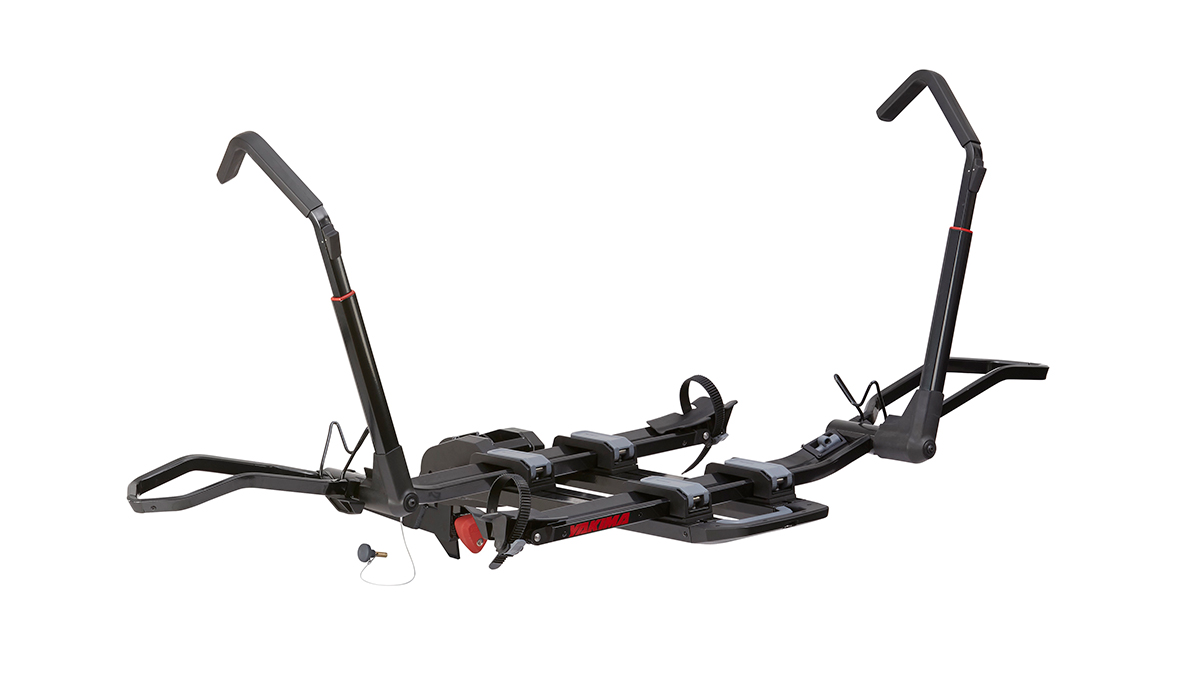 What we liked:
This rack is incredibly light, due to its all aluminum construction at just 34 pounds (and only 44 pounds when adding on the third bike option). Unlike previous models, no tools are needed to install or remove from vehicle. It allows for the third bike option in the 1.25" model. The rack tilt mechanism is large and easily accessible. It accommodates bikes of all sizes (including fat bikes) and the locking system secures both wheels and frame to the rack.
What we didn't:
While lighter, this rack is larger than previous tray racks from Yakima. The tilt lever can be difficult to operate. The locking arms utilize very small buttons to operate. This rack is limited to bikes that weigh 40 pounds or less.
Thule T2 Pro XT –
$579
Features:
Easy to install and remove the rack with the tool-free AutoAttach system
Carrier easily folds when not in use and tilts away from vehicle for rear access due to the HitchSwitch lever
Lock bikes to the rack and secure the rack to the receiver with the integrated cable lock and lock knob
Eliminate bike interference by adjusting side to side to create generous spacing between bike mounts
Secure bikes quickly without frame contact with the frame free ratcheting arm
Ideal for carbon frames, mountain, downhill, and fat bikes as it fits 20 – 29" wheels and up to 5" tires without adapters
Carries 2 bikes (can be expanded to 4 with the T2 PRO XT 2-Bike Add On)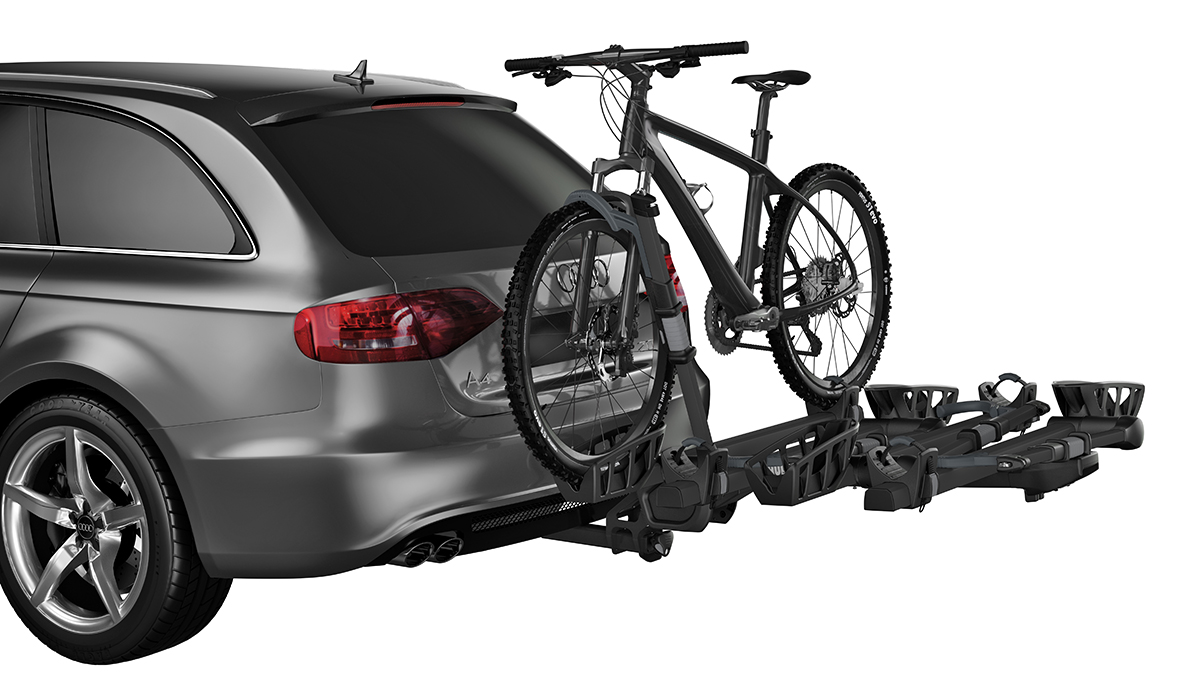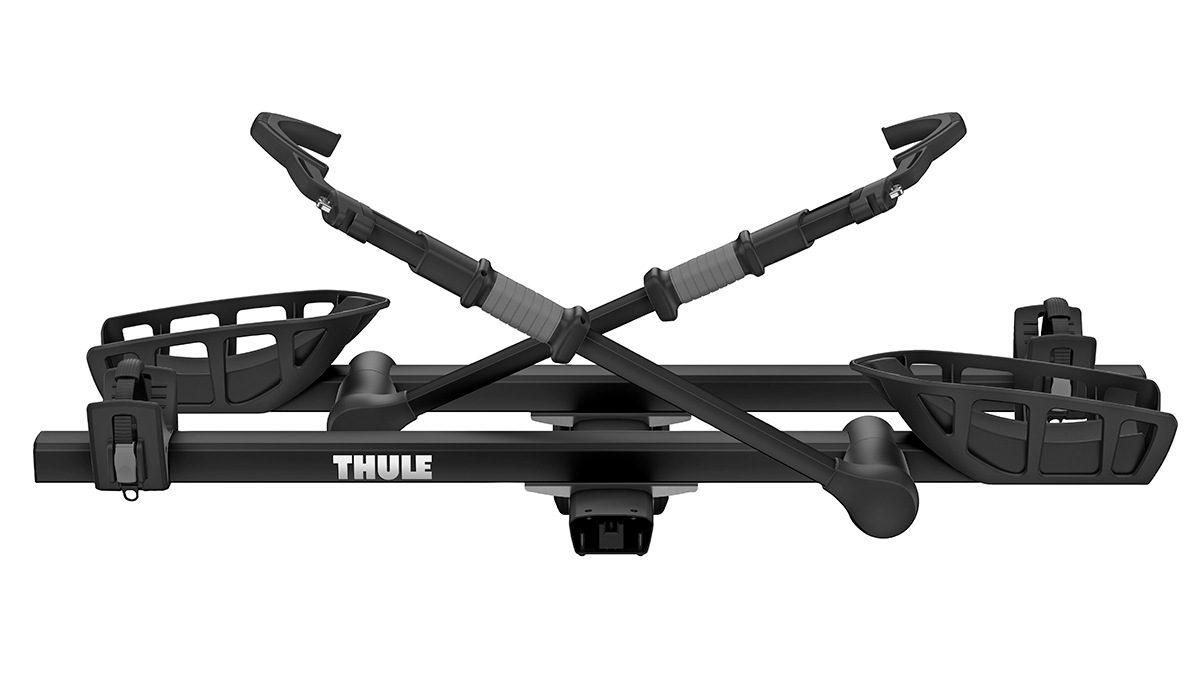 What we liked:
Unlike others in the roundup, this rack is expandable to hold four bikes. Bike interference can be eliminated by adjusting the side to side feature. Clicking the HitchSwitch lever allows easy access to rear gate as the rack tilts downward. The 'V' shaped cradles wheels of all sizes and the arm secures the bike to the rack. While rack weighs more than the Dr. Tray, it accommodates 20 pounds more per bike (60 pounds versus 40 pounds).
What we didn't:
This rack weighs almost 20 pounds more than the lightest rack in this roundup. The T2 Pro XT can carry up to 4 bikes with Bike Add-on (sold separately – $419.95) but it is only available for 2" receivers. Additionally, if desiring to carry the maximum 4 bikes (with add-on), the entire setup will cost $1,000.
RockyMounts Splitrail –
$500
Features:
Lightweight chromoly and aluminum construction
44 pound assembled weight makes it the lightest expandable hitch rack available (2″ only)
SplitRail Single Bike Add On expands 2″ model to carry 3 or 4 bikes (sold separately)
Fits bikes with 20-29″ wheels and new "Plus" size tires. 48″ max wheelbase
4″ of side-to-side tray adjustment for simple and easy loading and unloading of bicycles
No tools installation onto vehicle, Simply install hitch pin, lock, and tighten cam system
Proprietary anti-wobble mechanism eliminates virtually all rack movement
Integrated cable lock secures bikes to rack, locking hitch pin secures rack to car
Includes wall mount storage hook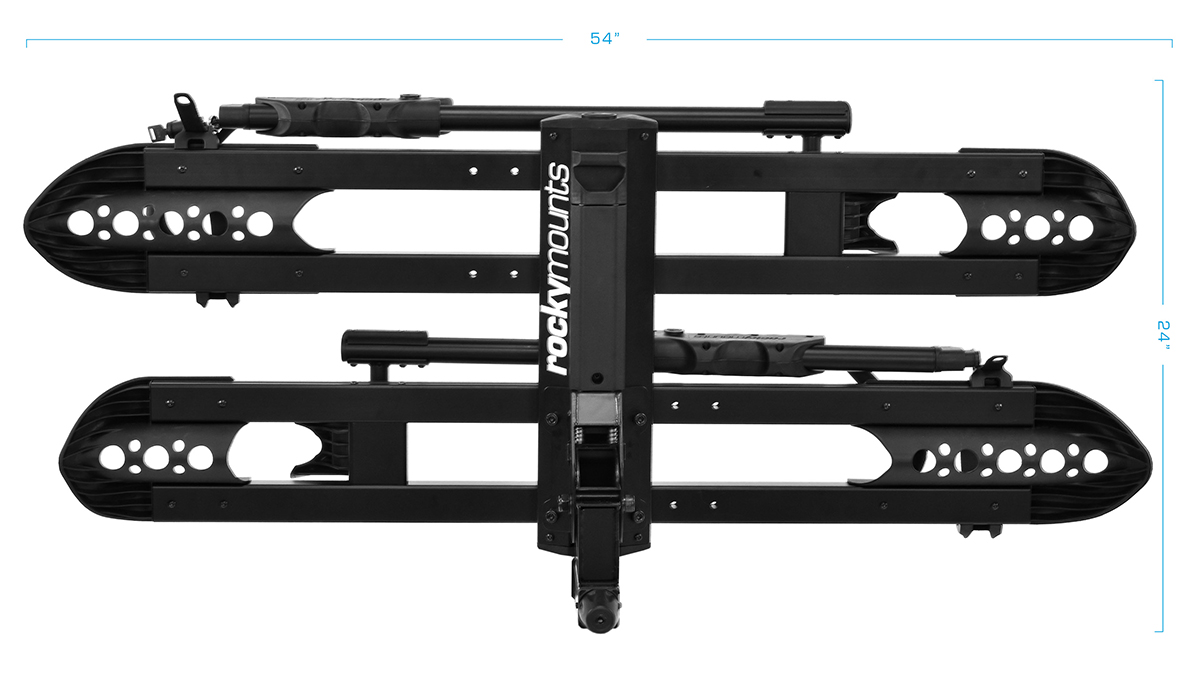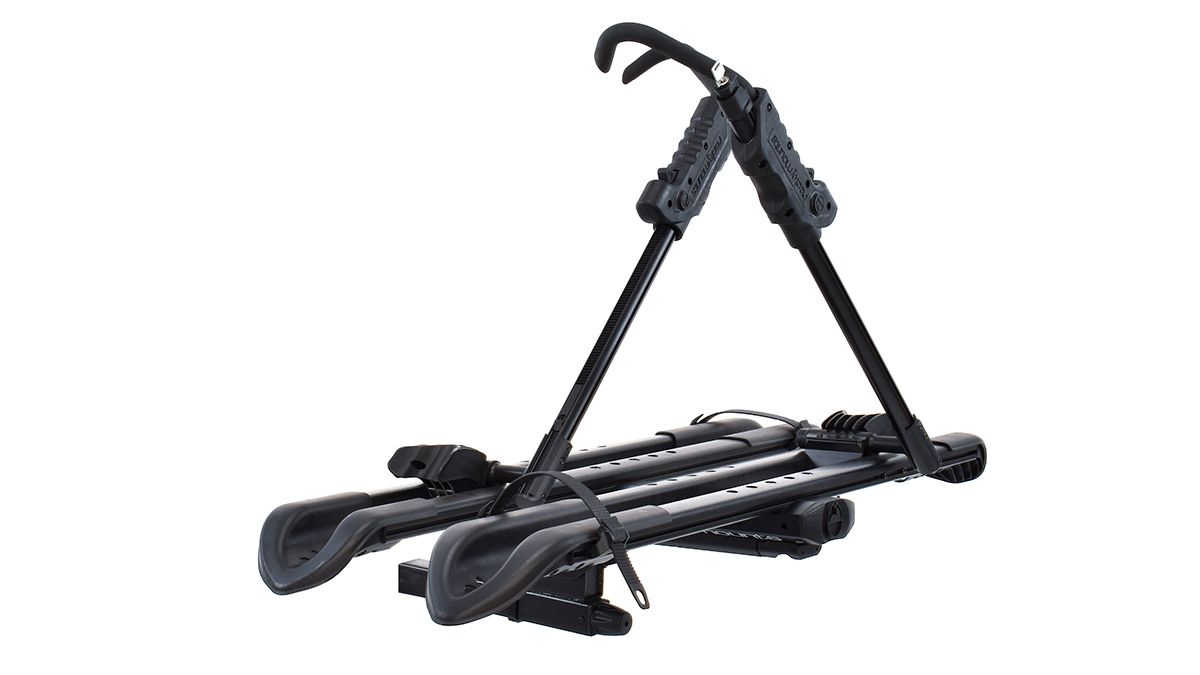 What we liked:
This relatively lightweight rack becomes more noticeable when adding Add On components for additional bikes. We loved that the rack comes with a wall mount option for storing the rack when not attached to the car (this beats the option of laying on the garage floor). The ratcheting hook for the front tire remains firm once in place and we never questioned the safety of the bikes when traveling. Also, the rack had zero wobble while in motion.
What we didn't:
While the rack is expandable to hold up to 4 bikes, that option is only available in the 2" model. Also, to eliminate interference between bikes, the rack has 4" of side to side adjustment with there different bolt positions. However, this requires unscrewing each tray from its attachment point, which is best done at home as opposed to on the road (note: once adjusted, it works perfectly if carrying the same bikes consistently). The integrated locking mechanism is only long enough to secure the frame to the rack.
Saris SuperClamp EX –
$470
Features:
Dual wheel-clamping hooks
Lightweight, yet mighty! Weighs only 35 pounds, and is rugged enough to carry 2 bikes, up to 60 pounds each.
Features integrated locks and reflectors for extra security and visibility, day and night.
Tilting feature allows hatch access, even when fully loaded, and folds up when not in use.
Sleek and compact design holds 2 bikes on a single bar.
What we liked:
The dual shepherd's hooks hold the bike from the top of both tires (this is the only rack in this roundup that had this feature). This feature made it quick and easy to load and unload bikes. The rack can be tilted away from the car to allow access to rear storage. The rack locks to the car and the integrated locking system locks bikes to the rack. It is the most economical rack in this group without skimping on any features found in similar racks.
What we didn't:
Only holds up to 4" tires but does have the option for purchasing separately the fat tire wheel holders. The expandable four bike option (sold separately) is only available in the 2" model. This rack also affords less adjustability between varying sized bikes, which could cause some interference with certain models.
Features:
Adjustable front tire cradle system
Re-designed pivot with optional foot assist
Fully integrated cable locks
Trail Doc included
Front tire ratchet design with intuitive release
Rear tire strap features co-molded strap to protect wheels
No-tool install with hand tight hitch cam system
Premium gloss metallic powder with water transferred logos
Hitch lock included
Approximately 50 pounds
What we liked:
We loved the built in bike stand for trail-side repairs. As this feature clamps to the top tube of the bike, it doesn't work for all frame designs. The integrated locking mechanism is available for each bike. Like a few others in the roundup, this rack will hold bikes weighing up to 60 pounds each. The ratcheting arm held the front tire in place securely. The wheel trays are adjustable to prevent bike interference. The release mechanism for raising and lowering the rack was hassle free and tilted enough to allow access to rear cargo area.
What we didn't:
This was the most expensive rack we tested. While expandable to carry 4 bikes, it is only available in the 2" model. The rear wheel attachment point didn't have as much cupping as I would have preferred but all of the bikes we tried remained secure during transport.
Final Thoughts:
We love the hitch mounted tray racks. The price for these racks is much more of an investment that other options, but the ease and convenience is worth the price tag. Things to consider when investing in these racks include:
All rack in this roundup ranged from $470-$629
Spacing between bikes (this is a personal preference and depends on your quiver of bike options) and the level of interference
Security of bikes while on the rack. No locking mechanism is completely theft proof and we recommend taking that into account when traveling. We personally carry our bikes into our room when traveling and staying overnight.
Check the access option for your particular vehicle and whether it will work when loaded.