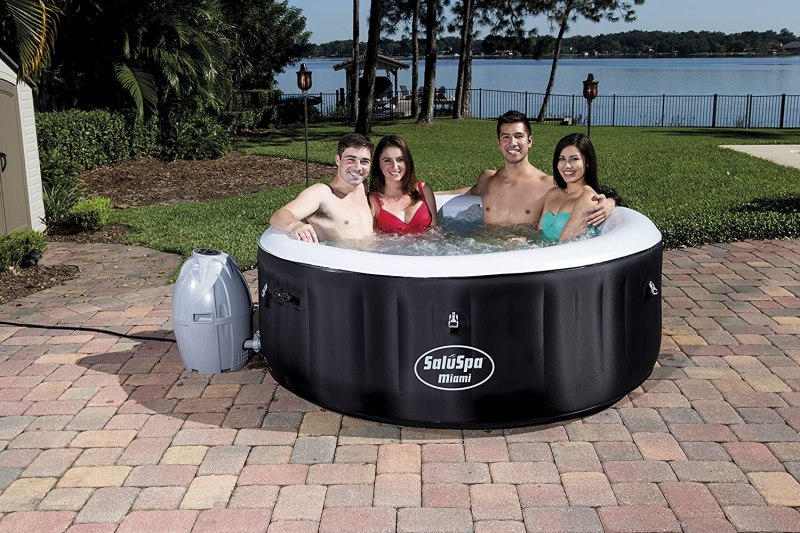 Now is the perfect time to check out the best inflatable hot tub deals with $159 off the Bestway Miami SaluSpa 2 to 4 person inflatable hot tub at Amazon. Normally priced at $530, it's down to $371 for a limited time only. If you're keen to enjoy the outdoors even more than usual, this is a great way to gain a hot tub as and when you want it. Check out all we know about it below or hit the buy button to get straight to purchasing it.
Why you should buy the Bestway Miami SaluSpa
Promising the ultimate spa experience, the Bestway Miami SaluSpa offers up to 120 bubble jets that are keen to help soak sore muscles any time you need a treat. It's possible to operate from inside the hot tub thanks to a digital control panel that means you can change the water temperature up to 104 degrees Fahrenheit, along with the flow of the jets, all without ever leaving the comfort of the tub. It even has a power-saving timer so you can automate the temperature up to 72 hours in advance so it's ready when you want it to be.
The tub is simple to set up and maintain with no need for any extra tools. All you need to do is simply inflate or deflate it with the included pump. It also has a cover to keep the water safe as well as maintain its temperature and keep it clean from debris such as leaves. Made from a puncture-resistant tri-tech material and i-beam construction, it'll never lose its shape or stability, even when people sit on its side walls.
The Bestway Miami SaluSpa has enough space in it to fit four people with a water capacity of 177 gallons. An integrated water filtration keeps the water just how you like it. It's all suitably effortless yet incredibly enjoyable to partake in. It's perfect for relaxing in your yard or garden.
Usually priced at $530, the Bestway Miami SaluSpa is down to $371 for a limited time only at Amazon. As with all Amazon deals, we can't say how long it'll stay this price for so if it sounds like the right addition to your home, hit the buy button now before you miss out.
Editors' Recommendations