If you're a "live-life-to-the-fullest" sort of fella, cuts, scrapes, and the occasional finger amputation are inevitable. That's why you can never have too many first-aid kits. We would argue for keeping one in your home, car, bug-out bag, and outdoor gear closet (to grab before hiking and camping trips). That might sound crazy; we call it being prepared. At the very least, you should have one comprehensive DIY emergency kit for the most common mishaps (bug bites, splinters, kitchen knife cuts) at home and a portable, specialized kit for more active outdoor pursuits. Thankfully, we've done the legwork for you to find the best first aid kits to shop in 2022.
Be Smart Get Prepared First-Aid Kit
Best First Aid Kit for the Home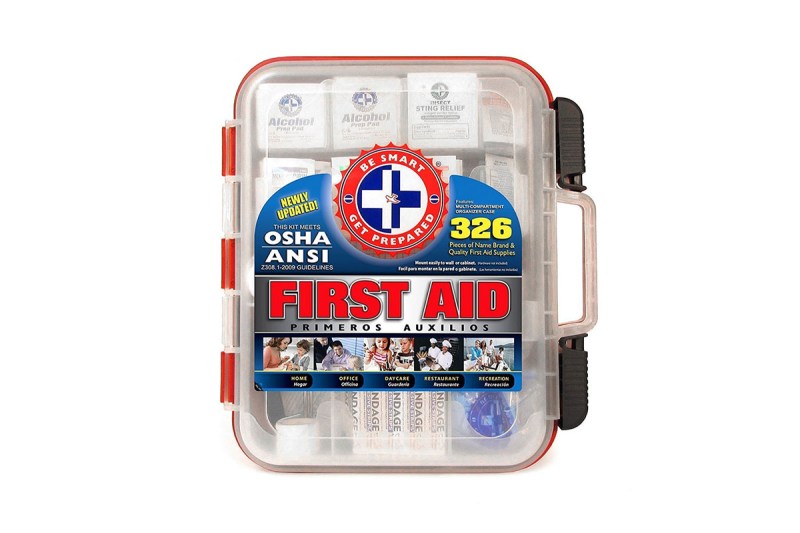 Your home first-aid kit should be as comprehensive as fits your lifestyle. Size and portability don't matter much here, so feel free to get as prepared as you like. Be Smart Get Prepared's kit meets OSHA guidelines for use in a workplace (or school or other organization) with up to 100 people, so it's more than adequate for home use. The kit includes all the bandages, wipes, creams, and dressings you'd expect, and the hard case organizes it all in a clever way. The transparent shell features an upper tray for smaller items, like alcohol pads and sting-relief wipes, and a main compartment for larger things like a cold pack and bigger bandages. Plus, this home first-aid kit can be wall-mounted for quick, easy access.
Coleman Camping All-Purpose First Aid Kit
Best First Aid Kit for the Car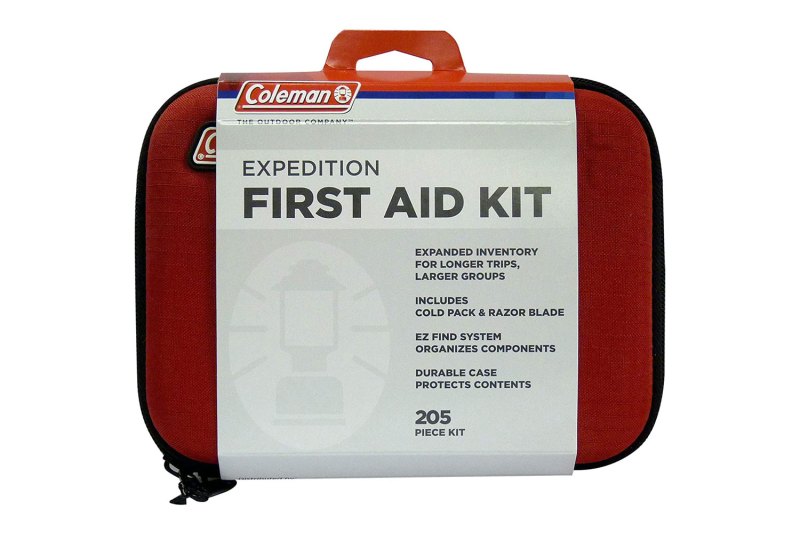 Like everything else in its catalog, Coleman's All-Purpose kit is portable, affordable, and smartly designed. Smaller than a standard lunch box, it's the perfect size for a glovebox, and this kit's contents are designed for life's little mishaps when you're away from home. Minor injuries are always a split second away, so the fact that this kit has six different types of bandages is comforting. It also includes plenty of antiseptic and antibiotic products as well as gloves, gauze, and adhesive tape, so it will let you treat larger or deeper gashes. Just add your own burn relief gel, and you'll be good to go.
Adventure Medical Kits Mountain Hiker Medical Kit
Best First Aid Kit for Hikers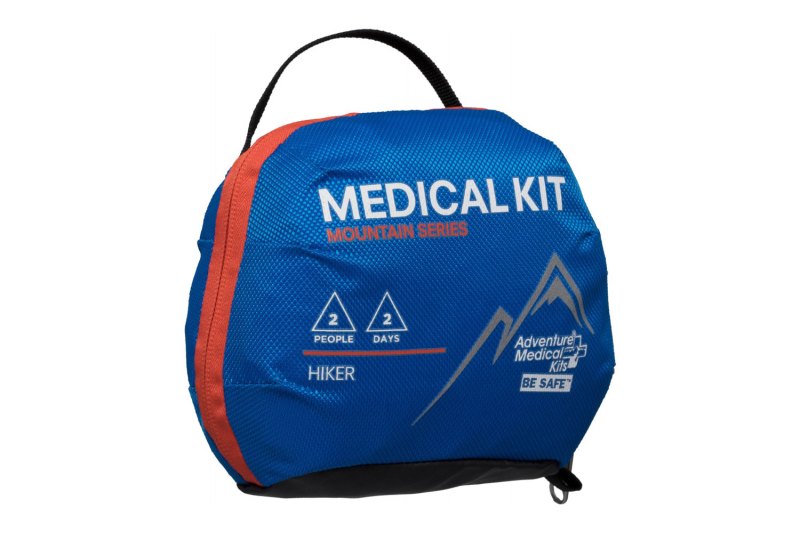 For avid outdoor explorers, there's no better brand than Adventure Medical Kits. As the name implies, every kit in the company's catalog is custom-tailored for the most serious expeditions. We especially like the Mountain Hiker Medical Kit, which features a carefully selected inventory of the first-aid items that are most important to hikers. That means things like moleskin, After Bite, EMT shears, a trauma pad, and more. It's all designed to ensure the most common trail injuries — blisters, sprained ankles, and the occasional scrape or bruise — don't derail your best-planned hiking days.
Surviveware Large First-Aid Kit
Best First Aid Kit for Bug-Out Bags
Bug-out bags might sound like overkill to the average, non-Doomsday-Prepper. The truth is, they're the perfect all-in-one preparedness solution for any emergency. If you actually need to bug out (i.e., leave home and all your belongings), you want a first-aid kit that's comprehensive. Surviveware's large kit includes 200 first-aid items, with enough room inside for customizing your own kit with prescription medications and other items personal to you. The 600D nylon construction makes this one of the most durable prepackaged first-aid kits on the market, plus all of the contents are packaged in separate waterproof laminate pouches. A 50-piece bonus mini kit is included in case you need to travel ultra-lightweight during an emergency.
Deftget Waterproof First Aid Kit
Best First Aid Kit for Portability
If portability is paramount, Deftget's Waterproof First Aid Kit is as streamlined as it gets. The palm-sized case weighs less than one-third of a pound and is designed to slip into most pants pockets. Inside the waterproof case are 65 of the most common first-aid items, mostly bandages, bandaids, alcohol pads, and even a credit card multitool. It's perfect as a "daily driver" first-aid kit when you're not planning anything too exciting, like summiting Denali or thru-hiking the PCT.
Adventure Medical Kits Ultralight / Watertight Pro Medical Kit
Best First-Aid Kit for Backcountry Explorers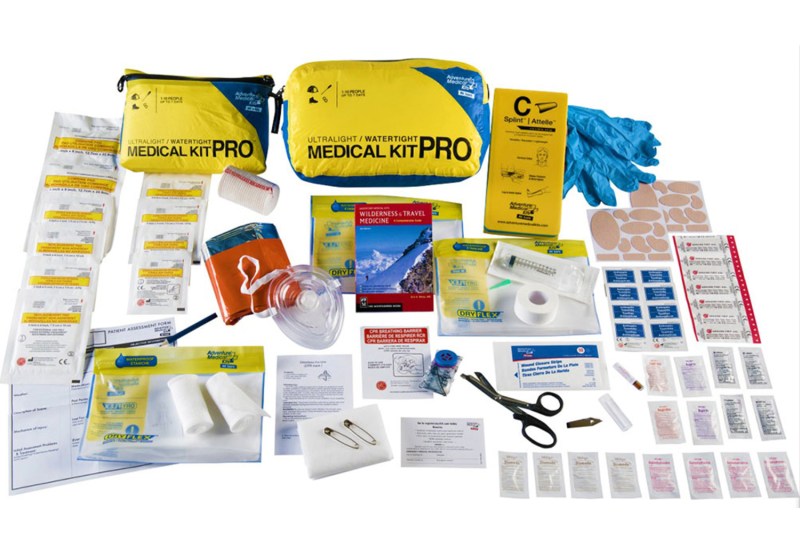 For hardcore backcountry exploration, look no further than AMK's Ultralight Watertight Pro Medical Kit. It was developed for and used exclusively by Yosemite Mountain Guides, so you know it's reliable and field-tested. The outer case and inner DryFlex bags are watertight and packed with industrial-grade medical components like a CPR Mask with an O2 valve, SAM Splint, and an extensive stock of bandages, dressings, and medications. It's capable of providing field medical attention for up to 10 people for an entire week. Plus, the whole kit weighs under 2 pounds. If you want the smaller version of this the smaller Ultralight Watertight Pro Medical Kits are available separately.
MyMedic The Medic Advanced First-Aid Kit
Best First-Aid Kit for the Apocalypse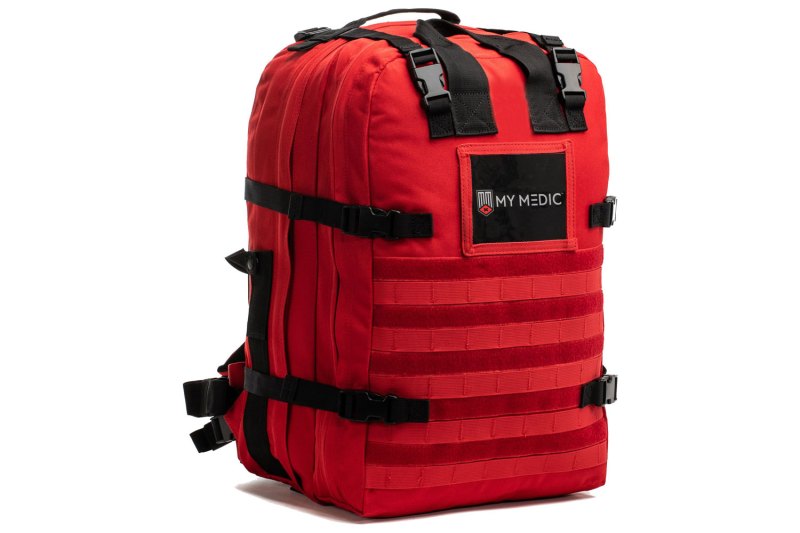 If only the absolute best, most apocalypse-worthy first-aid kit will do, MyMedic's The Medic is the closest thing most ordinary people can get to a mobile field hospital. This beefy, full-featured kit comes in a 20-pound backpack that's built to rugged military standards, so it's ready for wet, muddy, dirty conditions. Exterior MOLLE straps allow for customization and modular add-ons. Inside is a comprehensive inventory that includes 550 first-aid and trauma supplies, all hand-picked by medical professionals and first-responders.
Sawyer Products Venom Extractor and Suction Pump Kit
Best First-Aid Kit for Bites and Stings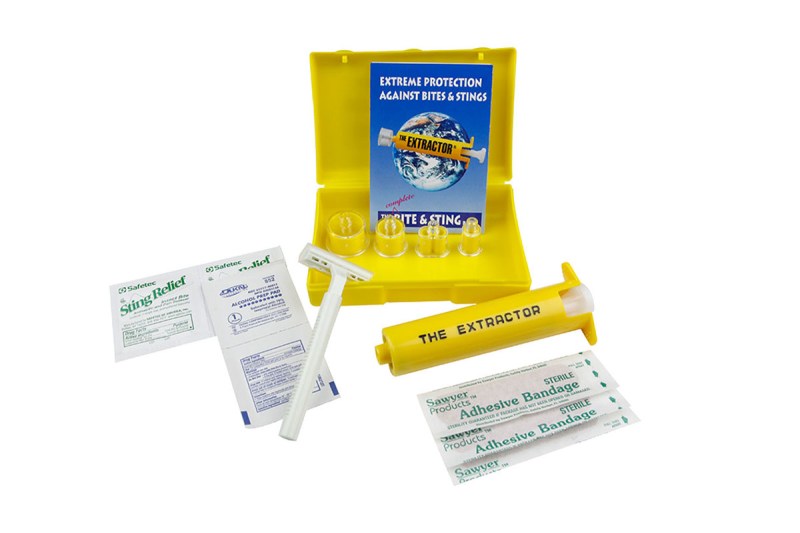 Even the best insect repellent can only protect you so much. Play outside long enough, and you're bound to get bit or stung. Most first-aid kits include only basic insect and snake bite tools. As the name implies, Sawyer Products' Venom Extractor and Suction Pump Kit is specifically designed to tackle bites and stings in the field. The kit contains a razor and prep pads for clearing the skin around your wound and a high-powered suction pump that can suck the poison or venom right out. It can reduce the severity of everything from a mosquito bite to a rattlesnake strike to a scorpion sting to a hornet attack — no need to orally suck out venom or cut an X into the skin. (In fact, don't try either of those things, even if you left your Extractor Pump Kit at home as they can make things worse.)
Editors' Recommendations