How about spreading some old school cool this holiday season? Treat all the surfers, skaters and rockabillies in your life to gift boxes from Uppercut Deluxe.
This Australian brand features high quality grooming products with a 1950's barbershop vibe. Founded by childhood mates turned barbers, Luke Newman and Steve Purcell, this brand delivers heritage inspired hair styling products with modern formulations. Even the company's namesake pays homage to the past, as "Uppercut" was the nickname of Newman's Grandfather Willy Shea, a boxer that toured Australia during the great depression. These manly grooming boxes make great gifts for the toughest guys on your list.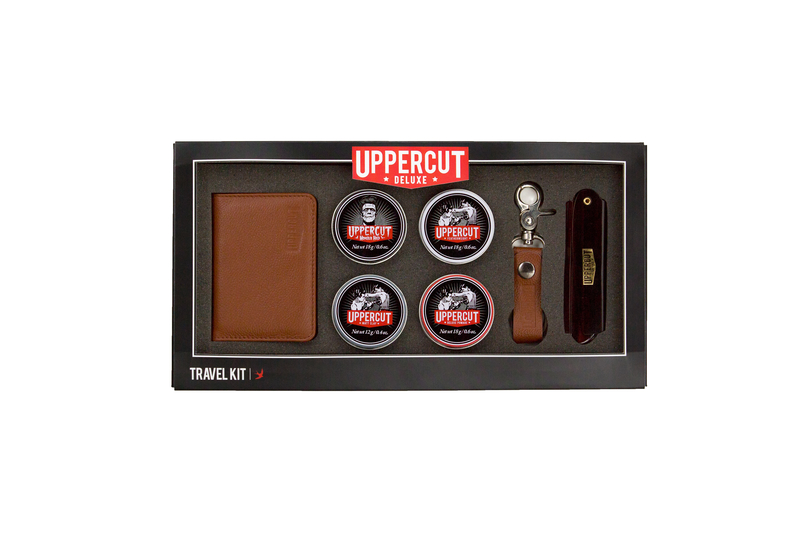 Give the gift of a super looking coif with this Uppercut Deluxe Travel Kit, $70, on Revel. Any dude would appreciate these traditional hair products packaged in vintage mini tins. There's original Pomade with a medium hold and medium-high shine. Featherweight with a medium hold and matte finish works for messier looks. Matt Clay with a strong hold and matte finish can wrangle long hair and tame unruly locks. Lastly, Monster Hold has a strong hold and medium waxy finish for hardcore control that last for days. There's also a back pocket Flick-Comb, leather card wallet and key chain to compliment your pompadour while on the road.
The Basin Kit by Uppercut Deluxe, $35 on Revel will appeal to the guy trying to bring out his inner Elvis, James Dean or Bruno Mars. It comes with stainless steel cup to store all the tools of the trade, along with some actual tools. It opens with a Bamboo Toothbrush for a megawatt smile. There are two old school barber shop inspired, pocket sized combs, one black and one tortoise shell. And the hero of this handsome gift set, a Quiff Roller to add height and volume to a perfectly styled pomp.
Why not stuff his stocking with something he'll actually use? Uppercut Deluxe Defense Soap, $4.99 on Revel will get him clean without all those skin drying perfumes and dyes. Oatmeal cleanses and exfoliates while goat's milk moisturizers and nourishes even the most sensitive Secret Santa.
Editors' Recommendations