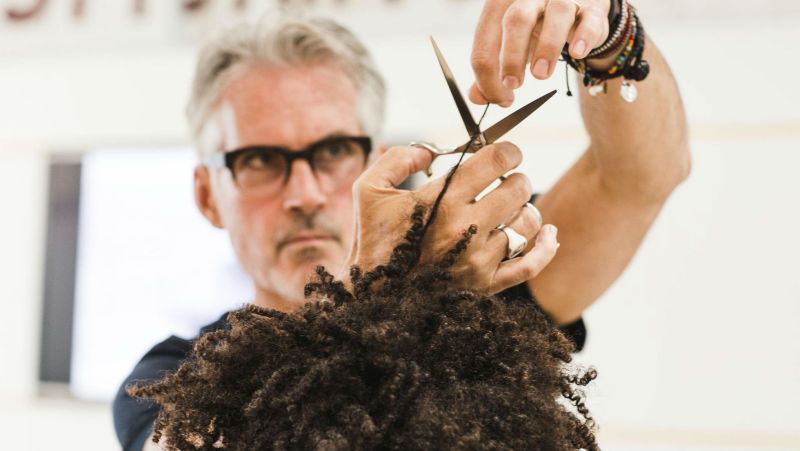 When you're a stylist with clients like Bruce Springsteen, Tom Brady, Daniel Day-Lewis, former president Bill Clinton, Ashton Kutcher, and Al Pacino, its safe to say, you know a thing or two about looking good. We caught up with Vaughn Acord, one of the most celebrated authorities in the grooming business and founder of V76 by Vaughn, for men's grooming tips on working with your barber, taking care of your skin, growing your beard, and living your best-groomed life.
What is the best way for guys to communicate with their barber/stylist?
When a stylist gets it right, a new hairstyle can become part of you that gives you confidence. If your hair is together, you can put on jeans and a T-shirt and feel good about yourself. But you have to help us get you to that point. Give us verbal cues or pictures. If you don't want your sides too short, tell us. Want to keep some length? Tell us. Getting a cut and style is a two-way street, so don't be shy.
And don't wait too long to see your stylist. Men should get a cut every four to eight weeks to keep their style looking fresh.
Can the wrong haircut age you?
It's important to avoid being too trendy. Not every trend works for every man, and can prematurely age you if it doesn't work for you. If the trend doesn't look right on you, then it won't look appropriate in the office. Make sure you wear the style, or the style will wear you.
Sure, I'm all for experimenting with looks, but talk with your stylist, take a look at your buddies or guys on Instagram whose styles you like. Look in the mirror after you get out of the shower and try something new — push your hair around and part it differently to create fullness. I call this "cutting with your hands." This will help you envision what would look good on you, not what looks good on someone else.
You can also mess around with products to create the feeling of a trend. For instance, you can slick hair down with product for a sleek office look and go without product on the weekend for a messier style.
Tell us about V76 and your approach to men's grooming.
What makes V76 different from other brands on the market? In a word: authenticity. It is backed by nearly four decades of experience as a groomer. And before that, I spent years as a model — I have the unique knowledge of knowing how to style and groom, and what men want and need. Our collection of products stand up to the strict test of stylists and groomers, but are also easy to use for creating effortless style at home.
V76 by Vaughn was born out of what I was doing for men's style for years on everyday men and American icons. We celebrate the tradition of men's grooming with an American sensibility. The collection offers a new take on grooming classics infused with clean, American-sourced ingredients. We have an effortless, uncomplicated approach, because grooming and looking good shouldn't be a mystery.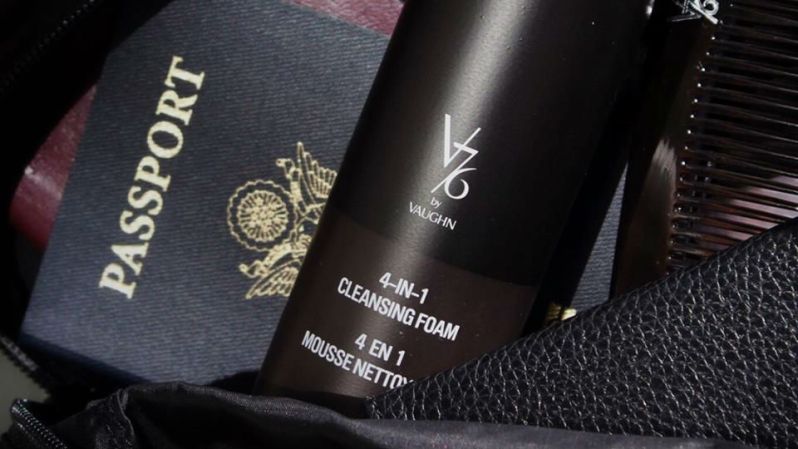 We like the 4-In-1 Cleansing Foam, which can be used as shampoo, body wash, cleanser and shave cream. What makes it such a great multi-tasker?
We created the 4-in-1 Cleansing Foam for the guy who is short on time — a must for traveling. This product is aimed to make his life on-the-go easier, and to make taking care of himself a no-brainer. It was tricky to find the right balance of ingredients and formulations that does the job of cleansing but would also get the consistency right for shaving. I worked with our R&D team a lot on this formulation — it had to come out perfect! And I think we hit the nail on the head on this one.
The magic ingredient in our 4-on-1 is coconut oil. There's no doubt that coconut oil is having a moment as a good-for-you ingredient, especially on skin. The moisturizing benefits go beyond the top layer of skin, which is especially important in prepping the skin for shaving.
V76 products are formulated with ingredients like grape seed oil, chamomile, and bentonite clay. Will these really give guys healthier hair?
There is so much more of a demand for natural personal care products today than there was even 10 years ago. But for me, I've always looked for cleaner products for myself. So, when I set out to create V76, it was a natural inclination to do just that.
Your skin is the biggest organ, and the one of the most sensitive, so why would you use ingredients that could harm you or dry it out? Having "clean" ingredients was the most important piece of this collection of products — I challenged my team in the lab on this from day one. These ingredients won't weigh your hair down, won't irritate your skin, and, even more, they are vegan and vegetarian. You can feel good about what you are putting on your body.
It looks like the beard trend is here to stay. Do you have any advice or pet peeves for rookies hoping to grow one?
When setting out to grow facial hair, namely a beard, it is important to take your whole appearance into consideration. How tall am I? How much do I weigh? What is my hair type? What is the style of the hair on my head? Beards shouldn't overpower your look; they should complement your look with a lived-in, touchable softness. And there should be a balance to the length of your beard — some guys look good with a Tom Ford, week-long growth and some guys look sharp with a longer style.
Above all, remember not to grow a beard just because it's trendy. Work with your groomer or hair stylist to find a look that's right for you and your lifestyle. Trends come and go, but a classic look will never go out of style.
And for the guys who keep their facial hair long, don't forget to take care of the skin underneath as well. Be sure to wash your beard and entire face daily with a facial cleanser. You can also spritz a tonic, like V76 Tonic Hair and Scalp, which has antiseptic ingredients to keep your facial hair clean and fresh. If you need an extra layer of cleansing, try using a moisturizing shampoo on your beard during your shower. Follow-up with a daily moisturizer to keep skin looking energized.
You've worked with some cool guys. Is there one particular rocker or actor that really knows his stuff when it comes to grooming?
I love someone who has a natural, effortless ease to their style, and I am lucky enough to work with so many of these types of guys. Lenny Kravitz and Willem Dafoe come to mind when I think about that laid-back rocker style. And you can't not mention Ralph Lauren when talking about someone who knows how to look good.
Feature image courtesy of V76 by Vaughn/Facebook.