In your younger years, you might have gravitated toward fragrances that played to the type you identified with. If you were on the jock and preppie spectrum, you might have had a designer cologne (think Bossor Tommy) or perhaps a body spray like Axe. For hacky-sacking hippies or tree-hugging outdoor types, patchouli oil would have been an easy pick. And for those borrowing from dad's medicine cabinet on prom night, you might have gone with anything from Old Spice body spray to Acqua di Gio.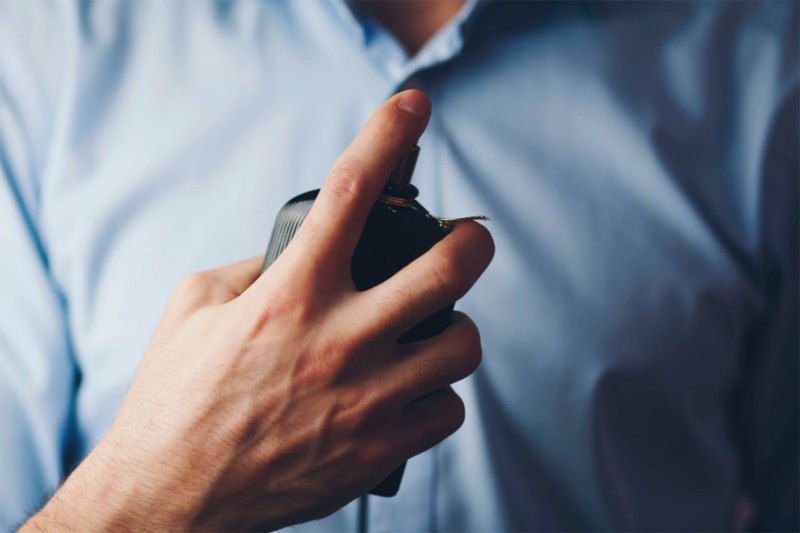 Adulthood usually brings a little more individuality to our style choices, but when it comes to fragrance, we often follow the same patterns of adolescence. White-collar types reach for the Kiehl's eau de toilette or a designer spritz from Gucci or Yves Saint Laurent, while hipsters slather on the vanilla-whiskey beard balm and tree-hugging outdoor types are still rocking the patchouli oil.
Alas, a poorly chosen fragrance is the quickest way to turn your unique personal style into a cliche. But when you intentionally choose a personal fragrance — not according to type, but based on your authentic taste and values — it can surprise, subvert assumptions, and deeply influence the way people perceive you.
"As with all things with style, fragrance communicates who you are as a person, a sense of humility and authenticity. Akin to how you carry yourself, it has so much to do with the impression a person makes, maybe even more so than their clothing." — Alison Carroll, co-founder of Wonder Valley
However, these benefits, considerable though they may be, are all secondary. The real benefit of a personal fragrance is what it does for you. Given the powerful role that olfaction plays within our brain centers, pressing the buttons for mood, memory, inspiration, and even libido, a judiciously chosen fragrance can transform a regular day into a journey of intrigue, romance, and endless possibility.
But that's only if you're wearing the right fragrance for you. If you've been choosing your personal fragrance out of the limited range of department store brands, it's time to think again.
"When you find that perfect perfume, it's like the missing puzzle piece that completes your identity. It's a holistic second skin, when worn right." — Patrick Kelly, founder of Sigil Scent
For one thing, you're almost guaranteeing that your "signature scent" is the same as thousands of other guys out there, not to mention that most mainstream fragrances are marketed so heavily that the strongest association they call up is a fold-out ad in a commercial magazine. (There are few things more disappointing than getting close to a great-looking guy, only to find that he smells like the outdated copy of InStyle in my dentist's waiting room.
For another thing, most mainstream fragrances are made out of a harsh combination of synthetic chemicals that can take a real toll on your health as well as the environment. Many fragrance ingredients are respiratory irritants that can trigger asthma attacks, aggravate allergies and sinus conditions, and even contribute to more serious issues (e.g., low sperm count — yikes!) thanks to the use of petroleum-based phthalates.
Fortunately, there's a whole world of alternative fragrances out there, and it's only getting bigger. As more and more men switch from conventional grooming products to naturally derived, more fragrance brands are stepping up to serve their tastes with a variety of colognes, body oils, and other fragrance products that not only make you smell delicious but also nourish your skin and improve your mood. Best of all, many of these natural colognes call to mind real things found in nature — an ancient Japanese pine forest, a cool mist over the ocean, a lazy afternoon in 1960s Laurel Canyon. (Yes, there's a fragrance for that. Keep reading.) Unlike synthetic ingredients, naturally derived fragrance compounds are more supple and "alive," changing character as they adapt to the wearer's body chemistry. The result is a fragrance that is uniquely your own.
"Fragrance adds that special something that we can't see, but makes us feel a little more ourselves and a little more put together." — Melina Polly, CEO and co-founder of Henry Rose
We spoke with a number of expert perfumers to create a short, easy guide to help men choose the best natural fragrance for them. After taking a number of natural fragrances for a test drive, we've curated a list of our favorite colognes, sprays and body oils that are made from plant-based ingredients as well as conscientiously produced synthetics.
What Should Men Look For In a Natural Fragrance?
Like most things associated with gender, there are no real absolutes around what makes a "manly" fragrance. Some men will be drawn to woody or earthy scents, while others are better suited by a clean, airy scent or even a floral. The real key is finding something that complements your look, suits your lifestyle, and offers a clue as to your personality.
How to Pick the Right Fragrance for You
If there's a conventional cologne that you already like, take a look at the package to get some clues as to what scent notes it includes. But if you're starting from scratch, simply consider what types of smells you're drawn to.
Next, visit a shop that specializes in natural fragrances. (If you can't find one in your area, just order a sample set or travel size from the brand that interests you.) Testing out the fragrance in real life is an important way to distinguish between variations of the same scent profile. For example, if you like a woodsy fragrance, do you prefer cypress, pine, or cedar? You'll also be able to take your new fragrance for a test drive and see how it plays with your body chemistry.
"A personal scent can define one's daily emotion and how it can make you feel through the day. It carries a memory that one will always identify with when that person crosses their path." — Angela Shore, Founder/CEO of Jiva Apoha
Types of Personal Fragrance
Body Oils
Body oils can be a great way to "start small" with natural fragrance since they tend to be more subtle than a traditional spray cologne. Because it's applied directly to the skin, the fragrance will linger even when your clothes come off.
Body Spray
This form of personal fragrance has a higher alcohol content than a typical cologne, making it a great option for those who want a balance between subtle and assertive.
Cologne
The "big guns" of fragrance are a great choice for those who have a strong sense of personal identity and style. When chosen well and used with moderation, a natural cologne sends a powerful message to any room as soon as you enter.
Best Natural Fragrances for Men
Wonder Valley Hinoki Body Oil
This aptly named body oil is formulated in a base of velvety extra-virgin olive oil grown in Northern California. But don't worry, it won't make you smell like pasta. Instead, the oil absorbs easily into your skin, hydrating and promoting skin elasticity, leaving behind a faint but lingering scent of Siberian fir and Japanese hinoki. This is the perfect solution for when you're not sure if it's a "go out" or "stay in" kind of night. Slather this oil on after a long, relaxing bath or shower, and you'll be in the mood for whatever feels right.
Jiva Apoha Atman Body
Handcrafted from a deeply nourishing base of organic sesame oil and a panoply of evocative essential oils, Jiva Apoha body oil offers powerful benefits for the body, mind, and spirit. Founder Angela Shore is passionate about helping clients achieve confidence and clarity through their personal scent, and even offers custom personalized fragrance blends based on your needs and tastes. While all the fragrances are gender-neutral, popular picks among the male client base include Thunderbird, 1967, and (our favorite) Atman, which combines frankincense, sandalwood, and neroli for a heady cocktail of creative consciousness and insightful serenity.
Juniper Ridge White Sage Cologne
One of the OG natural fragrance companies, Juniper Ridge recently added a line of spray colognes to round out their selection of soaps and body oils that evoke iconic destinations in nature. Just like Juniper Ridge's other products, the Wilderness in a Bottle collection is formulated from steam-distilled wildcrafted plants responsibly sourced by the company's team of intrepid "ground-sniffers." We're partial to the White Sage, which transports the wearer to the sun-baked Mojave desert with its clean, dry profile kissed with a hint of spicy resin.
The Nue Co. Functional Fragrance
This natural grooming company's flagship scent is a "functional fragrance," intended to improve your state of mind while also making you smell good. Utilizing research from the Brain & Behavior Laboratory at the University of Geneva, this body spray combines undertones of spicy green cardamom and smoky palo santo with a clean breath of cilantro and bergamot for an instant uplift from stress, fatigue, and anxiety. We tried it and can confirm it works.
Lily CBD Essential CBD Parfum Roller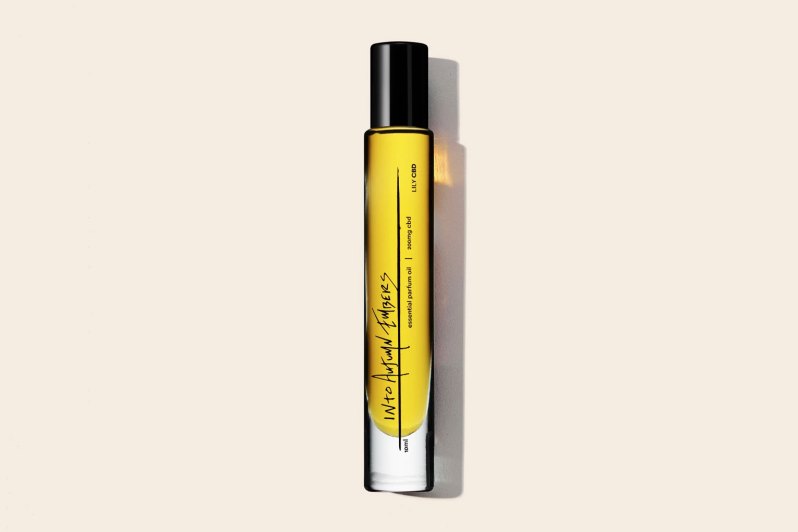 Sometimes the simplest things have the most impact. Case in point: Into Autumn Embers, a roll-on perfume oil that combines just two powerful ingredients, Indian oud, and 200mg full-spectrum CBD. The relaxing effect of cannabidiol combines with the resinous woody influence of the essential oil for a warm, faintly sweet fragrance that is thick with sacral energy. A lot of fragrances claim to be "sex in a bottle"–this might actually be it.
Thin Wild Mercury Laurel Canyon, 1966

Named for Bob Dylan's description of his record Blonde on Blonde, these naturally formulated scents are created to evoke the spirit of Los Angeles in its Summer of Love glory. We're a bit obsessed with their Laurel Canyon 1966 scent, which combines patchouli and petitgrain with Italian cannabis (naturally) for an intoxicatingly earthy fragrance profile. If you're in the mood for a long, strange trip, this scent will take you there.
Henry Rose Fog
Developed by actress Michelle Pfeiffer and a team of both perfumers and environmental scientists, these fragrances are unique for being created in collaboration with Environmental Working Group and Cradle to Cradle, two watchdog agencies that brought strict standards to bear on the creation of these fragrances. These scents combine a limited range of natural ingredients with safe synthetics that have been tested against allergens and environmental hazards. The result is a highly layerable collection that evokes memory and emotion. We love Fog for its clean, airy profile of vetiver, cedar, and citrus with a lingering hint of mystery from musk.
Sigil Scent Solutio
Made from cane sugar alcohol, tinctures, absolutes, and essential oils, these fragrances are aged for at least two months before being filtered and packaged. The result is an assertive, tenacious fragrance that lingers long after other natural fragrances would have dissipated—as Jack Nicholson said, "A dab'll do ya." Complex with nuance, these colognes are the olfactory version of a tailored European suit. If you're dressing to impress, make sure to finish off with a spritz of Solutio for a powerful boost of cypriol and an edgy hint of wild chaparral.
Editors' Recommendations