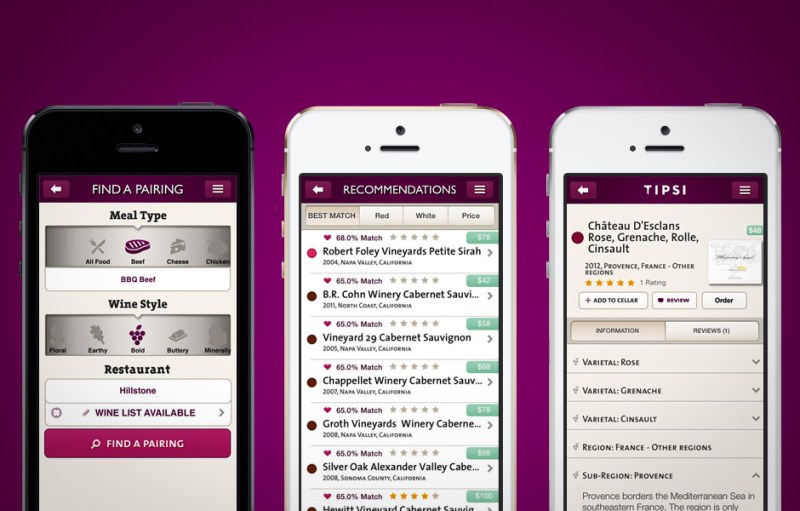 Memorial Day is in the rearview mirror, and you know what that means: summer is about to kick into high gear. You'll be going out more often, so happy hour plans will be mandatory. As will long, leisurely dinners. But when you're out, there's nothing worse than the panic of picking the right wine for post-work drinks or a boozy dinner. That's why we at The Manual want to make sure you know about the latest in alcohol-related apps.
Tipsi is a free iPhone app, developed and founded by Mike Bell, Aaron Linsky and Justin Osler, that recommends the best wines in your vicinity. Since launching in April, the good people at Tipsi have gathered a database of over 1,000 bars restaurants and more than 120,000 wines to choose from. They have also partnered with Wine.com, which means that if you find a vino that's either a home run or an absolute steal, you can immediately purchase the bottle to show off in your own collection.
The app works for wine-drinkers of all levels of expertise. Users can plug in such options as their desired meal type, or, for the amateur sommelier, their personal wine preferences and tasting history, and Tipsi will provide the best options in the surrounding area. Meal options cover all the standard meats (beef, lamb, chicken, pork, and turkey), seafood, pasta, vegetables and dessert. Meanwhile, wine styles include familiar descriptors such as "dry" and "fruity," but also perhaps more adventurous tastes like "buttery" or "minerally."
If that customized level of advice doesn't satisfy you, Tipsi also allows users to share their personal ratings, recommendations and stories for any wine in the database. Soon enough, you'll know which pinots to pooh-pooh and what special cabernet to go crazy for.
So far, Tipsi's data inventory only covers New York City, but they will soon be expanding to metropolitan areas across the country. Now that the pressure of picking a wine is off your shoulders, the only thing you and your friends have to figure out is what everyone wants to eat!
Editors' Recommendations