If you haven't heard of Husk, you are living in a hole. Opened in 2010 by well-loved, James Beard Award-winning chef Sean Brock in Charleston, South Carolina, it's the first place most foodies venture to after landing in the Holy City. Husk is farm-to-table at its finest with a hefty selection of pork.
The bar is equally tantalizing, located next door to "the big house" in a historic, rough-hewn, brick-out building. It's dark and cozy — just what one needs after a hot and humid day touring the town. Managed by Justin Simko, a former chef who took his food talents to the shaker, the cocktails are becoming Lowcountry classics.
One creation that Simko is especially proud of is the Through the Garden cocktail. As he explains to The Manual:
"The inspiration for Through the Garden came from a few different places. It wasn't so much something that I wanted to create, it was making something and adding complimentary flavors until it was a cocktail I was happy with. I was in the walk-in talking to one our chefs and he jokingly presented the challenge of making a cocktail with red bell pepper. I accepted, and from there tried roasting and juicing them, but that turned out too bitter and smoky. I decided to blend them raw with some water. and the juice retained a bright flavor and color.
"Next, I added a great bitter orange vinegar the kitchen was using in addition to some lime juice to keep it on the tart side. To go more herbal, I added Green Chartreuse, along with some basil simple syrup. Logically, gin would have been a good choice, but I wanted a more neutral spirit and went with a white rum. All of these together resulted in vibrant colors, bright flavor, and a great acidity that makes it so unique and interesting without being too weird for the Everyman to enjoy. I'm happy it turned out savory, but fresh-tasting, without smoke or bitter flavors that can so often accompany that term when talking cocktails."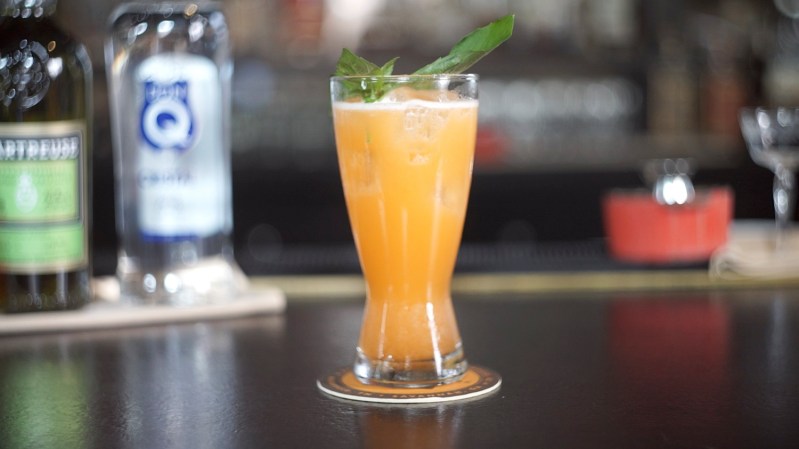 Through The Garden
(Created by Justin Simko, Husk Bar, Charleston, South Carolina)
1.75 oz Don Q Cristal
0.25 oz Green Chartreuse
1.5 oz red bell pepper juice
0.5 oz lime juice
0.5 oz basil simple syrup
0.25 oz bitter orange vinegar
Carrot top or basil sprig for garnish
Method: Combine liquid ingredients. Shake over cold draft ice. Pour contents into pilsner glass . Garnish with carrot top or basil sprig.