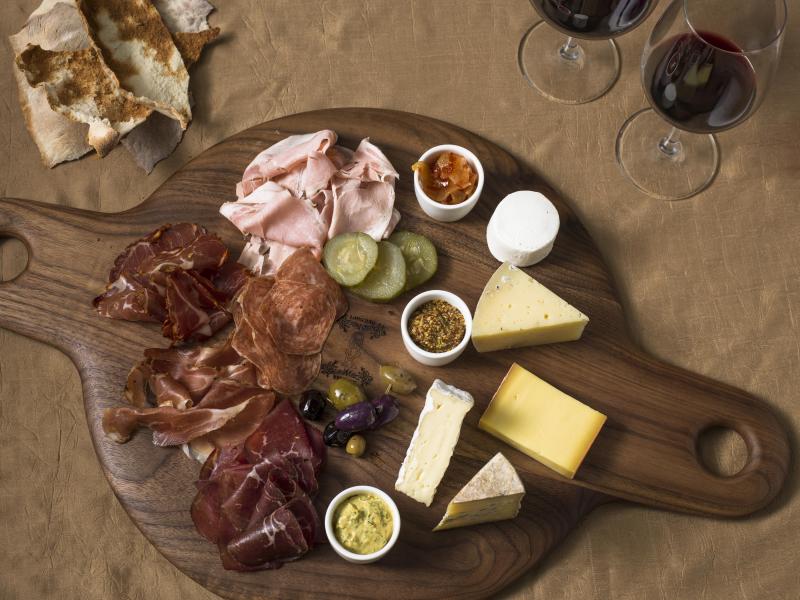 Feasting is our column dedicated to cooking, grilling, eating and discovering what's on the menu across America and the world.
Fairmont Hotels are hands-down some of the grandest and most luxurious hotels in the world. Their classic properties are also some of the most iconic, from The Plaza, A Fairmont Managed Hotel in Manhattan to the Fairmont Copley Plaza in Boston to the newly renovated Claremont Club & Spa, A Fairmont Hotel in Berkley, CA. They bring together historic real estate and modern comfort for accommodations that are a truly pleasurable experience.
If you come across a Fairmont property, you should definitely go inside, even if you're not staying there. The hotel chain recently launched their Classics. Perfected. cocktail program by bringing some of the best mixologists in the world together to collaborate on timeless libations with inventive twists. We got to check out the launch at the Fairmont Copley Plaza, and each drink is perfectly balanced and delicious.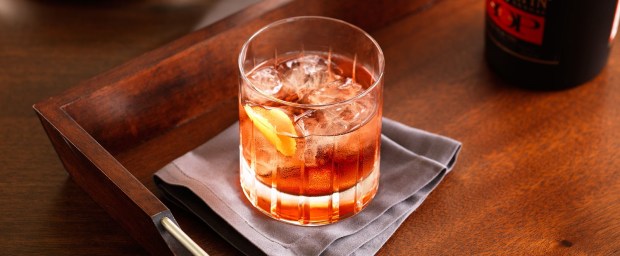 "For over a century, Fairmont and its bartenders have been at the forefront of cocktail trends," Jane Mackie, VP of Fairmont Brand, said. "From The American Bar at The Savoy in London to The Palm Court at The Plaza in New York City, when people connect over a drink at one of our hotels, they expect the crispest gin and tonic and a perfectly balanced Manhattan. We saw an opportunity to bring together some of the brand's brightest and award-winning cocktail creators for the first time to help us rediscover and perfect the best old and new classics for guests to enjoy."
We, of course, can't help ourselves when we walk into a restaurant serving both great cocktails and delicious food – we must sit down and try everything on the menu we can. So we caught up with Graham Lockwood, the chef at OAK Long Bar & Kitchen in the Copley Fairmont Plaza, to learn more about how the new cocktail menu inspires his dishes and snag some recipes for you to try at home.
The menu at OAK Long Bar + Kitchen seems to have influence from all over (Italian, French, American). What goes into the process of deciding whether or not a new dish makes the menu (besides it being delicious, of course)?
I try to cook with the seasons. Traveling and living in multicultural cities like Toronto, Vancouver and Boston, I have come to love so many flavors from around the globe. When creating a new dish, I start with a focal ingredient and try to cook something I would really want to eat myself.
Do the cocktails on the new Classics. Perfected. menu inspire your dishes (and vice versa)?
I think that more than ever before, the bar and kitchen do complement each other and there's a lot of cross-over for inspiration. I know when I'm putting together a menu, I think about the cocktails our team is creating to ensure the food definitely pairs well with our beverage program. We have a lot of shareable dishes, which I think also works well with cocktails. With cocktails there are no wrong answers – what inspires the dish will inspire the drink and vice versa. If you have a dish with flavors from Mexico, you might have mezcal or tequila. If I have bourbon, I may smoke some ribs or brisket.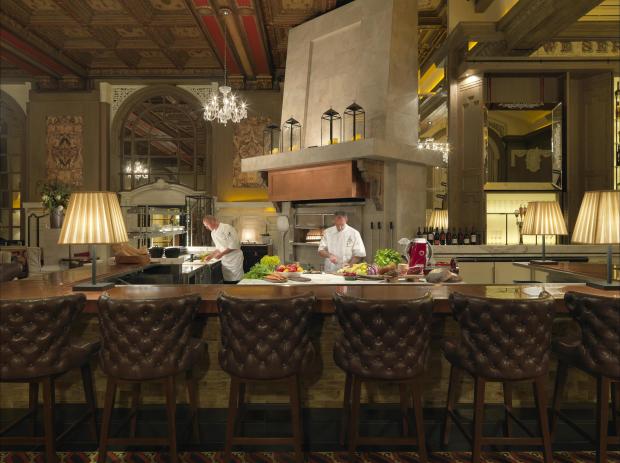 Fairmont Copley Plaza featured a Tiki Week recently to welcome spring weather with a lineup of classic tiki cocktails. What inspired this project, and do you see yourself creating more events like this in the future so people can experience cocktails that aren't usually on the menu?
The cocktail menu at OAK Long Bar + Kitchen changes seasonally and for special events – for example, look for summer sangrias as we open our patio and other cocktails inspired by the season. We find our guests – most of whom live in Boston – enjoy it when we mix it up (pun intended) with our cocktail menu. That said, we always have the classic cocktails our bar is known for, and our bartenders are always happy to handle special requests as well.
We like to pair cocktails with our meal sometimes. Because the OAK Long Bar + Kitchen has such a killer menu, would you be able to suggest some cocktails to pair with your favorite dishes?
Manhattans with everything!
Related: Downing Caviar-Topped Eggs & Craft Cocktails in Columbus
We always judge a restaurant by its bread, and your hearth baked bread with rosemary, salt and honey butter is simply irresistible. Any way you could share the recipe with us?
Honey Butter
1 lbs soft butter
1/2 cup honey
Whip butter with a mixer until fluffy. Gradually add in honey and mix until well blended. Chill until ready to use.
Rosemary Hearth Bread
3 1/2 to 4 cups bread flour, plus more for rolling (Chef's Note: Using bread flour will give you a much crisper crust. If you can't find bread flour, you can substitute it with all-purpose flour which will give you a chewier crust.)
1 teaspoon sugar
1 envelope instant dry yeast
2 teaspoons kosher salt
1 1/2 cups water, 110 degrees F
2 tablespoons olive oil, plus 2 teaspoons
Sea salt
Chopped rosemary
Combine the bread flour, sugar, yeast and kosher salt in the bowl of a stand mixer and combine. While the mixer is running, add the water and 2 tablespoons of the oil and beat until the dough forms into a ball. If the dough is sticky, add additional flour, 1 tablespoon at a time, until the dough comes together in a solid ball. If the dough is too dry, add additional water, 1 tablespoon at a time. Scrape the dough onto a lightly floured surface and gently knead into a smooth, firm ball.
Grease a large bowl with the remaining 2 teaspoons of olive oil, add the dough, cover the bowl with plastic wrap and put it in a warm area to let it double in size, about 1 hour. Turn the dough out onto a lightly floured surface and divide it into 2 equal pieces. Cover each with a clean kitchen towel or plastic wrap and let them rest for 10 minutes.
Place in a cast iron skillet, sprinkle with chopped rosemary and sea salt and bake at 450 for 15 minutes.
Now that you have a killer bread to serve, it's time to impress your guests with a cocktail. So we asked Grant Sceney, Head Bartender for Fairmont Pacific Rim and one of the tastemakers who collaborated on the brand's global Classics. Perfected. menu, to walk us through a perfectly light and refreshing summer cocktail that's easy to master if you heed his advice.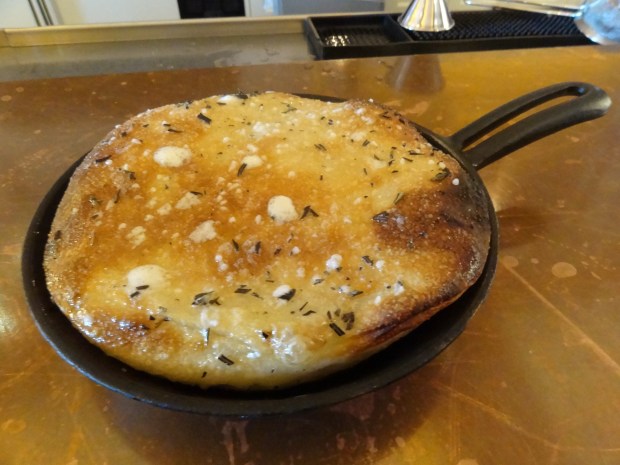 Making a cocktail is more than just measuring ingredients, it has so much to do with technique. Could you walk us through how to properly make one of the libations from the Classics. Perfected. menu?
Being a bartender is much more complex than just following a recipe as making cocktails is just one of many tools in the belt of a bartender. Understanding why you're putting certain flavors together, how they complement or enhance one another and determining the structure of this drink using ice, dilution etc. is essential to the art of mixology. These are all fundamentals in understanding the drink making process and is reflected in the overall guest experience.
Take the Sparkling Collins Royale for example – it's simple by design but needs to be executed precisely, as each step has a significant purpose.
Ingredients:
1 oz Belvedere Vodka ( a rye based vodka with a hint of spice)
1 oz lemon juice (fresh lemon instead of day old or pasteurized will vastly change the acidity balance to sugar ratio in your cocktail)
1 oz simple syrup
3 slices cucumber
2 mint sprigs (1 for garnish)
Veuve Clicquot
Add all ingredients plus ice to a shaker without Champagne. Pour Champagne over ice in tall glass. Double strain remaining ingredients over bubbles. Pour Veuve into Collins glass over ice, then top with the cocktail. Garnish with a mint sprig.
The above recipe seems approachable to recreate for all, however if the citrus acidity is low, the cucumbers aren't crisp and there isn't any fresh mint, then technique and balance go out the window. You want fresh, high-quality ingredients; poor quality ingredients are not a substitute – ever.
Editors' Recommendations