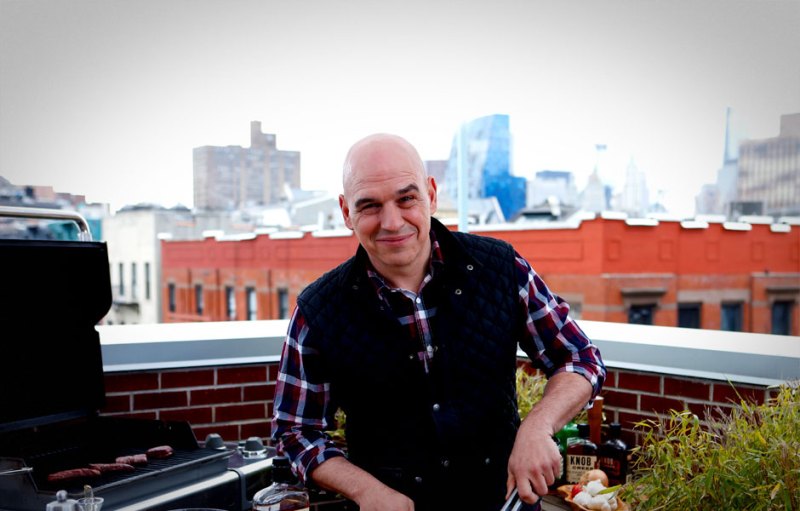 It's August, which means at this point in the summer, you're well acquainted with the backyard barbeque. You've hosted some, attended some and put your grilling skills to (hopefully) good use. However, for those of you who are still feeling a little bit insecure about your proficiency behind the propane or the briquettes, we have a brand new web series for you to check out.
World-renowned bourbon and rye whiskey distillers, Knob Creek have teamed with celebrity chef Michael Symon to provide wannabe grill masters with some essential barbeque lessons. Symon is a James Beard Award Winner and current co-host of ABC's The Chew, so he is more than qualified to demonstrate the ins and outs of cooking delicious flame-seared meats.
The interactive web series, entitled the Knob Creek Meat Master Class, is broken up into four different parts, three of which are already available online. The "classes" cover the fundamental topics of Meat Selection, Meat Preparation, Grilling and Plating. In each episode, Symon uses a conversational style to walk the viewer through the important things to look for at each step along the way.
From spotting good chicken from bad chicken, seasoning well-marbled meat, to observing proper burger grilling technique, Symon's instructions are easy to follow and will almost certainly inspire you to drop what you are doing and fire up your own backyard or rooftop barbecue.
And, because every episode highlights Symon cooking a different type of meat, you'll have plenty of options to choose from. In addition, all of the dishes manage to work in a healthy dose of Knob Creek into their recipe. Does a balsamic, cherry and Knob Creek bourbon steak sauce interest you? Yeah, we figured as much.
So, close the summer out right. Watch Knob Creek's Meat Master Class with Chef Michael Symon and show your friends (or, hell, your summer fling) that you definitely know your way around the grill.
We've even got our favorite class and recipe for you below:
RECIPE:
GRILLED SKIRT STEAK WITH A BALSAMIC, CHERRY & KNOB CREEK® BOURBON STEAK SAUCE
RECIPE BY CELEBRITY CHEF MICHAEL SYMON
Recipe Serves 4
SKIRT STEAK
Ingredients:
4 to 6 oz. Skirt Steaks
Olive Oil
Salt and Pepper to Taste
Arugula to Garnish
Preparation:
1.   Let the steak come to room temperature by removing them from the fridge a half an hour to an hour prior to cooking
2.   Season steaks liberally with oil, salt & pepper and set aside
3.   Place steaks on grill and cook to desired level
4.   Slice against the grain and top with steak sauce and arugula
BALSAMIC, CHERRY & KNOB CREEK® STEAK SAUCE
Ingredients:
4 oz. Balsamic Vinegar
2 Tablespoons Brown Sugar
4 oz. of Knob Creek® Bourbon
½ Cup Dried Cherries
Salt and Pepper to Taste
Preparation:
1.   In a non-reactive pan add balsamic vinegar, brown sugar, Knob Creek® Bourbon, dried cherries and a pinch of salt.
2.   Reduce by half over high heat.
Remove from heat, and let chill to serve on steak.
Editors' Recommendations