Ira Freehof has been in the New York diner business for almost two decades. He first opened The Comfort Diner on East 45th Street in the late 90s and in that time, he's seen a lot of patrons—and a lot of families—share meals at his restaurant. "I get a little nostalgic about it. You know, kids that were just babies when I first opened The Comfort Diner are now going off to college and I've seen them grow up."
Freehof recently opened a sister restaurant on Manhattan's Lower East Side, simply called The Comfort. This upscale diner is located right where Suffolk Street runs into Grand Street. It's an area of New York with a rich history, but one that will soon be changing and evolving with the development of the Essex Crossing urban renewal project that is intended to inject a younger crowd onto the neighboring streets—a crowd that is going to need new and reliable places to eat. That's what Freehof is hoping to achieve with The Comfort.
Freehof sees his diner as tied to the tradition of the French bistro. "American diners, particularly in the 40s and 50s were the equivalent of the French bistro. You go in and feel comfortable no matter what you're wearing; you can talk to the person next to you without feeling awkward. And you can just get a good meal that is really unpretentious."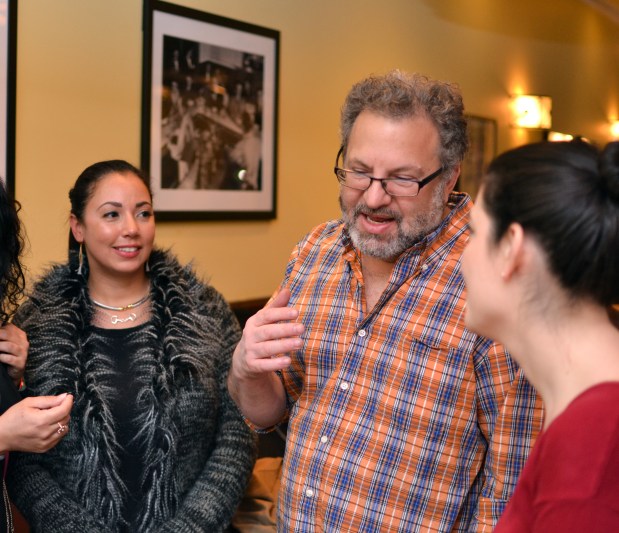 With the neighborhood changing, Freehof hopes that his food can have a uniting quality. He wants to retain some of the patrons who have lived in the area for 40 or 50 years, while also attracting a young, professional crowd who are looking for a solid affordable meal and a timeless cocktail after a long day of work.
Freehof is working with his chef, Alex Webber, to fine-tune his menu, which is still evolving. As the spring and summer roll around (hopefully?) they will be catering to foods better suited to warmer weather—lighter fare, more salads. Freehof wants the menu of The Comfort to be fluid, so that he can continually figure out how to add dishes that, as he says, "turn the idea of diner food slightly on its side."
Though the menu is a work-in-progress, we sat down with Freehof and he walked us through some of the dishes that are current standouts and staples.
Beet Dip with Bagel Chips – This is an update on borscht. With roasted beets, za'atar (Middle Eastern herbs), Greek yogurt, olive oil, goat cheese and pistachios, this is a surprisingly tasty and healthy bit of bar food. If you are a fan of the earthy, subtle sweetness of beets, you will enjoy this deceptively filling snack.
Salted Caramel Bourbon Milkshake – Who doesn't love a good milkshake? The best part about this concoction is that it doesn't leave you feeling heavy. The Salted Caramel adds a nice savory touch, while there is just enough of a bourbon flavor (thanks to Buffalo Trace!) to trick you into feeling buzzed.
The Jewbano – One of The Comfort's proudest items. This is bound to become a sandwich classic. The Jewbano consists of pastrami from Katz's deli, roast turkey, melted Swiss, mustard, pickles from Essex Street's the Pickle Guys all on a Kossar's bulka. This is a sandwich that melds together the Lower East Side's rich Jewish and Spanish heritages.
Egg Cream – It wouldn't be a diner without a New York egg cream. What's the secret to a good egg cream? "Fox's U-bet syrup," says Freehof. "You can't use anything else."
Sazerac – The alcoholic offerings at The Comfort are a large part of Freehof's plan to blend audiences at the restaurants. "I wanted to have real old school cocktails. So many new restaurants feel the need to invent brand new drinks, but there are so many good old cocktails—like the Mary Pickford (rum, pineapple juice, pomegranate grenadine, maraschino liqueur) or a Corpse Reviver #2 (gin, Cointreau, Lillet Blanc, fresh lemon juice, absinthe)." Their Sazerac certainly fits Freehof's vision of a classic cocktail. There's nothing flashy about this drink, everything is done just the way you want it—it's strong, full of flavor and excellent to sip on during a cold winter night.
As Freehof, and anyone else can tell you, New York is always evolving and changing. But the diner and a person's desire for a solid, affordable meal remains the same. "When you go out to eat," Freehof says, "a lot of times you want to go to a place that's very much about the experience. But in the end, you're really going for a good meal—and I think that a good meal is more satisfying than an experience."
Editors' Recommendations