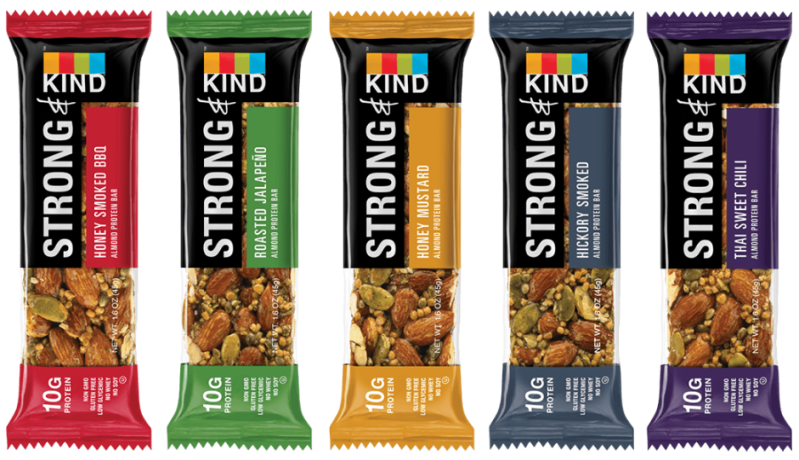 Ever crave a post-workout bar after an evening at the gym, playing basketball or riding your bike around town that doesn't involve what feels like a gunky chewy mass of processed ingredients you can't identify? The folks at KIND — the snack company that makes products like snack bars and grain clusters with flax seeds, that began in 2004 with only eight bar varieties and now has 22 bars and six snack clusters. They believe that their customers deserve snacks that are both healthy and tasty, and so do we. They came up with a bar that has the tagline, "bold flavor. 10g protein." — now who wouldn't want that?
We sure wanted a taste of these bars, aptly called the STRONG & KIND bars. Plus they have everything you health conscious folks out there want: they're non GMO and have no whey, no gluten, low sodium and no MSG. What could such a bar possibly be made of, you ask? A host of all-natural ingredients, like almonds, pumpkin seeds, honey rice flower, hemp seeds and sea salt. The five varieties even stay true to their names; Honey Mustard has actual honey and mustard seed; Honey Smoked BBQ has garlic powder and distilled vinegar, just like real BBQ sauce; Roasted Jalepeño uses actual jalapeño chilis, Hickory Smoked has natural smoke flavor; and Thai Sweet Chili has jalapeño chili and turbinado sugar.
Is there any way that STRONG & KIND bars can get any better? you must be thinking. Actually, there is. Oklahoma City Thunder forward and NBA All-Star Kevin Durant is a fan, and his promo pic for the bars cleverly reads "Being KIND isn't a sign of weakness — you gotta be KIND to be STRONG." Now that's something we like to hear. So next time you need a snack that's all-natural, tasty and good for you. Pick up a STRONG & KIND bar.
For more information, visit kindsnacks.com.
Editors' Recommendations