There's no doubt that cider is having a moment right now. Often seen as a lighter alternative to beer, drinkers, including myself, have been delving deeper into the amber stuff over the last few years.
Hard cider is often thought of as a classic American drink. But is what we drink today true to these historic roots? Not really.
One company in Vermont, Shacksbury, is on a mission to make ciders that are truer to the old tradition. As a result, their ciders are really closer to wine than beer, and they're hoping in crafting these brews, that their area of Vermont will become the Napa of cider.
It's easy to see why.
Vermont, and the Northeast, have a long history of apple growing. The apple trees that were planted hundreds of years ago were valued for cider among other things, unlike today's orchards, which are managed primarily for fresh eating or processed products like apple sauce or juice. As a result, hundreds or thousands of old apple orchards, ripe for cider production, are growing around the state and mostly forgotten.
Enter, Shacksbury's Lost Apple Project. The team at Shacksbury has set out to catalog old orchards around Vermont, find lost apple varieties and bring them back into commercial production. They've already made some cider from these fruits and intend to do much more. These micro fermentations won't yield big amounts of cider compared to larger cider producers, but that doesn't bother the team at all. In fact, it makes it even better.
"It's just a really cool opportunity to do something hyper local, and truly one off," says Colin Davis, Shacksbury co-founder. "The trees that we're picking apples from are totally unique in the world."
Related: Cider Week
For their larger run ciders products, Shacksbury uses apples from England and Spain. These fruits offer the classic characteristics that the team was seeking when they launched in the fall of 2013. "The apples that are widely available (in the U.S.) are grown for very specific reasons, not having to do with flavor or suitability to hard cider production," says Davis. Not so with the apples they found in Europe.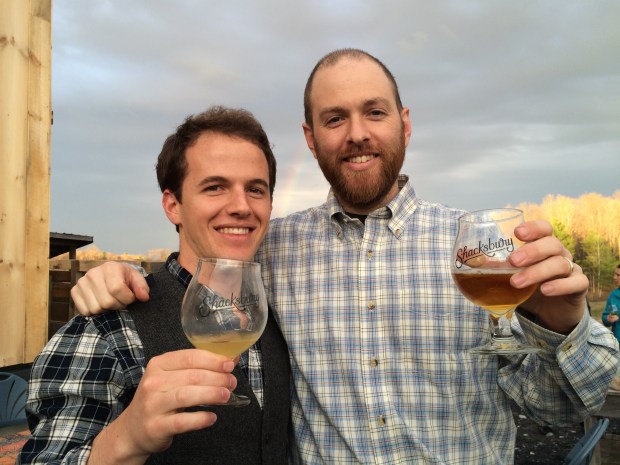 Above: Shacksbury Co-Founders David Dolgino and Colin Davis.
Over the next year, Shacksbury is ramping up, increasing production and coming out with some new products as well, said Davis. They'll focus on creating some year-round products that they'll keep fairly consistent, a collaboration series that will include cider makers from around the world, as well as a limited release series from the Lost Apple Project.
Those micro batches of the lost apple projects will be available in small numbers, just about 50 cases from one particular farm. So no doubt, you'll want to get your hands on those. For now Shacksbury is distributed in Massachusetts, Vermont, New York and California, but given early success, that list will continue to grow. Bottom line, if you see a bottle of Shacksbury, grab it.
Editors' Recommendations