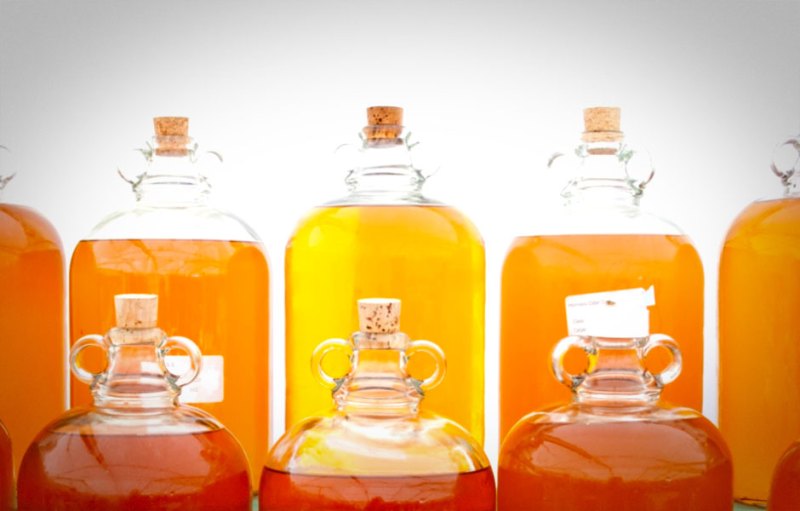 We are officially in the heart of the fall. All the tell-tale signs are there: the baseball playoffs are in full swing; leaves are changing colors and covering the ground; everywhere you look apples are on sale, or are being served in restaurant desserts or at dinner parties; and all anyone can talk about is football. All of those age-old autumn symbols are great, but we at The Manual want to make sure that you are aware of another, underrated sign of fall: hard cider.
Starting today, New York is holding its third annual Cider Week. Running through Sunday, October 27th, Cider Week features a variety of events not just in the five boroughs of New York City, but also all along the Hudson River Valley. You can spend a Sunday afternoon (10/20) in Bushwick sipping on ciders at Roberta's Garden Cider Fest or you can participate in Canawaler's Apple Fest (10/19) in High Falls, New York (just outside of New Paltz in prime apple country) where for $15 you can sample a variety of spirits provided by Tuthilltown Spirits as well as hard cider from Stone Ridge Orchards, while enjoying a heaping of free apple baked goods. There are cooking demonstrations in Manhattan, farm dinners in Cold Spring, and tasting sessions in downtown Beacon.
Fortunately for us, we have had a chance to taste just a few of the offerings that will be prominently featured during Cider Week and can report that all is well in the world of hard cider. Eve's Cidery Autumn Gold has a strong 9% alcohol content that blends English, French and American apples which results in a sweetness perfect for slowly sipping with fresh, crusty bread and a hunk of your favorite cheese. The Aaron Burr Homestead Elderberry cider has a solid 6.6% alcohol content and is the kind of cider you can enjoy while watching a World Series game that goes into extra innings. Having friends over on a Friday? Naked Flock Original Cider, fermented with Champagne yeast and a touch of local honey, is a great way to get your crew in a celebratory mood.
If you are looking to spice up your next date night, the Farnum Hill Extra Dry Cider is an excellent choice. The tannic backbone of the cider works well with a fall stew like Beef Bourguignon, and the 7.5 % alcohol by volume will make sure that you and your date don't get too tipsy. Meanwhile, the Harvest Moon Four Screw Hard Cider features a special blend of sweet and tart dessert apples sweetened with pure maple syrup, which makes it great to go along with a dessert of your choosing—maybe an apple crisp. And the Orchard Hill Red Label Cider is made at the Soons Apple Orchard and is unfiltered, so it comes, cloudy, aromatic and extremely fresh.
Whether you live in New York, the Hudson Valley or elsewhere, the next time you go to pick up a six-pack, think outside the box. Hard cider can be enjoyed all year round, but there's something about the crisp, complex flavor that just seems to work best in fall.
Eve's Cidery and Naked Flock photos courtesy of Along Came a Cider.
Editors' Recommendations