Whiskey has long been a favorite spirit stateside but never has the drink been as popular as it is today. Myriad states lay claim to at least one distillery and bourbon and American whiskey sales have skyrocketed to $2.4 billion. Much of the whiskey dominance can be attributed to the influx of whiskey bars around the country. Some have been around for decades while others are less than a year old. Here are five of our favorites in different regions around the country.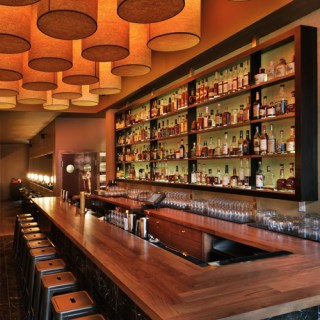 Char No. 4, Brooklyn
Brooklyn has its fair share of hip establishments. Char No. 4 on Smith Street in Cobble Hill caters to the bourbon-loving crowd. A wooden bar is the visual centerpiece for this establishment that serves more than 140 whiskeys and rye, most from the United States (Don't worry if you love Scotch; there's plenty on the list). Grab a stool and enjoy the one-ounce pours of Elijah Craig 12 Year Barrel Proof or Vintage 17 or try one of the specialty cocktails such as the Bourbon Bonnet or Kentucky Royal. Head here at happy hour for oyster specials or pork nuggets.
Butter Run Saloon, St. Clair Shores, Michigan
Just outside of Detroit proper, in a nondescript building in St. Clair Shores, lies Butter Run Saloon. The cozy bar doesn't have a swanky feel—think more Irish pub vibe—but it serves an extensive array of Scotch, bourbon, rye, Irish and other whiskey (here's your chance to try French whiskey. Do it). You might get overwhelmed by all the choices but the friendly and knowledgeable staff are here to help. The mostly local crowd gives Butter Run a more authentic and welcoming feel than many other whiskey bars in the country.
Old Talbott Tavern, Bardstown, Kentucky
A list of the nation's best whiskey bars wouldn't be complete without something in Kentucky. One of the nations oldest watering holes remains one of the most popular whiskey bars in the country. The Old Talbott Tavern in homey Bardstown, Kentucky, is an oasis for thirsty travelers. Since the 1700s, whiskey lovers have been heading here for locally made bourbon such as Heaven Hill. If you drink too much, head to one of the five available rooms upstairs. The tavern doubles as a bed and breakfast. But don't be surprised if you spy the ghost of outlaw Jesse James. He's said to haunt the halls.
East Side Show Room, Austin
If Beetlejuice had a favorite watering hole, this would be it. East Side Show Room caters to a hip clientele. Nonetheless, the staff are knowledgeable about whiskey. Choose from an array of bourbon and Scotch while you admire the vintage furnishings and the tattooed patrons. Head here on a weeknight to avoid the crowds and live music, which can get a bit loud at times. Try the Southern Belle, a delicious mix of bourbon, elderflower and honey.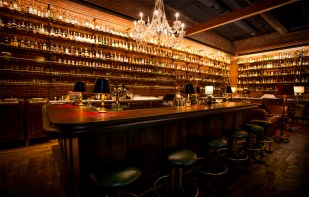 Multnomah Whiskey Library, Portland
Portland is known for its hip cocktail scene so opening an expansive—and expensive—whiskey bar seems only fitting. The Multnomah Whiskey Library on the edge of the Pearl District caters to a well healed crowd. The space is set up like an English library, complete with ladders, exposed brick, leather-bound volumes and dimly lit communal tables. A crystal chandelier holds court at the beautiful wood and leather bar as vest-clad bartenders craft delicious cocktails. Ask for a whiskey and the staff will bring you the entire bottle, as if you're "checking out" the bottle like a library book. The hostesses could be a bit more welcoming—we had to convince them to let us in—and the clientele less pretentious, but the whiskey selection can't be beat. Sit back and savor a Mortlach. The peaty flavor is worth the wait.
Editors' Recommendations