If you've ever home-brewed anything (and, if you're here reading this, it's safe bet to say you have), you've had the thought that someday—someday—you'd love to wake up every day and drive to work at your very own brewery. All that stainless steel, all the bags of grain just waiting to be milled. And the smell, oh that heavenly smell of beer in the making. Well, now you have the chance to make that dream a reality, at least for a week, with the Samuel Adams LongShot American Homebrew Contest.
Over the last twenty-one years, Sam Adams' LongShot Contest has offered thousands of home brewers the opportunity to put their best brews to the test (which, for some, helped launched brewing careers such as 2015 winner Tim Thomssen, brewer at Boiler Brewing Company, 2013 winner Cesar Marron, brewer at Sketchbook Brewing Co., 2009 winner Mike Robinson, brewer at Newburyport Brewing Company, and 2006 winner Don Oliver, brewer at Dust Bowl Brewing Co.). This year, Sam Adams has doubled down on making a homebrewer's dream come true—the winner of this year's LongShot Contest will win a week-long brewing experience at the Samuel Adams brewery in Boston.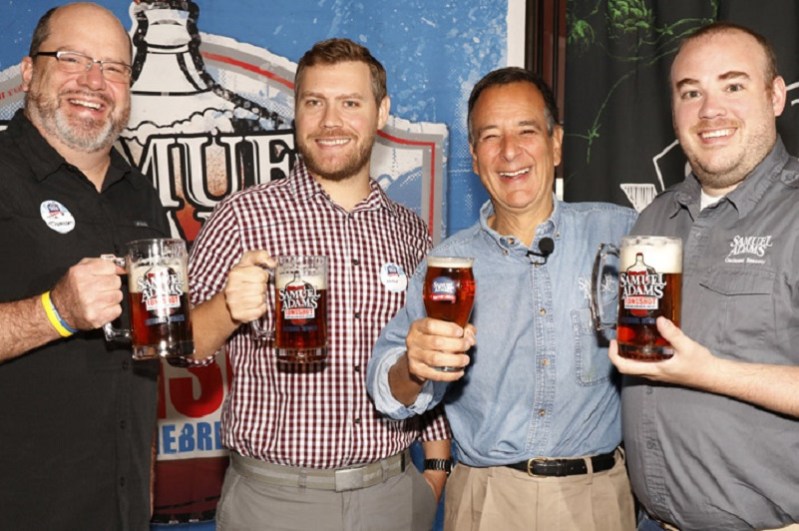 What does a week-long brewing experience? A whole hell of a lot of fun (and learning, of course).
The grand prize winner will have the chance to work alongside Sam Adams brewers in the nano brewery, the ten-barrel brew house, and the barrel room. While there, the winner will be able to pick the staff's brain about everything from grain and hop sourcing to quality testing and beyond. Then, once you've got that all down, you'll brew a limited release collaboration beer that will be available in two places—at the brewery and in your home town, thus making it a lot easier on your parents to explain what the hell you are doing with your life at parties.
Beyond the brewership the winner (and two runners-up) will all receive tickets to the Great American Beer Fest and a scholarship for an online course with The Siebel Institute of Technology World Brewing Academy in partnership with Doemens Academy in Munich.
This isn't the only way that Sam Adams has helped brewers around the country. Through the Samuel Adams Brewing the American Dream program, the company has provided direct assistance to startup craft brewers or those who aspire to go pro (totaling, at this point, over $1 million in loans for forty craft brewers).
To win, all you need to do is submit a two-minute video detailing why you should be the one to brew with Sam Adams (and a short statement to accompany the video). Simple, right? If you've got what it takes, it'll be easy to spend two minutes showing off your home brew set up and get your passion for beer and homebrewing across. You can submit your video here.
Editors' Recommendations