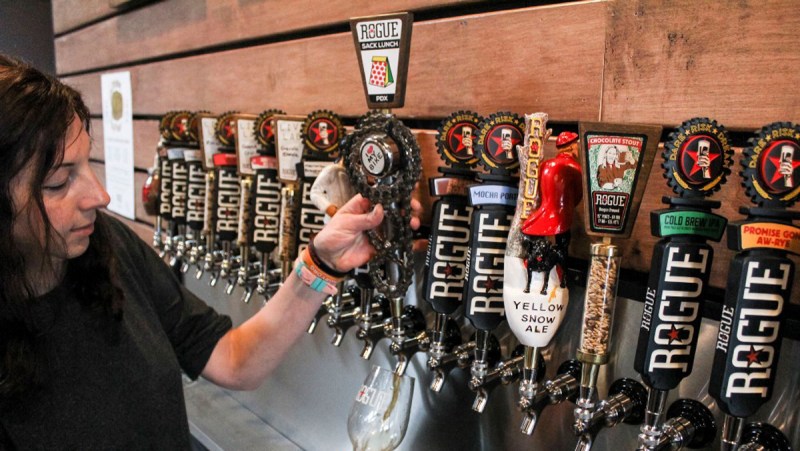 Kids and beer rarely go together, but Rogue Ales is changing that. In a good way.
Rogue Ales created Sack Lunch Ale and is going to cycle over 300 miles in May to combat childhood hunger thanks to their No Kid Hungry, No Adult Thirsty campaign.
All right, grab a beer, preferably a Rogue Ale, and settle in for some upsetting facts: 13 million children in the United States don't get enough to eat. That's one in six children. Without proper nutrition, children get sick more often and recover more slowly; they fall behind in school because of absences. Malnutrition can lead to learning difficulties and behavioral problems as well as obesity. Even with government assistance, like SNAP (formerly Food Stamps), which is often threatened by politicians, the average benefit comes out to only $1.46 per meal. For a fun challenge, try to eat on only $1.46 per meal and eat enough and well.
Rogue Ales decided to do something about this horrific problem that really just shouldn't exist at this point in the United States. They created a delicious new hoppy IPA called Sack Lunch Ale, donating a dollar from every single pint of it sold. That dollar is able to provide ten meals for children. That seems like a lot, but Rogue isn't finished.
They've formed a 12-person cycling team of some of Portland's best chefs called Sack Lunch PDX to participate in Chefs Cycle to raise even more money to combat childhood hunger. $55,000 more in fact. Chefs Cycle is a delightful fundraising event where award-winning chefs and people in the culinary world cycle 300 miles in three days. This year it will take place in Santa Rosa, California on May 16-18th. Apparently even Pink is participating this year?
The goal is to raise $2 million dollars for No Kid Hungry, which would provide a whopping 20 million meals for children. At the time of publication, Chefs Cycle is over 70% there: they've got $1.4 million raised. Rogue Ales' Sack Lunch PDX team is also well on their way, having already raised $39,554 for No Kid Hungry.
If you want to support the Sack Lunch PDX team while toasting the good work with a Sack Lunch Ale, you can donate here.
Editors' Recommendations