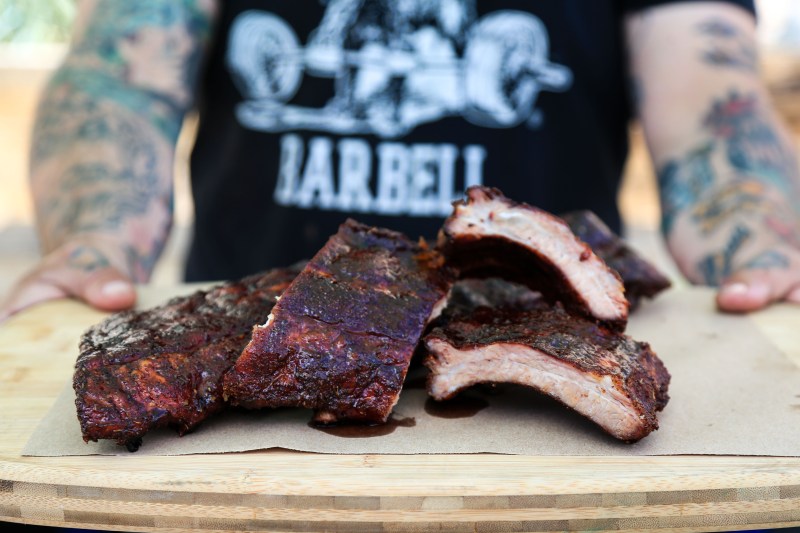 Feasting is our column dedicated to cooking, grilling, eating and discovering what's on the menu across America and the world.
New York City barbecue has truly come into its own this last decade. It started with places like Blue Smoke and Fette Sau, which paved the way for gems like Arrogant Swine to open their doors in the last couple years. It seems like a new barbecue spot is popping up every few months, but one opening this year has stood out above the rest. Enter Pig Beach, a collaboration between two award-winning barbecue teams that's found a permanent home in the Gowanus neighborhood of Brooklyn.
Opened by Shane McBride (Balthazar)—the captain of Ribdiculous Bar-B-Krewe—and team Salty Rinse's Rob Shawger (founder and team captain), Ed McFarland (Ed's Lobster Bar) and Matt Abdoo (Del Posto), the Pig Beach team brings more than 80 years of restaurant cooking experience and several American BBQ awards to the table. Michael Greenlee—former wine director of Le Cirque and Gotham Bar and Grill—even created a white wine for the joint called Salty Rinse.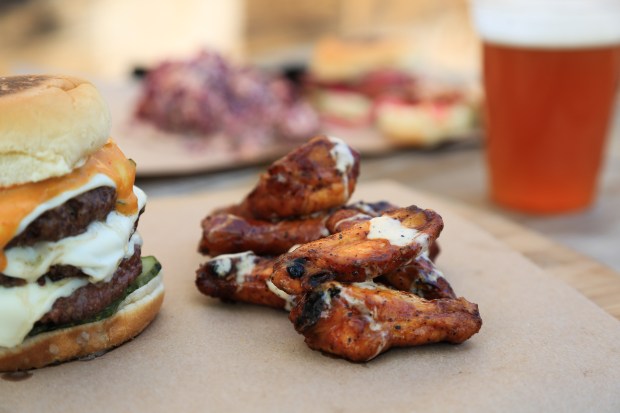 Their focus is live fire, but they take inspiration from all types of cuisines. They're inspired by the culture of American barbecue and embrace regional techniques they picked up on their competitive trips across the country. But they also bring in foreign flavors and borrow from cuisines such as Italian, French, Middle Eastern and Asian to create dishes like za'atar rubbed leg of lamb and yuzu glazed smoked duck. Everything we tasted on a recent trip to Pig Beach was outstanding. The burger was a fan favorite and the Yankee Red Hot Sausage, stuffed with provolone and hot cherry peppers, can only be described as addicting. The wings and pork shoulder were some of the best we've had ever. Their variety of house made sauces are a must, and they cover everything from a Carolina vinegar blend to a creamy Alabama-style white sauce. You can't go wrong ordering anything on this menu.
Related: Behold: (Arguably) the Best Meat on Earth
Pig Beach is also known for their guest takeover series where pit-masters from across the country spend two days at the helm of the restaurant's smoker. Most recently, we got to taste ribs from Carey Brindle of Peg Leg Porker in Nashville, Tennessee. Slathered with a smoky dry rub, this rack required no sauce and the meat fell right off the bone. If you missed out on this round, not to fear—Pat Martin of Martin's BBQ in Nashville will be taking over to showcase his whole hog on September 21-22.
Pig Beach is currently an outdoor space, but they'll be moving seating inside after October when the weather gets brisk so you can enjoy their juicy barbecue year-round. To learn more, visit pigbeachnyc.com.
Editors' Recommendations