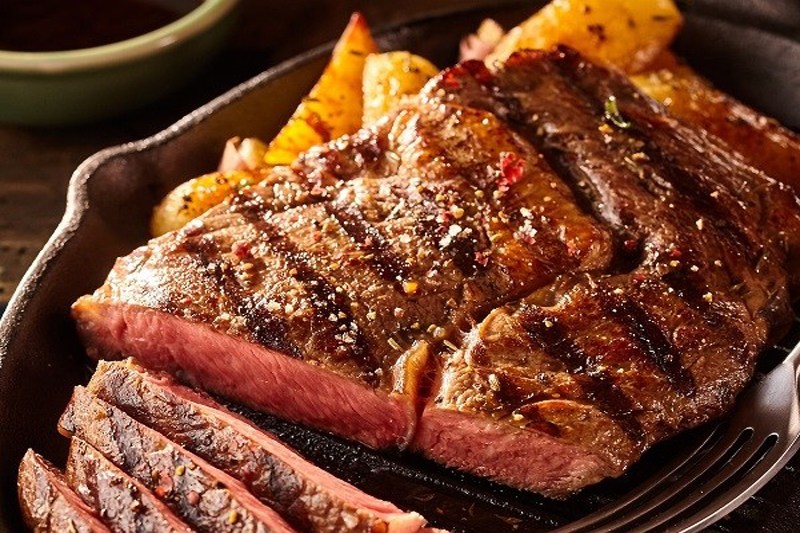 While there are a lot of decent meatless meals — with tasty meatless recipes — meat is a staple of so many people's diets. Stocking up on the right meats can be expensive though, even if you're freezing and storing the food. But it doesn't have to be. Right now, Omaha Steaks is offering 55% off a massive meat bundle, which will be delivered right to your door. Normally $311, you can grab the Gourmet Protein Pack for just $140 and it includes a total of 27 items from top sirloin to Omaha steak burgers and caramel apple tartlets, yum. By the way, you can take some of those delicious meats and prepare them any way you want, like dry brining your steaks. They come fresh and ready to prep. Hurry and grab the deal if you're interested though, we don't know how long Omaha is going to keep it available.
Why You Should Buy the Gourmet Protein Pack from Omaha Steaks
Let's be honest, choosing and prepping dinner is a real task, and sometimes, even with food stocked in your pantry and freezer, it's tough to decide what to make. Even more so if you have to pay a visit to a local grocer or butcher to get your supplies. With Omaha's bundles, they arrive right on your doorstep. You just have to put them away. It's easy to underestimate that level of convenience until you experience it for yourself. Before you pull them out to cook again, you might want to take a look at some cooking tips from top steak experts.
Back to the bundle, Omaha's Gourmet Protein Pack includes a ton of different meats and meal options, but also it includes sides and desserts too. There are 27 items in total:
Four Butcher's Cut Top Sirloins

Two Beef Sirloin Tips

Four Air-Chilled Boneless Chicken Breasts

Four Omaha Steaks Burgers

Four Gourmet Jumbo Franks

Four Potatoes au Gratin

Four Caramel Apple Tartlets

Omaha Steaks Seasoning Jar
That's a lot of food, never mind just the meats. All ingredients are fresh and prepped for a delicious and memorable experience. For example, the Omaha Steaks Butcher's Cut Top Sirloins have been naturally aged at least 30 days to improve tenderness, and they've also been double-trimmed by master butchers to remove fat and other less tasty bits. The rest of the meats have been treated with care, as well. You won't even need steak sauce if you cook them appropriately.
Now's the perfect opportunity to fill your freezer and stock up on this Gourmet Protein Bundle from Omaha Steaks. For just $140, which is $161 off — or 55% off — it's all yours and will be delivered right to your doorstep. That's a huge improvement over the normal price of $311. It also makes this bundle an incredibly cheap way to throw a social cookout, barbecue, or just meal prep for the next couple of weeks. What are you waiting for?
Editors' Recommendations