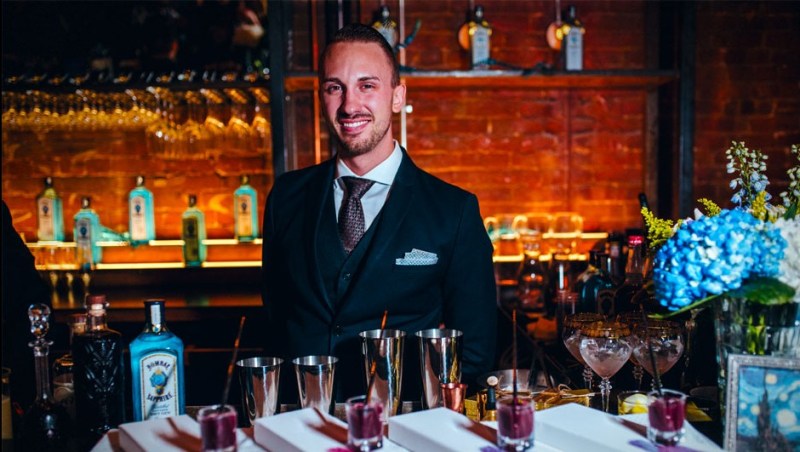 If you thought mixology was anything less than a science, think again. It's an art that requires a tremendous amount of skill, preciseness, and a true understanding of what your patron's palates are craving. There is one mixologist, in particular, that has taken the industry by storm. You won't find him in a popular Manhattan lounge or a highly acclaimed pub in London. Take a step inside the proper and elegant Roosevelt Room in Austin, Texas, and you'll meet the mixologist of the year, Justin Lavenue.
Lavenue had the year of a lifetime in 2015, but years ago he would've never imagined being in the position that he is today. He started his career as a busser at a restaurant. Being a bartender happened by chance. He found himself in the right place at the right time. One of the bartenders didn't show up one day, so Lavenue decided to take their place for the night. The rest was history, and now Lavenue stands as one of the most prominent faces of the industry.
Related: Worn Out Wednesday – Justin Noel
Accolades and awards aside, he and business partner Dennis Gobis opened their very own cocktail bar, The Roosevelt Room, in downtown Austin, Texas. To go along with his success at The Roosevelt Room, Lavenue was named Food & Wine's Best New Mixologist in 2015 and Eater's 2015 Bartender of the Year. His biggest claim to fame was his win at Bombay Sapphire's 9th Annual Most Imaginative Bartender competition. His victory earned him the title as North America's most imaginative bartender, and in a few months, he'll be competing at Bombay Sapphire's Global competition in hopes of taking home the title as the most imaginative bartender in the world. However, his journey to stardom wasn't as easy as he would've hoped.
This was actually Lavenue's 4th year competing, and he had doubts of continuing had he not won. "It was the biggest sigh of relief ever," he said. "I was joking with a lot of people that work for the brand right afterwards. I'm so glad because I don't know if I have another year in me. It's a grueling competition. It's a number of days long. Last year it was three, this year it was two. But, you're doing things the whole time. I'm so relieved. It's an honor, but I'm so glad that I finally took it home."
Lavenue isn't one to bask in his glory and fame. There has been very little time to celebrate because he's focused on preparing for the challenges ahead. "I've mostly celebrated by working harder and working more," he said. It's been a busy season so it's great. I also have the globals coming up so that is going to be another challenge in and of itself. I'm also just trying to focus on that next step and being able to represent the country of the United States well in this competition. The competitors themselves have all won their individual countries already so you know their going to bring their A game."
The cocktail that has contributed to Lavenue's rise in mixology is known as the Poet's Muse. It was the recipe that won him the Bombay Sapphire competition, and it has now become the drink of choice among his patrons at The Roosevelt Room. Lavenue's inspiration behind the drink was derived from haiku poetry and how the Japanese approach their craft and specifically, their culture. He's a true believer in the fact that their is much more to a signature cocktail than simply its taste. "I've been busy trying to come up with different kinds of concepts. For example, The Poet's Muse drink was Japanese haiku and bartending techniques. So, I'm trying to think of other concepts that will compliment Bombay Sapphire and lead to a good story," he said. "Often, it's the drinks with a great story as well as a great taste that will end up winning the competitions."
His success and presence in the press has also done wonders for The Roosevelt Room. They just celebrated their 6-month anniversary, and business has never been better. "It's been absolutely wonderful," Lavenue said. "It's been quintessential in a lot of the early success that we've had so far." If you ever find yourself in need a good drink in Austin, Texas, head on over to The Roosevelt Room in the downtown district. You certainly won't be disappointed because you'll be enjoying a classic cocktail whipped up by one of the best at his craft in the world.
Think you have what it takes to replicate Justin Lavenue's winning cocktail, The Poet's Muse? It might take a little bit of work to craft, but the end result will be well worth the time. Take a look at the recipe below and give it a try!
The Poet's Muse
2 0z. Bombay Sapphire Gin
3/4 oz. Poet's Cordial: 1 L Pistachio Milk (1 park unsalted pistachio meat, 2 parts water, blended and strained), 800ml Wildflower Honey, 2 cinnamon sticks, 4 Star Anise pods, 1 vanilla bean, 2 tablespoons Matcha Green Tea Powder. Combine ingredients, mix well, and let rest for three days. Fine strain and bottle.
3/4 oz. Yuzu-Lime blend: 15 parts fresh lime juice, 1 part Yuzu concentrate. Mix well and bottle.
2 dashes Umami tincture: 30 Shitake mushrooms (chopped), 2 tablespoons unsalted butter, 6 oz Bombay Sapphire, 1 tablespoon Himalayan Salt. Saute the Mushrooms in butter for 10 minutes. Add Bombay Sapphire and salt and steep for another 10 minutes. Strain mushrooms off and freeze to let fats coagulate. Strain off fats and bottle.
Shake hard over a large ice cube. Strain into a large coupe glass with the large ice cube dropped in. Garnish with a lime peel rosette. Serve on a Zen Garden.
Editors' Recommendations