More often than not, kitchen counters are a mess of slotted spoons, dull knives, and about eight dozen spatulas that you've been collecting since college (you might call it "curating a collection" but we all know you just forget you've got them, lose them, then find them again).
What about when you're living in an apartment in the city, when space is at a premium? Your microwave is already doubling as your dry good storage, so there really isn't room to spread anything out. (We think the Apartment Bartender might know something about that …)
Every time you go to cook a dish, you have to make room and hope you can find the implements you need to cook with — and that's not even including the amount of time it takes to hide all the junk if you've got guests coming over. It can all be a giant pain in the ass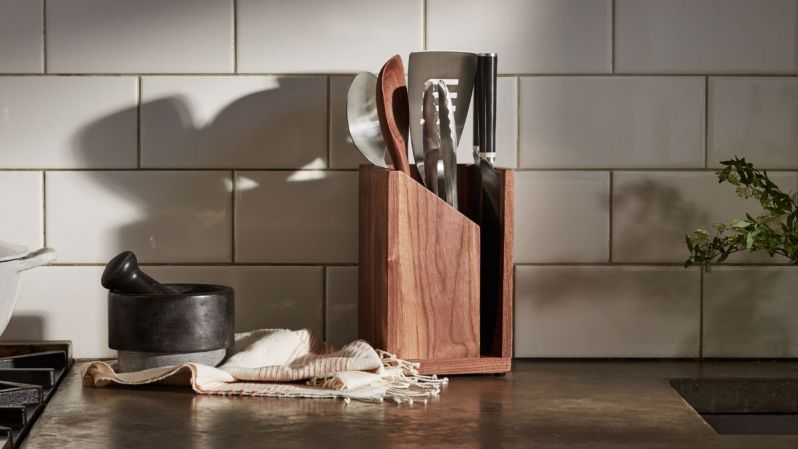 If you're like the people mentioned above, never fear. We've got a new set of kitchenware for you that'll help cut down on space while still maintaining a stylish and functional kitchen.
Created in part by Eunice Byun, Material is a new brand that is working to provide stylish, functional kitchenware direct-to-consumer. In the process, they'll also be helping you de-clutter your kitchen counters.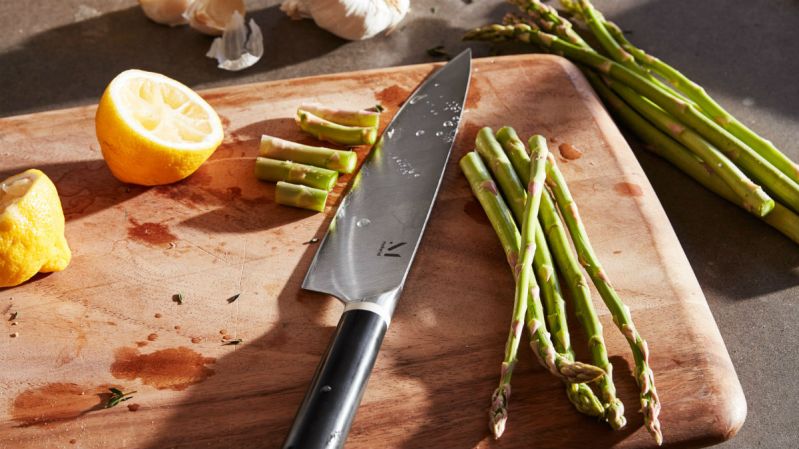 Currently, Material is offering up two items. The first is an 8-inch Chef's Knife, and the second is The Fundamentals, a set of seven pieces that will eliminate any of the stress incurred by having a kitchen counter like the one mentioned above.
The knife is made from three layers of Japanese steel and is ice-tempered, creating an edge that is literally razor sharp: 59+/-1 Rockwell hardness for those who know what that means. The edges are sharpened to 13 degrees on each side for maximum cutting precision. No matter if you're looking to slice, dice, mince, crush, or smash, you'll be able to use this tool. The Chef's Knife will run you $75 and it comes with free shipping.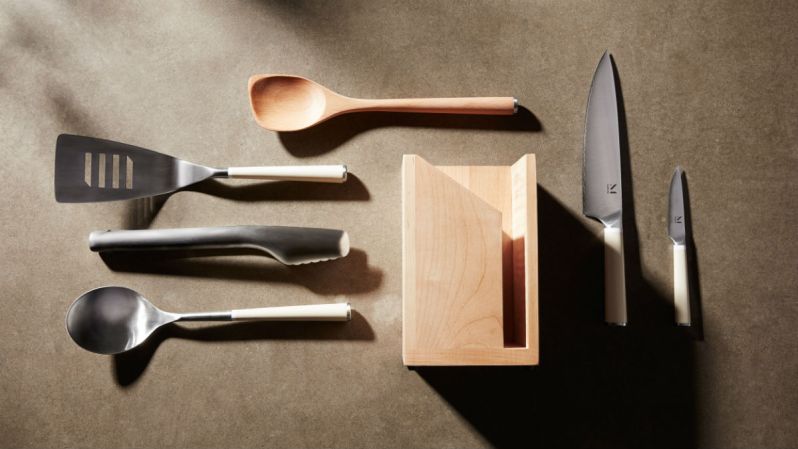 The Fundamentals set is exactly as the name states — everything you need to do basically everything in the kitchen. It comes with the 8-inch Knife, The Almost 4-inch Knife (a 3.5-inch paring knife for detail work), The Metal Spoon, The Wood Spoon, The Slotted Spatula, The Only Tongs, and The Base. The collection comes in two color options: Cool Neutral + Maple and Almost Black + Walnut, making it easy to match with almost any kitchen. The Fundamentals cost $175, but when you consider the 8-inch knife is $75 on its own, the entire set is a steal.
With each purchase you'll get a 60-day trial and a lifetime guarantee if anything goes wrong.
You can order both the 8-inch Chef's Knife and The Fundamentals here. Once you do, you can spend the time waiting for it to arrive getting ready to have a cleaner, sleeker kitchen.
Editors' Recommendations