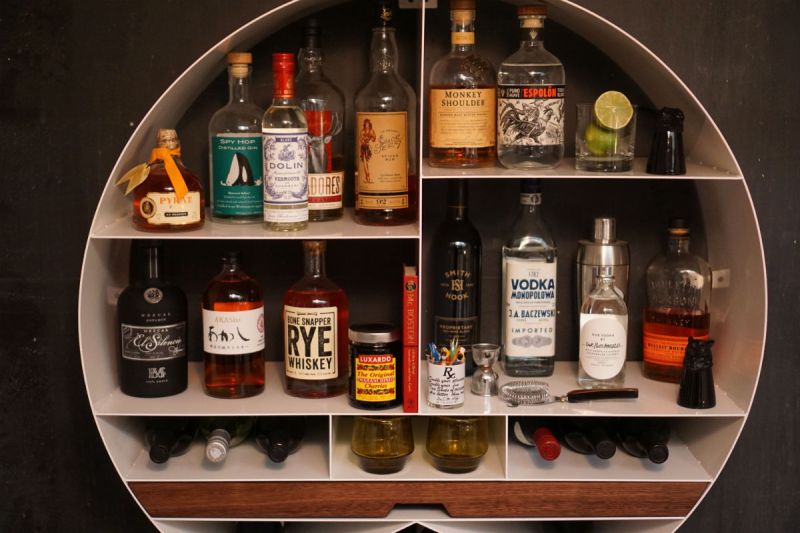 Are you an at-home mixologist? Do you love mixing drinks for your friends and family? Do you have over ten bottles of liquor to store in your home?
Unless you actually have a built-in bar area at home, finding space to keep all those bottles of spirits can be a pain. A cart always looks nice, but it can be bulky. Not everyone has a corner that they can convert into a bar. It looks like Sean Woolsey created a solution that can store your liquor collection and make for a stylish design piece in your home.
The Orange County, California-based designer conceived of The Libation Station. The shelving system is constructed from high-grade, powder-coated aluminum and it also comes with a Black Walnut sliding tray system. Weighing in at 42 pounds when there is no alcohol on it, The Libation Station is light, yet sturdy so it can elegantly display those bottles of wine, whiskey, vodka and more. The tray is finished with food-grade mineral oil with herbs, so you can use it for all your cutting needs — slice oranges, limes, lemons, even pineapples on it to garnish and mixing needs.
Mounting takes no time at all — just a matter of minutes — so that when you receive it, The Libation Station can be swiftly set up. If you order now, you might just have it in time for that party you're planning to throw in the next few weeks.
The Libation Station can easily hold 20 to 25 bottles of liquor, plus an additional 20 bottles of wine in the dedicated bottle storage space, and it also keeps all your bartending accessories as well. Now you have that piece of furniture that will impress your friends, enhance your home and acts as a handy storage space for all those mixers and more.
For more information, visit seanwoolsey.com.
Editors' Recommendations