The Lost Generation would've found themselves very much at home in The BoardRoom.
The brand new bar in downtown Los Angeles is creatively steeped in the past, filled with literary craft cocktails, decadent French bites, live music, and an arts-inspired cocktail tasting-menu. Your late night watering hole just got a lot cooler.
Part of the Patina Restaurant Group, The BoardRoom occupies the former private dining room of the legendary Kendall's Brasserie. This sexy little bolthole is just across the street from Disney Hall and nestled in with the Music Center, making it the perfect post performance spot.
Duck inside the easy-to-miss door and straight into vintage Paris. It looks exactly like the sort of place where Hemingway, Fitzgerald, Zelda, Picasso, and Stein are bound to show up any minute. Green-blue walls host large arched mirrored panels, Belle Époque sconces of arms holding torches line the walls. Naked Edison bulbs hang down from the ceiling, and perfectly worn, layered rugs coat the floors. Mid-century modern tables and chairs fill the space, offering romantic dark corners and wide banks of leather sofas perfect for enjoying the live music. It has the distinct feeling of having been a Lost Generation hotspot that somehow survived World War II.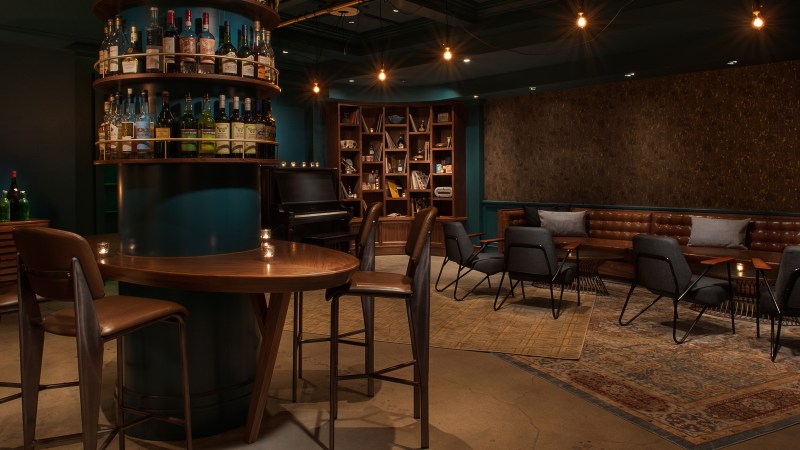 The cocktails are worthy of any of the great artists that offer up their names. The Frida Kahlo is Ilegal Joven Mezcal, Aperol, lime, and Giffard Vanilla, offering a deliciously surprising kick. The F. Scott Fitzgerald is H by Hine VSOP Cognac, Laubade Armagnac, Lillet Blanc, and housemade maple syrup. Or try the William Faulkner, a sweet as his Southern prose and just as inventive: coconut washed Four Roses bourbon, demerara sugar, toasted pecan bitters, and a dehydrated orange peel. Each drink is thoughtfully made, but not overly produced or garnished. Hemingway would likely have thought them brave, and true, and good–though we can't prove it.
Drinking with your best group of era-defining friends? Order one of the punches that serve four to six people. The Virginia Woolf is dangerously drinkable: champagne, St. Germain, Grey Goose, blackberries, raspberries, sugar, and lemon. They're served in crystal dispensers placed at your table.
The BoardRoom's food is also not to be missed. It features bar-sized portions of some of France's greatest culinary gifts to the world. You've got classic bread and cheese spreads, charcuterie boards, and marinated olives, sure. But you've also got oysters on the half-shell with absinthe jelly, deviled eggs topped with sea urchin, tender, garlic-y escargot in flaky puff pastry shooters, and oxtail poutine served over duck fat fries. The Beef Bourguignon Sloppy Joes are so wrong but oh, so right. If you have room left, order some of the most delicious macaroons you'll ever taste. Whisper grateful "mercis" in between bites to Executive Chef Jean-Pierre Bosc.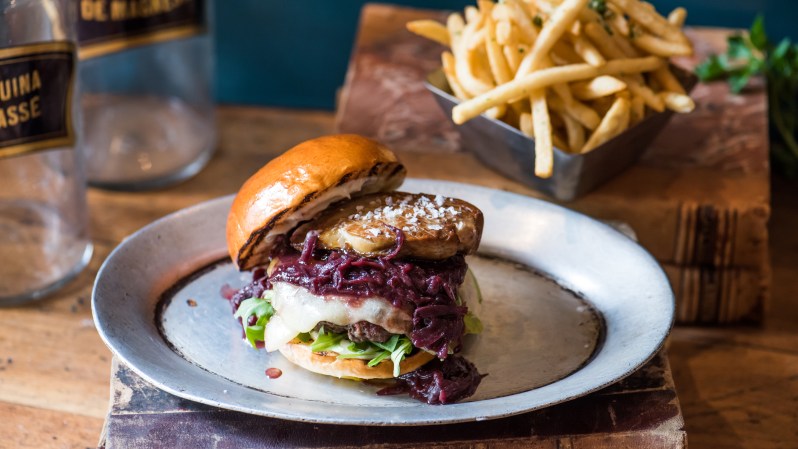 One of the more unique things about The BoardRoom is their Triple Tipple: the 3-course cocktail tasting menu. Before you worry about your liver, they add up to about a drink and a half total. The Triple Tipple changes weekly and is created by Christina Russo, The BoardRoom's bar leader. She takes inspiration from past and current performances at then Music Center, which is in the same complex. "It is our mini R&D center where we can experiment and test out new techniques, flavors, and spirits," explains Patina's West Coast Corporate Mixologist Evan Charest.
The week we went the Triple Tipple is Swan Lake themed: The Hunters, which is Hudson White Whiskey, Leopold Cranberry, and Braulio; The White Swan Encanto Pisco, citric acid, lemon, peach liqueur, and egg white; and, of course, The Black Swan, made with Singani 63 Bolivian Muscat Brandy, black sesame syrup, Jaegermeister, and lemon. Each week you can experience three brand new cocktails– not a bad deal.
If you like your booze served with a healthy dose of subtle, sexy nostalgia, bienvenue à la BoardRoom.