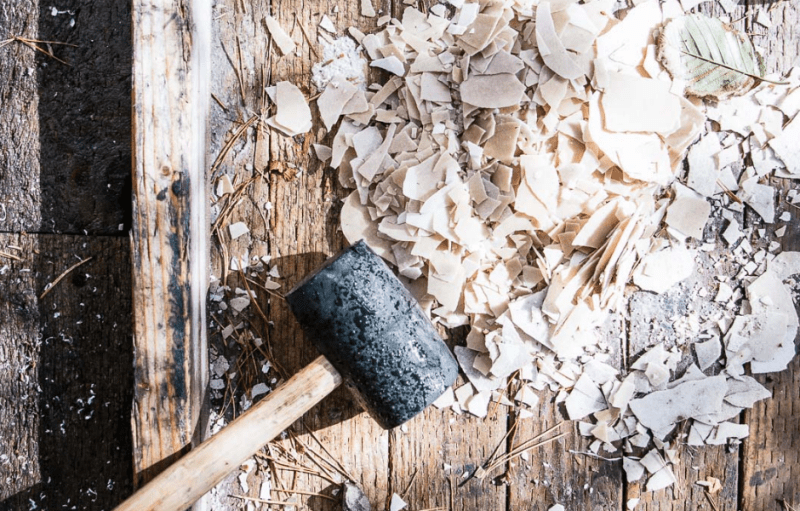 You might not think about it, but not all salts are created equal. As with most other goods, there are varying degrees of quality in the humble sodium chloride molecule, and on the continuum of salt quality, the stuff that Ben Jacobsen coaxes out of the coastal waters of Oregon is most definitely at the higher end.
Even if you think you don't care about the quality of the salt you eat, a pinch of this stuff will change your mind. It's got this gloriously delicate crunch to it, a superb flavor that strikes a balance between pure salinity and subtle minerality, and these large, dazzling white flakes that sparkle like tiny edible jewels.
After seeing and tasting this stuff, it's actually hard to believe that Jacobsen Salt Co. is only two years old. Your senses lead you to believe this salt is the product of some age-old technique that's been perfected over the course of a couple centuries, but in reality, founder Ben Jacobsen just nailed the recipe.
Like most of us, Jacobsen had no idea there was such a thing as good salt and bad salt a few years ago. It wasn't until he left the Sates and moved to Norway for work that he discovered the world of salt was much, much wider than Mortons. This was the beginning of his love affair.
Years later, when he returned to Portland, he started experimenting. Once or twice a week, he'd hop in his truck and drive to the coast to collect a few buckets of sea water, then drive it back to PDX to filter it, boil it, and make it into salt. For the better part of a year Jacobsen repeated this process, and visited dozens of different spots along the Oregon coast in search of ocean water that produced the purest salt — a search that eventually led him to Netarts Bay.
"There weren't any books or guides on the subject, so I just had to figure it out on my own," he tells us. "It took quite a bit of trial and error, but it definitely payed off in the end."
Ever since then, it's been a whirlwind. Within months, the fruits of Jacobsen's backyard brine boiling operation were in high demand, so he moved into an old oyster farm in Netarts to streamline production and expand operations. Now, just two short years later, he's already on cusp of opening up a new space in downtown Portland.
And of course, while top-notch sea salt is still JSC's chief export, the company has expanded it's product offerings to include things like taffy, soap, and a variety of different flavored salts that are unlike anything you've ever tried. We highly recommend the smoked ghost chili flavor.
Editors' Recommendations