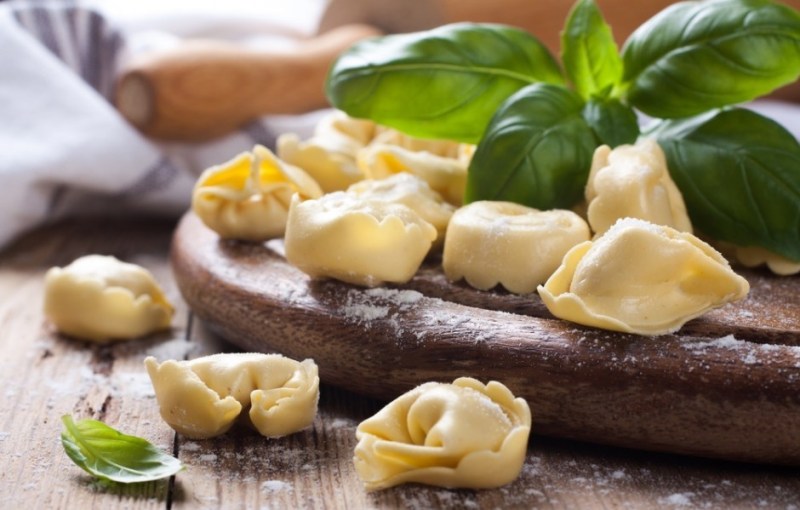 A man who knows how to cook is a glorious thing. Fellas, if you want to make yourself more attractive to potential romantic partners, you would do well to build a modest repertoire of delicious dishes — a culinary oeuvre that shows you know how to feed yourself and others. Whether you have a little cooking experience or none at all, you might dive into the world of cooking by learning how to make tortellini from scratch. Why the hell not?
For those who don't know what tortellini is, it's a type of ring-shaped stuffed pasta. It's kind of like ravioli in that sense, but with a bit more height to it. The important thing is it's delicious and fancy. You'll find the phrase "Why don't you come over? I'll make some homemade tortellini" to be a powerful aphrodisiac. This particular recipe for pork and crab tortellini comes to us from Kyo Koo, Executive Chef of Bluehour. Bluehour is an upscale New American restaurant in Portland, OR, and Chef Kyo is well-versed in culinary traditions from around the world. You're in good hands.
Pork and Crab Tortellini
Tortellini dough:
Ingredients:
2 cups all purpose flour
1 egg
1/2 cup water
1 teaspoon salt
Directions:
Combine egg and water in one mixing bowl. Whisk together lightly with fork.
Sieve together flour and salt in separate bowl. In two batches, add egg and water mixture to flour until combined. Knead by hand for 5 minutes until well combined and dough is smooth. Rest for 1 hour.
Roll dough in two batches through pasta machine starting from "6" setting going gradually down to the "1" setting. Note: You can also use a rolling pin, though you'll need to get the dough really flat. Pasta machines are easy to come by and affordable. This one is available on Amazon for $30.
Cut the dough into roughly 3" x 3" squares
Related: The Manual's Guide to Cooking
Pork and crab tortellini filling:
Ingredients:
6 oz ground pork shoulder
4 oz Dungeness crab meat, picked and dried
1 whole egg
2 tablespoons finely minced scallions
1 tablespoon finely minced chives
1 tablespoon finely grated ginger
1 tablespoon finely minced shallots
1 teaspoon finely minced garlic
2 tablespoons tamari soy sauce
2 teaspoons potato starch
Directions:
To make filling, combine pork shoulder, crab meat, and egg, mix together gently.
Add remaining ingredients and make sure filling is mixed evenly.
Place a small amount of filling onto each dough square (it might take a few practice rounds to get the right amount).
Gently fold the tortellini dough and filling, then fold the two sides back onto each other.
Boil in salted water for 3-5 minutes, or to desired doneness.
Now that you know how to make tortellini, you have incredible power at your fingertips. Of course, you don't have to put pork and crab filling into your tortellini — you can put just about whatever you want in there. We urge you to have fun and experiment as you embrace the magic of homemade tortellini.
Visit Bluehour's website to see their menu and learn more about Chef Kyo Koo.
Editors' Recommendations