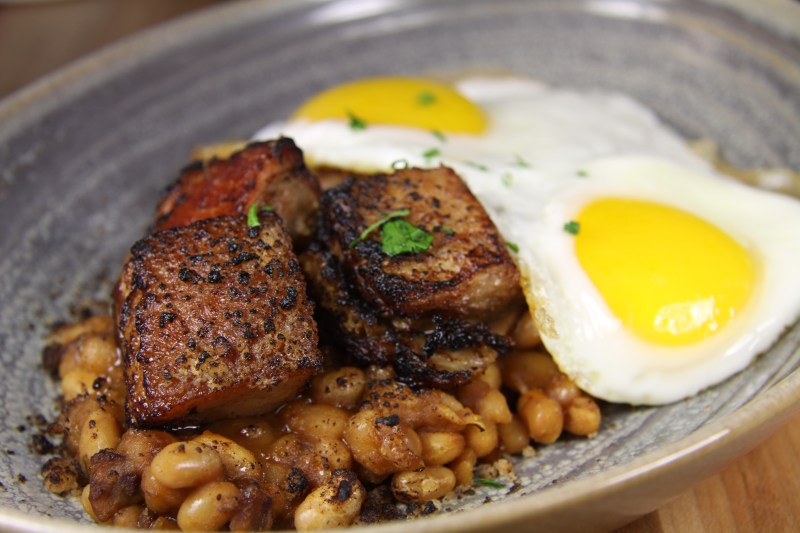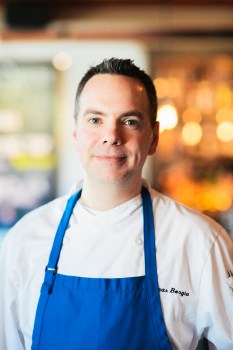 There's nothing quite like the sweetness of baked beans to get you through a cold winter night. That's right: the perennial barbecue staple, usually slopped onto a paper plate between corn on the cob and a relish-smeared hot dog, is so much more than its tart summer side dish status. With its origins in colonial New England, the stewed and baked dish is a year-round delight, and nowhere does it better than Boston.
Chef Tom Borgia, head chef of new Boston eatery State Street Provisions, talked to The Manual about the secret to tried-and-true Boston baked beans and how simplicity trumps all when it comes to good flavor.
While there are many different iterations of baked beans—some are tomato-heavy and tart, others are overly-sweet—Borgia says what makes Boston baked beans the best of the best is the combination of salty bacon and molasses.
"It's a sweeter, more well-rounded taste," he says.
The rich, almost bitter flavor of molasses gives Boston baked beans a depth that goes beyond the one-note sweetness found in many southern recipes, which often call for maple syrup.
He warns, however, that it is of the utmost importance to prepare the beans properly before adding molasses. "Molasses has a lot of sulfur in it, so make sure to cook the beans separately so that sulfur taste doesn't get into the beans."
Originally, baked beans were stewed with salt pork, a fatty cut (usually the belly or fatback) but State Street's version relies on apple-smoked bacon to get the salty, fatty flavor so important to the dish with the added bonus of a smoky finish. While Borgia's version is topped off with braised pork belly and streusel, he stresses that simplicity and good execution are key.
"There is room for playfulness, but this is not a dish where you can hide behind tricks," he says "We emphasize the basics."
An emphasis on expert execution of simple flavors is, it seems, a philosophy he picked up during his time in Italy, where he spent two years alternately working and traveling.
"Italian food has always been everything I believe in," he says. "They like to source locally, but more importantly: it's all about the ingredients. It's not necessarily all these bizarre ingredients on top of each other. The best Italian dishes have, like, 4 or 5 ingredients and they let them speak for themselves. Simple preparations, seasoned perfectly, executed perfectly."
State Street's entire menu manages to balance playfulness, a tried-and-true Boston sensibility, and straight-forward flavor, and nowhere do you see that more than with their baked beans. "There's a reason they call it Beantown," Borgia says.
Want to make your own baked beans? Never fear. Taking the expert advice of Chef Borgia, The Manual slaved away in the kitchen to create the best Boston baked beans you'll taste outside of Beantown.
Related: Micro Guide: Boston
You'll Need
2 cups dried navy beans
¼ pound salt pork, rind removed, or bacon (applewood smoked, if preferred), cut into ½ inch cubes
1 teaspoon salt, and additional to taste
2 cloves garlic, minced
¾ cup molasses
1 onion, roughly chopped
2 cloves
1 teaspoon ground mustard
black pepper to taste
cayenne pepper to taste
Directions
Rinse beans, ridding them of any stones, then cover with water—enough to cover the beans by roughly an inch—and soak for at least two hours, but preferably overnight. Add half a clove of garlic to the soaking liquid and bring to a boil. Reduce to a simmer, and add a pinch of salt. Let simmer for about half an hour or until the beans start to become tender. Drain the beans, but reserve the soaking liquid.
In the meantime, brown the salt pork or bacon in a large dutch oven, then add the onion and remaining garlic and soften in the rendered fat. Add molasses, cloves, mustard, and a pinch of black pepper and stir. Then, add the drained beans and stir, making sure the molasses and salt pork cover the beans. Add the soaking liquid, 1 teaspoon salt, black pepper and cayenne pepper to taste. Bring to boil, then reduce to simmer. Cover with lid. Let simmer for anywhere from four to six hours, until the beans reach your preferred tenderness.
Serve hot with fresh baked bread and, depending on the time of day, either a nice bloody mary or a smoky stout.
Images courtesy of marlo marketing.
Editors' Recommendations