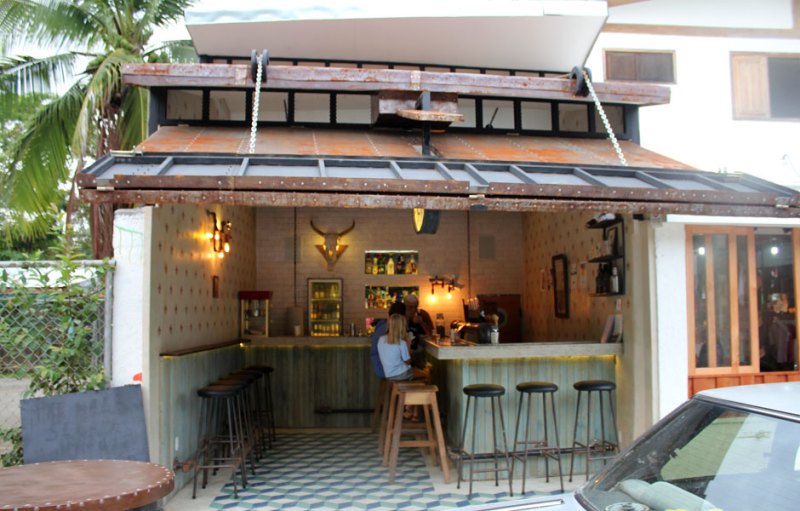 Traveling by car in the Guanacaste province of Costa Rica is not for the meek. The dirt roads are pitted with dry gulches carved from the autumn rains. The scattered patches of paved highway are often even more broken, cratered from neglect. In the green season, swift river crossings are a dangerous fact of daily life. When bridges are available, they are often more frightening than engaging the water. Gas stations are rare and reliable mechanics even more exotic.
The upside to the difficulty in travel is the payoff of the destinations. One of those worthy excursions is the beachside town of Sámara.
Sámara is not a thoroughfare. You have to know about Sámara and want to go there in order to experience it. After the hour drive from the surf and yoga mecca of Nosara, Sámara appears suddenly, with bright, low-slung shops catering to both locals and tourists. The ambiance created by walk-up chicken shacks housed a few paces away from expensive organic markets is initially confusing, then warmly welcoming. It's the dichotomy in this part of the country that is driving innovation in the hospitality industry and creating the perfect atmosphere for new, niche enterprises.
Related Post: Black Sheep Pub, Nosara Costa Rica
Microbar sits across the street from the Pacific Ocean on one of Sámara's principal streets. When open for business, a steel door is winched up to reveal twenty four taps of local craft beer on a long wall, fronted by a concrete bar that wraps into a capital L, nestling a small collection of spirits in the nook. There are a handful of stools, a relaxing playlist on the stereo and a video projection on the ceiling. The limited décor is inspired, themed in a neo-colonial manner, blending the old with the new. The entire store front is open to the street, creating an inviting, casual neighborhood party environment.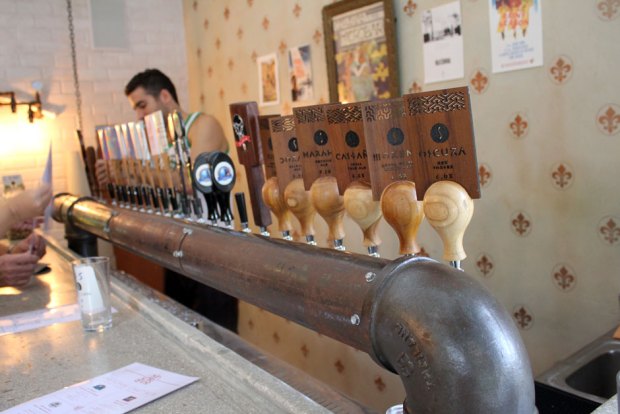 Co-owner and bartender Shaked Maltzman described Microbar's concept succinctly, as seeking "to combine some of the best things in life: beer, people and food, put it all in one place and offer the perfect gathering point."
Microbar utilizes a surprisingly urban touch in a remote, jungle setting. It works well with trends in sustainability, healthy options and supporting local, all items of interest to many of Sámara's visitors and residents. Shaked continues, "We think it is the beginning of a new culture. We are surrounded by amazing landscapes and pristine beaches, why not have a great unique place too that offers great craft beer and food produced in Costa Rica?"
It's not an easy feat, running one of the largest draft beer collections in the country, especially considering the remoteness of the location. But as in most industries, challenges pave the way for opportunities. It's difficult to get inventory, both with the boom in craft beer making for limited availability and the logistics of shipping. But Shaked sees Microbar as filling an important need in the community. "It is not something trendy. We think it is a culture. The craft beer culture that is reemerging, now with the advantage of technology and open free information, to stay."
Microbar's Best Selling Costa Rican Beers with Tasting Notes from Shaked
La Selva Cerveza Artesanal: Rubia
A delicious Belgian pale ale. It is refreshing, with a very soft taste. Perfect for after work as it makes you instantly happy!
Dry Season Brew Lab: Little Mexican Dog
Tequila chili pale ale. People love not only its name and logo but also the taste. There is no way to describe it, you have to try it!
La Selva Cerveza Artesanal: Castaña
English IPA, definitely one of the favorites. Slightly bitter but still very refreshing and with body.
Visit Microbar's Facebook page for up-to-date information on hours, available beers and food selections.
Editors' Recommendations