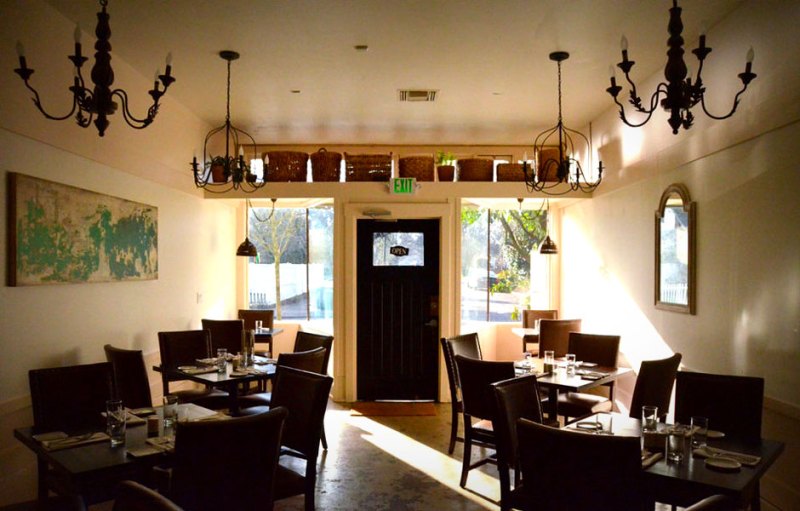 Portland isn't known for its French restaurants. Sure, there's Little Bird and Petite Provence but for a city that touts itself as a culinary mecca, the lack of good French eateries has always been disheartening. That may change now that Verdigris has opened to much fanfare. The cozy contemporary French bistro is offering diners something inventive and exciting in a town with a been-there-done-that feel.
Situated in the beautiful but trendy Irvington district, Verdigris has all the makings of a great restaurant that's sure to last. From the dark wooden tables and chairs—36 seats in all—to the high ceilings, wicker baskets and gaslight chandeliers, the ambience is soothing and inviting. The waiters are attentive without being overly obsequious. The kitchen is small and open, offering diners a bird's-eye view into the crafting of culinary delights.
What comes out of that kitchen is pretty stellar, and the portions, while not huge, will fill you up quickly. The dinner menu changes with the seasons. We opted for a tomato soup with mini brioche grilled cheese sandwiches. It was a hearty starter on a wet winter's day. A salad with octopus and chorizo made my dinner date salivate. Our waiter even brought over a glass of Riesling for us to try with our appetizers. Good stuff.
Main courses are simple yet varied. Smoked trout comes baked in a phyllo-dough crust that the waiter breaks off at the table. The trout is flaky and tender. The six-ounce steak is sliced up for easier dining and features potatoes cooked in duck fat with bits of rosemary and Bernaise sauce on top. Tender and juicy with just the right seasoning. A glass of Cahors sets the right mood for our meal (The wine list doesn't offer much by the glass but the bottle selection is varied, including wines from the nearby Willamette and more obscure French Burgundies).
Ever since I moved from the big city I have been lamenting the loss of my favorite dessert, something that's easy to make but very time consuming. Pots du creme is a thick french pudding that makes my mouth sing with happiness. I was beyond excited to see it on the menu. While a decent pots du creme, it came off a tad sweet and not as thick as I would like. Still, where else can you get that in this town?
Since it opened two months ago, Verdigris has quickly gained a devoted following. While dinner wasn't packed, it's a hard place to get into for brunch. There's usually a wait because of delicious dishes such as traditional croque madame on homemade brioche and braised rabbit with cippolini onions and 60-minute eggs. Like I said before, divine.
Editors' Recommendations