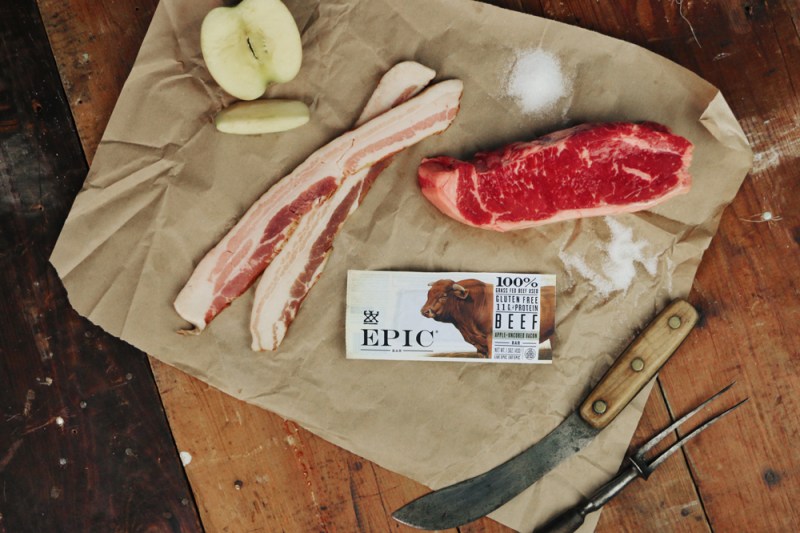 You might think the owners of a company selling grass-fed meats would have been the least likely people on the planet to start such an endeavor. That's because before Taylor Collins and Katie Forrest developed Epic they were both vegans. "We are both competitive athletes," said Collins, "but our bodies weren't recovering. We weren't getting the vitamins and proteins we needed. When we introduced grass fed meats into our diet, it was a game changer. We felt great in a couple of days."
They created a protein bar out of grass fed meats to fit their own nutritional needs, but decided to put it into production when they received a lot of positive feedback. "The first year and a half, we only had four bars," said Collins. "We've now expanded to 36 products including a jerky like product and trail mix, but our bars are still the most popular. The Bison Bacon Cranberry is our number one best seller. It's ridiculously delicious."
Other bar flavors include Bacon, Chicken Sesame BBQ, Beef Apple Bacon, Turkey Almond Cranberry, Beef Habanero Cherry, Chicken Sriracha, Pulled Pork Pineapple, and Lamb Current Mint. A sample pack of all nine flavors retails for $26.
The company has just unveiled its newest products: animal oils. They come in three varieties: Grass Fed Beef Tallow, Berkshire Pork Lard, and Cage-Free Duck Fat. Single jars retail for $8.99.
The next big thing for Epic is a major purchase. "We're starting a ranch right outside Austin, Texas where we'll raise the animals we use in our product," said Collins. "Bisons, chickens, sheep, and cows will all be in the same pasture; all complementing each other. Nature loves biodiversity."
Epic products are available on their website, but they are also offered for sale nationally through Whole Foods, Vitamin Shoppe, and outdoor retailers like REI. "Pretty much any natural food grocery store you go into will have our products," he said.