Brandy is an often-overlooked liquor. Many people shy away from brandies due to their strong flavor and reputation as an "old man's drink." However, we here at The Manual (specifically this writer) have been known to enjoy a glass of brandy after a good meal—very often with a cigar in hand.
The Manual wanted to brush up on our brandy knowledge, so we reached out to Vincent Boulard, the fifth generation head of Calvados Boulard—one of the oldest and finest brandy distillers in the world. Mr. Boulard taught us a lot of things, but one of the most interesting pieces of information he relayed is that brandies are becoming an active part of the cocktail community—even going so far as to be served with tonic or simply over ice. It all depends on the age, and Calvados Boulard offers a wide range of brandies that can fit any occasion.
Our conversation with the distinguished Mr. Boulard is below.
Can you explain how you were first introduced to the brandy business? Was it something you were immediately part of?
I am the fifth generation of the Boulard family, the owners of Calvados Pays d'Auge Boulard. Pierre-Auguste Boulard founded the distillery in 1825. So I was basically cradled in the brandy-making business. My grandfather and father became export leaders throughout the world in the 1930s. In 1985, Pierre Boulard, my father, chose me to develop the foreign sales and bring a new direction to the company. I quickly focused on enhancing relationships with partners to enter new markets. Today, sales of Calvados Boulard sales reach 86% of the global market.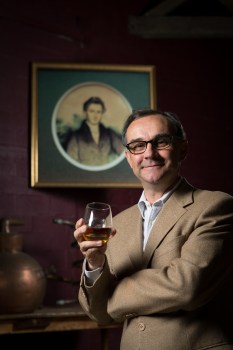 What is the history of apple farming in Normandy? Why is Calvados Boulard brandy distilled from cider?
It's a bit complicated actually. Some historians say that the origins of cider in France and Normandy date back to the 6th century when it was used as a drink in the Court of Sainte Radegonde. Others say that the true origins were in the 11th century when new varieties were brought by sea from Spain—specifically the Basque country or "Biscay". In the 12th century, the French monks extended and improved the culture of apple trees. But it is mainly between the 17th and 20th centuries that production of Normandy cider really expanded.
What varieties of apples are used when making the brandy?
The cider makers use small apples with great aromatic intensity. There are hundreds of varieties in Normandy, but they are broken up into four categories: bitter sweet, sweet, bitter and tart. The bitter apples include Domaine and Mettais, while tart apples include Rambault and Rene Martin. Unlike wine that can be made by a single grape variety, Calvados needs the range of tastes and aromas found in different varieties of apple.
What makes the apple flavors from the region stand out in a distilled brandy?
Well, right away there is the strong apple aroma. But the cider also brings floral scents and an overall roundness to the brandy's flavor. After the aging process in the small French oak barrels, the freshly distilled brandy comes with very complex aromas.
How difficult/how long does it take to develop the range of brandies that Calvados Boulard offers?
Creating a new batch of Calvados can take from one to seven years depending on the project. The blend of different aromas is always a long process in order to achieve something new and exciting. In fact, the cellar master always works from a huge pallet of different batches according to his intuition. The best comparison I can think of is how an Impressionist painter works to harmonize different colors. They have to trust themselves and remain patient.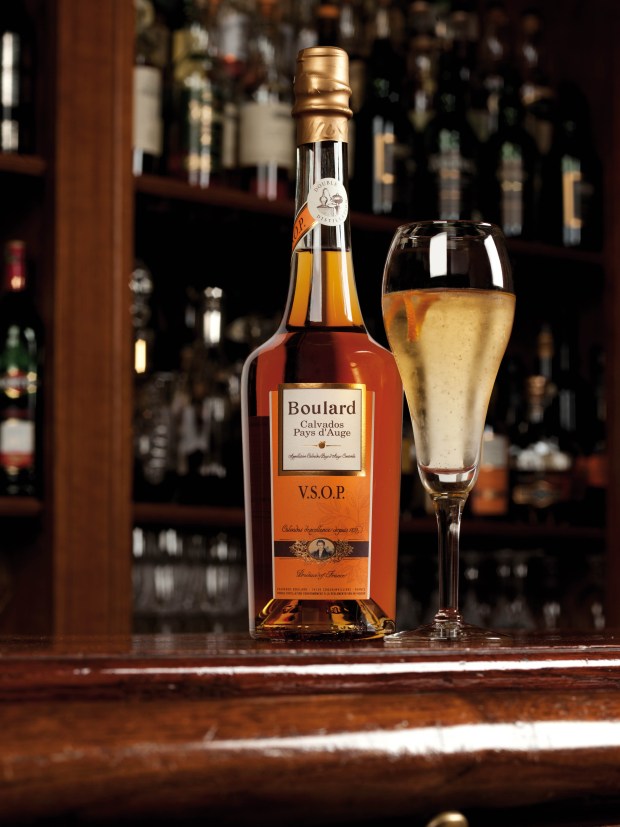 How should one ideally drink a glass of Calvados Boulard? How should it be served?
The age of our brandies spans from two years or older (Fine or V.S) to three years or older (Vieux or Reserve), four years or older (V.O or V.S.O.P) and even six years or older (Extra, X.O or Très Vieux). One of our older brandies is the perfect drink for special occasions. These are brandies that have been in the barrel for ten or twenty years. Time has done its work. You should drink one of these brandies at the end of a meal in a tulip glass, which is ideal for concentrating its aromas. Ideally, you'd have a glass after drinking some good coffee, along with a square of black chocolate or a nice cigar.
For a less laid back occasion, a two or three-year-old Calvados will do the trick. "Nouvelle Vogue" Calvados are brandies that can be sipped a little more casually—over ice, with tonic or mixed in cocktails. There are very strong aromas of fresh apples in this brandy, so they are good for aperitifs or receptions.
What kind of pairings do you recommend with a glass of Calvados Boulard? Is there a dinner or dessert pairing you think works best?
Well, brandy is a key ingredient in Norman cuisine. It is used in marinades, for flambéing, deglazing, or added at the end of cooking. Calvados brings its rich flavor to sauces, pâtés and desserts.
A Calvados V.S.OP. matches perfectly with cured fishes such as salmon and halibut; a Calvados XO with smoked salmon or with cheese such as brie. And all ages of Calvados go well with dishes using butter and cream. The creamy texture of Norman cheeses (Livarot or Camembert) or sweet desserts (apple tart, rice pudding, crème brûlée, tiramisu) tone down the brandy's liveliness and heighten its fruit flavor.
Calvados can be drunk with an entire meal, a few small sips are enough to allure the palate and bring out the flavour of many dishes.It's excellent in meat dishes (roast pork with apples, leg of lamb, duckling with honey), seafood (skate, trout with almonds, scallops) and also alongside a fruit plate filled with apples and pears (obviously), peaches, prunes, grapes and apricots.
Editors' Recommendations