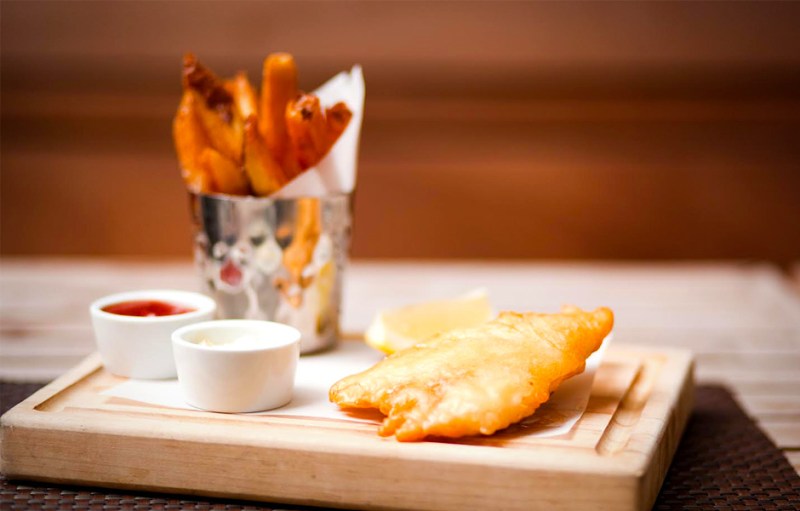 The British are not traditionally known for their cooking. Tea? Yes. Music and empires? Certainly. However, England has a rich culinary history that has been long-overlooked. You may know about Bangers and Mash or Fish and Chips, but there is much more to it than that.
Jason Hicks knows this fact all too well. Hicks is the British chef-owner of Jones Wood Foundry on Manhattan's Upper East Side, as well as the newly opened The Shakespeare and The Peacock in the heart of Midtown. For fifteen years, Hicks worked in New York at various high-end restaurants putting his training in classic French cuisine to great use before he decided to open up Jones Wood Foundry and stake his British roots into his very own establishment.
We recently sat down with Hicks at The Peacock. In a dining room with cherry-wood panels, flowing gold drapes and deep green wallpaper, we talked over a plate of Bangers and Mash served with a delicious brown sauce that befit a full steak; a serving of Fish and Chips that may have been the best we've ever had (the batter on the fish is unreal); and bowls of mushy peas with mint (surprisingly refreshing) and Bubble and Squeak (more on that later). The room, complete with a life-size royal-blue peacock, seemed as though it could have housed characters in an Austen novel, a Sherlock Holmes interrogation scene, or have featured as a set on a recent season of Downton Abbey.
It was here that Hicks expounded on some of the lesser-known virtues of British cuisine.
Can you explain some of the main characteristics of a British dish?
It would be food that is more appropriate for the climate. You'd find hearty stews or the pies, which are just stews or braises inside of pastry. Things like lamb stew and dumplings. You know, just things that are good for warming you up.
What are some of the most common misconceptions/myths about British cuisine?
I think the biggest problem is generalization. British food before the World Wars was incredible because of the Commonwealth and the Empire, so you had food influences coming in from India and other parts of Asia that were really adding lots of different flavors and dimensions to the food. But we already had our own cuisine, which as a sort of non-celebrated cuisine when you compare it to something like the French.
After World War II, food was rationed. So you'd have like two eggs a week for a family. So a lot of the bad reputation kicked in at that time. You know, it could have just been a simple case of hearsay. Military men coming back to America from the war and eating the food we were serving at that time and not having particularly nice things to say about it.
However, at a lot of the great restaurants around the world, it's not uncommon to find that the head chef is British. I think that has to do with the fact that its in our genes to travel around—to Australia, India, Southeast Asia—and incorporate the things we know.
Is the influence of Indian cuisine still felt in British cooking?
It's been massive. Particularly after World War II when you had a lot of Indians coming over to help the work force. They created their own communities and cooked their own food because the ingredients were available to them—it was coming over with them or the products were already there in England.
I'm from Birmingham and there is a neighborhood called Sparkhill that is famous for its Indian cuisine—kind of similar to what you have on Lexington Avenue now. And the culture was that you'd get kicked out of the pubs at 10:30 or 11:00 and then you'd go to what we'd call the Curry House, which stayed open later.
So you'd find that Indian influence in a British breakfast dish like Kedgeree?
Right, so there you've got rice, which is usually Basmati. Then you've got smoked haddock, which is more of a British thing. But there's also turmeric, cumin, and coriander that goes into the mayonnaise that you serve on top of it. I also put saffron into my rice as well. And, of course, you've got chopped hard-boiled eggs. The white of the egg neutralizes the spices elsewhere in the dish.
We serve our Kedgeree here with fried bread. Basically that's pan-fried bread that would usually be cooked in the drippings from a roast beef, but I use butter. And you'd just use the fried bread to eat the Kedgeree. That's a proper English breakfast.
What are a typical British breakfast, lunch and dinner?
Typical breakfast is something like sausage, eggs and bacon. You have different regions of course that do different things. So some do roast tomato, fried tomato; some have fried bread, grilled mushroom or baked beans. Then, there's also porridge.
The Plowman's Lunch is massive in England. It's basically the deconstructed salad before there was such a thing. It literally came from years ago for plowman whose field was too far away from the local pub, so they couldn't stop off for a break during work for a pint and get back to their field before dark. So instead, they'd take a napkin and take come crusted bread, a pickled egg, salad, a piece of cheese or ham and fold it all up and bring it off to the field.
Also, there are things like Toad in the hole, which is a breakfast sausage or "banger" and Yorkshire pudding batter. You put the two together and put it in the oven and it becomes like a turnover with bits of sausage in it.
At dinnertime, there's Fish and Chips (that's for lunch too), pies, roasts and all types of things.
Do you think the names of some British dishes factor in to people shying away from the cuisine? For instance, Bubble and Squeak is basically a frittata, but it seems like it's far less known.
The names of British dishes are very much tied to onomatopoeia. Basically, we are just describing what happens when a dish is cooked. Bubble and Squeak is made from all of the roast vegetables leftover from the Sunday roast bound with chopped up potatoes and cooked in a pan; while its cooking, it bubbles and squeaks.
Also, there's something like Banoffee pie. It's basically just a combination of "banana" and "toffee"
But for something like Spotted Dick, I don't know where that comes from. There might've just been a guy named Dick.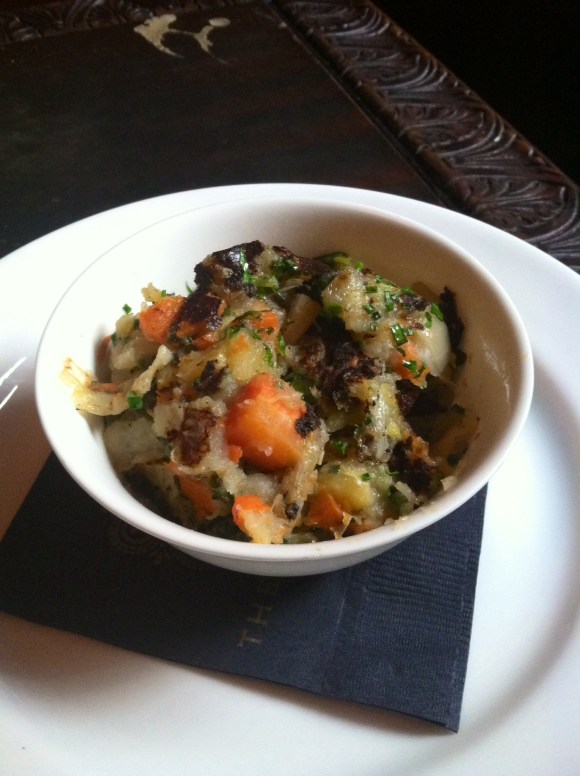 How have you tried to incorporate British cuisine and flavor profiles/principles into each of your restaurants?
When I opened Jones Wood, the idea was basically to take classic British dishes dating way back in history and update them a little. In England we have the National Trust and you can find old cookbooks there as well. So you could find a steak and kidney pie recipe that was hundreds of years old. I would research these old recipes and adapt them without losing the classic aspect. I made them palatable for today's diet. Bangers and Mash wasn't just sausage on mashed up potatoes. I got Yukon Gold potatoes and made an exact recipe for the mash so that every night it was consistent. We also put a lot of effort into the consistency and care of all of our pies.
But one of the keys for Jones Wood is that it recreates the local feel of the pub; the pub as a gathering place. We make sure that all of our staff are supremely accommodating to the customers. We place a high value on customer recognition and retention. It's our staff's job to chat with the customers and find out how their Tuesday night is going.
I wanted to expand on that approach, and the Shakespeare fits in with the midtown sort of after work bar aesthetic. Something similar to the gathering space of an English pub. We even have a "snob's booth," which was very common in the old pubs in England. It separated the rich from the poor or men from women. Here, it's just a way to add a level of privacy to whatever occasion you've come for. So, you can close the door off to the booth, but there's a hatch that has access to the bar, so you can still easily place orders for food and drink.
The Peacock is my first foray into merging British food with a bistro presentation. The food at the Peacock has a British spine, but we're trying to show our repertoire and cook for a New York customer.
In a few words, how would you define the British dining experience?
Homey, nurturing food with a feel-good factor to it. Fresh from the fields. Unpretentious and not fussy.
Editors' Recommendations