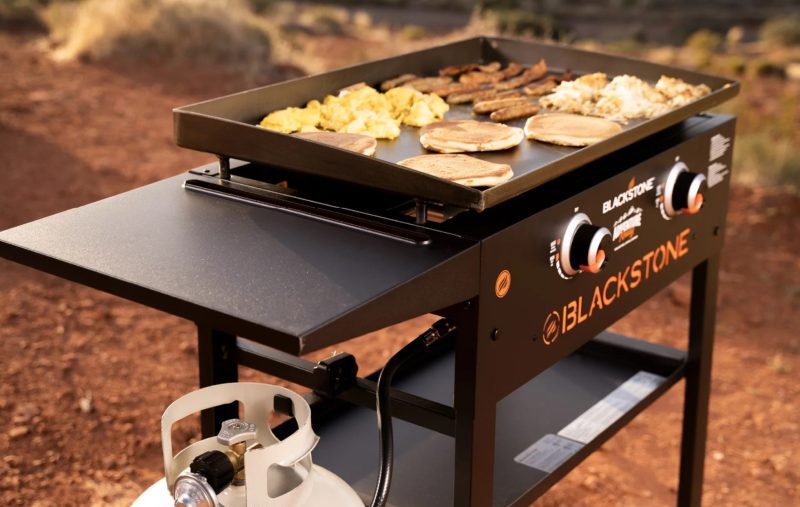 Let me start by saying I absolutely love my Blackstone.
Before it, I had a dual propane and charcoal grill, and it was a beast. But even covered, it rusted out, and one day, when we went to grill out, it had to be replaced. At the time, we ran to a local Walmart and picked up a Blackstone, and I've legitimately been using it weekly ever since, sometimes daily.
If you don't already know, a Blackstone is a griddle or hibachi-style grill with a flat top. Wouldn't you know it, Walmart has a two-burner Blackstone griddle on sale for $30 off. Normally $227, it's yours for $197 today. They are extremely versatile, easy to set up, clean, and use, and I highly recommend grabbing one if you have the space.
Why you should buy the Blackstone two-burner griddle and flat-top grill
What's your favorite meal? Is it breakfast? A hearty lunch? A well-seasoned dinner? It honestly doesn't matter because you can cook all of those and more on a Blackstone. It's fantastic with eggs, sausage, biscuits, and other breakfast foods. If you want to throw some red meat on top to sear or grill, you can do that too. What about some grilled veggies, like broccoli, asparagus, onions, or even potatoes? You can definitely grill fish like an executive chef on one of these. That's the thing, they make it so easy to grill or cook and do it well. You won't need a guide on how to grill chicken correctly. Unless you're prone to overdo it. Okay, okay, maybe some easy tips from an expert pitmaster will help.
If you've ever used a propane grill before, then you'll feel right at home with the Blackstone. It uses propane to fuel the two burners with variable temperature controls to turn up or down the heat. The propane connects right to the grill and mounts on the side, so it's out of the way while you're cooking.
This two-burner model includes a side shelf with enough room for a plate, food, and utensils, but also there's a bottom shelf for anything else you want to stow, like a rain cover or cleaning tools. Two of the legs on the propane side have lockable wheels, which makes it easy to move around your backyard, porch, or patio. It weighs about 70 pounds total when assembled, which is much lighter and more maneuverable than your average grill, except for maybe a mini charcoal grill.
The taste of this grill is where it's at, or any grill really. After you season the top with some oil, every cook has a delicious, even flavor that's unmatched. If you've ever had anything cooked on a Habachi, that's what you'll get here. Breakfast, lunch, and dinner, they're all possible, easy, and scrumptious. Above all, this Walmart deal saves you $30 you can put towards some fantastic cuts of meat ( ). Normally $227, grab the Blackstone two-burner today for only $197. You will not regret it. I sure don't.
Editors' Recommendations