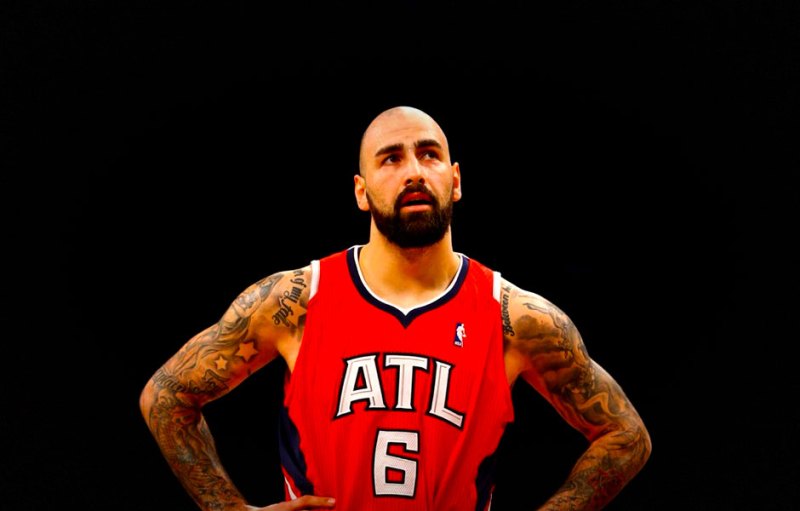 Athlete Eats is our periodic column where we speak to professional athletes about their favorite spots to eat when they are in their home city as well as on the road. We also discuss diet and eating habits both during the season and offseason. If anyone knows where and how to eat in the U.S., it's going to be one of our sports stars.
Today, we are showcasing Pero Antic, the Macedonian power forward for the Atlanta Hawks. You may not know this, but this season the Atlanta Hawks are the darlings of the NBA. They have the second-best record in the league and are currently on a 15 game winning streak where they are flat out rolling over their opponents. Outside of true basketball fans, most people can't even name a single player on the Hawks. They aren't led by a true superstar, but rather by a collection of savvy, well-travelled NBA veterans such as Al Horford, Paul Millsap, Jeff Teague and Kyle Korver. If there is justice in the world, at least two of those four will be named to the Eastern Conference All-Star Team in February.
The Hawks play a beautiful brand of basketball where each member of the team is a vital part of their overall success. The ball is constantly in motion, which results in players getting wide open three pointers, or easy to lay in buckets at the rim. If you enjoyed watched the way the Spurs picked apart the Miami Heat in the NBA Finals last year, then you will love these Atlanta Hawks because they play the game just as, if not more efficiently and unselfishly as last season's Spurs.
Antic is currently in his second year with the Atlanta Hawks. At 6'11" and 280 pounds, he is an imposing man to look at. Antic sets excellent picks to free up Atlanta shooters as well as facilitate their motion on offense. And he has a nice outside shot as well. He is not a superstar (at least not in the States, but he is beloved in his native Macedonia), but he is an important part of the team's continued success and excellent chemistry.
You were described to me as the team's "food guru". What does that mean?
I don't know, man. I like going to restaurants and trying different foods. Basically, wherever I go I find the spots that I like for a specific food and I don't change them.
Did you have a strong love of food growing up in Macedonia?
Yes, in the Balkans we have a lot of home cooking, which is very different from here. But growing up I always wanted to try many types of foods.
I'm sure there are Macedonian dishes that you miss. Are there any places to get Macedonian food in Atlanta?
Oh, even if I tell you about the dishes I miss, I don't think you would understand. One of them, the name is moussaka, which is potatoes and meat. Also, just rice and chicken that my mother and my wife cook. A lot of homemade salads all that kind of stuff. I can find some similar stuff here in the States, but it is not the same. You grow up with certain tastes.
Atlanta has become a very food-centric city. What are some of the places that you've been to so far?
I'm a fan of a Greek restaurant that's called Kyma. I like this sushi restaurant called Umi. A Mexican spot called Alma Cucina. For Italian food I like to go to La Tavola. Basically I go to these four spots all the time. If I want a steak, I'll go to STK.
When you're on the road, do you go out a lot or is it more of a room service type of thing?
Most of the time it's room service. When we arrive we have a set schedule. I try to find Balkan spots around America when I can. In most cities you can find Balkan food. The place that I've found that's most similar to the food I grew up with is in Chicago. It's called Deta's. When I go to Chicago, I always go there. I have a lot of friends in Chicago from my country so they take me there.
During the season is there a certain diet you follow? I know a lot of teams have nutritionists and a lot of players try not to eat unnatural sugars.
Jeff Watkinson manages what we eat. He and the staff always bring the best food for after practice, after games and for breakfast. When I was younger, I would eat anything, man. But as you get older you know what's good and bad and you have to treat your body better.
What was the hardest thing to cut out of your diet?
I was eating a lot of pizza, sandwiches. All of the sauces that come with the food I like have a lot of fat. You know Europeans like to eat a lot of mayo. I don't drink Coke and soda. Sometimes I'll have a Diet Coke on the plane, but just one glass. I'm more of a water guy now.
Is there anyone on the team that you go out to eat with?
The team has great chemistry, so we always organize to go out together. Whoever is going out, we always ask each other. I never go out alone, always with somebody. If someone says, "let's go there," we'll go there. Most of the guys on the team have been in the league longer than I have so they have good advice. Like Al [Horford] knows a lot of restaurants and Paul [Millsap] too.
Your team has been the toast of the league so far this season. You are on a 15 game win streak and have the second best record in the league. What does that kind of success feel like? What is the atmosphere like in the locker room?
Probably they put something in our food, man. (Laughs) No, it's the system that the coach and staff put in place. We're all unselfish players and good friends. We play together. It's a team sport and everybody knows their role. Maybe some nights the role will change, so you have to step up to the challenge. No one is selfish. Everybody cares about the team.
Is there a certain chemistry the team has developed this year that is different from last year?
We were just building our system and chemistry last year. The connection that we have among each other and with the coaches is just stronger. We respect each other and we all just listen to each other. Everyone knows their role, which is the main key to our success.
Do you think the system caters to your strengths as a player? You are great at setting picks and getting guys open and opening up passing lanes. Did you notice your role right away?
Yeah. I mean in basketball you can see what the coaches want from you or what you need to do for the team. Everybody saw that and everybody knows what to do. It's just unselfishness. In Europe, they wanted me to do different things, sometimes they wanted me to score a lot. But this is a different system and so I needed to adjust. You have to figure out what you need to do for the team and for yourself to win the trophy. Everyone wants to score, but when you go home, what have you accomplished? You have maybe more money, but that's it.
Where did you pick up that "pull the chair" move you do on defense?
I'll tell you, I had two mentors about being smart. They were 6'4" or 6'3" and they guarded all positions. But it's natural, when you see a big guy gearing up for a move, you can gain an advantage by just moving out of the way. You have to pick the right time do it in the flow of the game.
I've never seen someone do it so far out of the post before, how did you figure out that it would work closer to the perimeter?
Whatever works, you know. As long it's within the rules, whatever I can do to help the team, I'll do it.
Editors' Recommendations